Welcome to our mouthwatering collection of 15 pork tenderloin recipes that are sure to tantalize your taste buds! 
Whether you're a seasoned chef or a cooking enthusiast, pork tenderloin is a versatile and flavorful cut that can be transformed into a variety of delicious dishes.
From classic and comforting recipes to innovative and exotic twists, we've gathered the best of the best for you to try at home for yourself. 
Enjoy succulent tenderloin medallions seared to perfection, accompanied by a symphony of delightful flavors that will leave your guests shouting for seconds. 
Explore a plethora of marinades, rubs, and glazes that elevate the tenderloin to new culinary heights, offering an array of savory and sweet combinations. 
Join us on this culinary journey as we dive into the world of pork tenderloin, exploring recipes that cater to different tastes and preferences. 
So, grab your apron and get ready to try these incredible pork tenderloin masterpieces! 
Indulge in the divine flavors of this recipe for pork tenderloin with honey garlic sauce. This mouthwatering recipe takes the tender and juicy pork tenderloin to new heights with a luscious honey garlic glaze that perfectly balances the sweet and savory goodness. 
The succulence of the tenderloin, combined with the rich and aromatic sauces, creates a culinary masterpiece that will leave your taste buds begging for more. 
Next up is this pork tenderloin recipe by the wonderful Rachael Ray—a dish that showcases the culinary prowess of the renowned chef. 
The balsamic marinade infuses the pork with a delightful tang and caramelized glaze, making each bite a flavor explosion. 
With Rachael Ray's touch, this recipe transforms a simple pork tenderloin into a show-stopping centerpiece for any gathering. 
Transport your senses to the Mediterranean with this Greek pork tenderloin recipe. This delicious dish features tender and perfectly seasoned pork tenderloin paired with fluffy Israeli couscous. 
The Mediterranean-inspired flavors of oregano, lemon, and garlic infuse the dish, offering a delightful burst of traditional Greek tastes. 
For those looking to improve their pork tenderloin experience, try this coffee-rubbed pork tenderloin with green beans. 
This unique recipe brings together the bold flavors of coffee and spice, creating a sensational crust that perfectly complements the tender pork.  
Paired with crisp green beans, this dish is a wondrous blend of bold and refreshing tastes. 
Craving a snack with a twist? You should try these pretzel-mustard-crusted pork tenderloin sliders. 
These incredible sliders combine the irresistible flavors of crunchy pretzels and tangy mustard, elevating the humble pork tenderloin to a whole new level. 
These sliders are perfect for parties, game days, or simply as a delicious snack.
Get ready to be amazed by the artful presentation of this Hasselback pork tenderloin recipe. Beautifully sliced and seasoned, this dish not only tantalizes your taste buds but also impresses with its stunning appearance. 
The tenderloin's unique Hasselback cut allows the flavors to penetrate deeply, resulting in a truly memorable dining experience. 
Venture into Korean-inspired cuisine with this recipe for pork tenderloin lettuce wraps. This dish combines succulent and flavorful pork tenderloin with a medley of Korean spices and sauces. 
Wrapped in crisp lettuce leaves, it offers a delightful balance of spice and freshness that will keep you coming back for more. 
Experience the classic taste of Ina Garten's cooking with her herbed pork tenderloins with apple chutney. 
This recipe marries tender pork with a fragrant blend of herbs and spices, creating a comforting and savory main course. 
Topped with a tangy apple chutney, the dish achieves a perfect balance of flavors that will have you savoring each and every bite. 
Take your culinary journey to the next level with this stuffed pork tenderloin recipe. This gourmet delight features a succulent pork tenderloin stuffed with a delectable mixture of earthy mushrooms, fresh spinach, and nutty Gruyère cheese. 
The result is a symphony of flavors and textures that will impress even the most discerning palates.
For a taste of Southern comfort, try Paula Deen's herb-crusted pork loin. This recipe infuses the pork with a medley of herbs and spices, creating a dish that's both hearty and flavorful. 
With Paula Deen's touch, this pork loin promises to bring warmth and hospitality to your table. 
In another delightful creation from Paula Deen, her pork tenderloin with root vegetables is a homely and satisfying meal that brings together the savory goodness of tender pork and the subtle flavors of root vegetables. 
Slow-cooked to perfection, this dish is the epitome of comfort food.
Embark on a flavor-packed adventure with this pork banh mi recipe. Inspired by Vietnamese cuisine, this recipe features marinated pork tenderloin combined with an array of fresh and crunchy vegetables, all tucked into a fluffy baguette. 
The fusion of tastes, from tangy pickles to zesty cilantro, is a delightful treat for the taste buds. 
For the perfect combination of sweet and savory, try this brown sugar Dijon glazed pork loin recipe. 
The delicious pork tenderloin is generously coated with a glaze that harmoniously blends the rich sweetness of brown sugar with the tanginess of Dijon mustard. 
This dish is a guaranteed crown-pleaser at any dinner table. 
This recipe is a true palate tantalizing with a perfect balance of sweetness and spice that takes the tenderloin to new heights. 
The combination of flavors will keep you craving more of this culinary delight.
Finally, we end our pork tenderloin journey with the elegant pork tenderloin "Rosa di Parma". Inspired by the culinary wonders of Parma, Italy, this dish showcases the pork tenderloin's versatility by marrying it with prosciutto, Parmesan cheese, and aromatic herbs. 
The result is a beautifully presented dish that exudes both taste and sophistication.
Conclusion
We hope this exciting array of pork tenderloin recipes has ignited your passion for cooking and inspired you to experiment with these delightful flavors. 
Whether you're hosting a dinner party, cooking for your family, or simply indulging your own culinary desires, these recipes promise to leave a lasting impression. 
So, don your apron, gather your ingredients, and head out on a journey of pork tenderloin perfection. 
Happy cooking! 
Frequently Asked Questions
Should Pork Tenderloin Be Cooked Fast Or Slow?
Pork tenderloin can be cooked using both fast and slow cooking methods, depending on the desired outcome and the recipe you're following. 

Fast cooking methods include grilling, searing, and stir-frying. Slow cooking methods include roasting, braising, and crock-pot cooking. 

If you prefer a quick and easy meal, fast cooking methods can be ideal. On the other hand, if you have more time and want to savor the tender and juicy qualities of pork tenderloin, slow-cooking methods can be a great choice.
Should Pork Tenderloin Be Covered Or Uncovered?
When cooking pork tenderloin, whether it should be covered or uncovered depends on the cooking method you choose and the desired outcome you want to achieve. 

However, if you want the pork tenderloin to retain its moisture and remain tender, then we would recommend covering the meat. For meat that is perfectly seared and crusted, then cooking uncovered would be best. 

Always refer to the specific recipe you're following for the best guidance on whether to cover or uncover the pork tenderloin during covering.
Can Pork Tenderloin Be A Little Pink?
Yes, pork tenderloin can be cooked to a slight pink or blush color in the center and still be safe to eat, provided it reaches the appropriate internal temperature. 

Unlike some other cuts of pork, such as pork chops, pork tenderloin is a lean and tender cut that can remain juicy and flavorful even when cooked to a slightly pink hue. 

The USDA (United States Department of Agriculture) and other food safety organizations recommend cooking whole cuts of pork, like pork tenderloin, to an internal temperature of 145°F (63°C) with a three-minute rest time.
15 Great Pork Tenderloin Recipes You Can Make Right Now
Course: Other Recipes, Recipes
Directions
Pick a recipe from above
Click the recipe name and visit the website
Collect the ingredients and the food
Enjoy – don't forget to leave a review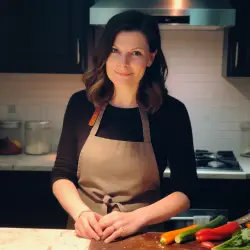 Latest posts by Barbara Hunt
(see all)