In the world of hearty comfort food, beef stew reigns supreme.

It's a go-to dish when the weather starts to get cold or when you just want something filling.
With its versatile ingredients, including beef, vegetables, broth, potatoes, herbs, and spices, you'd think beef stew is tasty enough on its own. But it's best enjoyed with a trusty sidekick.
This is especially true if your beef dish is more of a broth, which might need a side to make it more filling (see Ina Garten's beef and barley soup as an example).

Regardless of the type of stew you are eating, you want a side dish that helps elevate the stews flavors further.
Beef stew goes well with so many sides, making it challenging to choose one. We understand that you may not have time to think of new side dishes, so we have done the hard work for you.
Today, we have rounded up 15 amazing beef stew side dishes that will transform your meal into a culinary masterpiece.

From creamy mashed potatoes to buttery garlic bread and vibrant roasted vegetables, we've got your stew accompaniments covered.

When you first think of a beef stew side, you probably don't think of three things: cucumbers, yogurts, and salad. However, put them together, and you have a cool, vibrant side dish in the form of cucumber yogurt salad.
This side is evidence that opposites really do attract. A beef stew is meaty and rich, but the crunchy, refreshing nature of the cucumber cuts pairs wonderfully with the flavor of the meat.

It's all about contrast! If you'd like to have something similar, you can include coleslaw or a mixed green salad for a diverse pairing.
Mashed potatoes make a good side with just about anything meaty, from pork chops to steaks. They especially shine when paired with a beef stew. Best of all, preparing and cooking time is easy and super quick.
The recipe above will ensure you end up with light, creamy-textured potatoes. Remember, the fluffier they are, the better!

All you need are some Russet potatoes, butter, milk, salt and pepper, and, if you're looking for extra fluffiness, some sour cream. How you flavor the mashed potatoes is up to you, as well.

We recommend going for garlic potatoes or adding some cheese to the mix.
Stews and bread go together like a cozy sweater on a chilly winter's day – warm, comforting, and a perfect fit!

These soft, buttery, starchy Texas Roadhouse rolls are a perfect example of why bread and beef stew are a match made in heaven.
Use these rolls to mop up that sumptuous gravy off your plate. The rolls go especially well with beef stew as their warm, buttery, and slightly sweet taste complements the hearty texture and flavor.

Making them from scratch can take a few hours, but the wait is always worth it.

We recommend you brush them with garlic butter and sprinkle with chopped fresh herbs like parsley for added flavor. Yummy!
Okay, you may think that brown rice is boring and not all that tasty, but it is rich in nutrients and pairs excellently with beef stew. It offers a simple and wholesome addition, absorbing the stew's sauce so that you can taste the full force of the flavors with every mouthful.
If you want a hearty base for your stew, brown rice is a good option. The secret, of course, is to cook it perfectly.

Use a 2:1 water-to-rice ratio, bring it to a boil, then simmer covered for about 45 minutes, depending on how much rice you're cooking. Then, let it rest for 10 minutes off heat.

Cook, serve, enjoy!
5. Perfectly Filling – Dumplings
Dumplings, possibly our favorite side dish to beef stews and many other types of stews (i.e., lamb stew, chicken and vegetable stew, and vegetarian stew).

Dumplings are a classic companion for soups, chili, and stews, providing a delicious yet comforting addition that the whole family will love.
Making them is simple, with only five basic ingredients: flour, salt, butter, baking powder, and milk. You can change the flavor of them, too, by adding herbs and spices to the blend. We love rosemary dumplings for beef and lamb stews in particular.
We have included Brussels sprouts in a few of our articles looking at side dishes for numerous foods. You may think we're crazy, but there's a good reason for this – Brussels sprouts make for delicious sides, especially with beef stew.
This recipe with Parmesan cheese and mustard elevate the sprouts to a whole new tasty level.

Add in the light red wine vinaigrette, and even the most ardent critics of Brussels sprouts will want more.

Best of all is the crunchy texture, providing a satisfying contrast to the rich and tender consistency of beef stew.
Garlic bread – possibly the best side dish there is for, well, most foods! Of course, this also includes beef stew.

It pairs exceptionally well due to its savory, garlicky flavors and crispy, buttery texture, which adds a sensational contrast to the stew's hearty richness.

The result? A satisfying and balanced combo that adds even more richness to your stew and goes down a treat every time.
Everyone should bring a bit of Italian cuisine into their homes, and these Polenta cakes are a golden opportunity to do so.

Without having to make Polenta, these cakes provide that classic flavor and texture that goes wonderfully with beef stew.
Salty, sweet, or savory, these Polenta cakes will please all taste buds. We love how their creamy texture complements the stew's heartiness.

If you decide to cook Polenta, spread it in a pan to chill and set, then cut into cakes and pan-fry for an irresistible golden crust.
9. Most Refreshing – Coleslaw
Beef stew is popular because of how hearty it is, but sometimes, a refreshing contrast can make all the difference. Coleslaw provides a truly satisfying crunch and tangy flavor, which complements the stew's richness.
When making homemade coleslaw, we love to use fresh cabbage and carrots. Finely shred them and mix them with a creamy dressing of mayo, vinegar, sugar, and seasonings for a perfect balance of textures and tastes.
With crispy croutons sprinkled on top with Parmesan cheese, this kale Caesar salad will impress anyone who has the fortune of trying it!

With the addition of the creamy garlic salad dressing massaged into the kale, we think we may have found one of our favorite beef stew sides.

Tender and tasty – what more do you want?
11. Easiest To Make – Couscous
Couscous is your secret weapon for boosting the yum factor in your next beef stew meal! It's beautifully fluffy and comes pre-seasoned, making it the ultimate hassle-free side dish for any culinary creation.

With minimal ingredients, it's a guaranteed hit without the added kitchen fuss!

Yes, we know beef stew is usually packed with vegetables like potatoes, carrots, and peas, but a side of grilled veggies will add even more flavor.

We personally love grilled onions as they complement the onions already in the stew. But be creative! Add as many or as little veggies as you like!

We recommend trying eggplant, bell peppers, mushrooms, and grilled corn for a volcano of nutrition and flavor.

Do you have a big social gathering coming up? Beef stew with these jiffy cornbread muffins are easy to make for a crowd of people, and we're sure they will go down a treat. They are wonderfully chewy, sweet, and surprisingly filling.
The chewiness and sweetness of these muffins contrast beautifully with a beef stew's hearty richness. You can change these muffins up if you like by adding chopped jalapeños and grated cheddar cheese to the mix for a spicy and cheesy twist!
It's hard to beat beetroot when it comes to sweet, earthy sides. When paired with walnuts and goat cheese, though, the flavors are incredible. The sweetness of the beetroot contrasts deliciously with the tartness of the goat's cheese.

Add in the nut's crunchiness, and the texture is heavenly.

We like to change things up sometimes by using feta cheese and pecans or almonds for a similar flavor and texture profile.
As well as the jiffy cornbread muffins above, Duchess potatoes are ideal for feeding guests at a dinner party.

These potatoes have a more sophisticated look, though, making them a good choice if you're looking to impress friends and family.
These potatoes are creamy, rich, and cheesy and offer a slight crispiness, complementing the comforting texture of beef stew. Every bite is a delight.
In Summary
Our goal today was to make it easier for you to choose a side dish to go with your beef stew. However, choosing from the 15 slides above is no easy feat.

Therefore, we think you'll have to try all of them at some stage! Let us know what you like the most. Enjoy!

Ready for more? We have some soup side dishes you're going to love.
15 Amazing Beef Stew Side Dishes
Course: Other Recipes
Directions
Select a recipe from the list above
Gather your ingredients
Prepare your side dish
Enjoy with beef steak.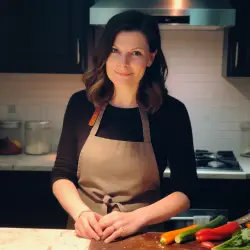 Latest posts by Barbara Hunt
(see all)