French cuisine isn't short of some absolutely scrumptious staples, but of them all, beef bourguignon is one of the very best.
Yes, it's hard to pronounce (stick with beef Burgundy if you really struggle with the French), but it's incredibly easy to make and of course effortless to eat.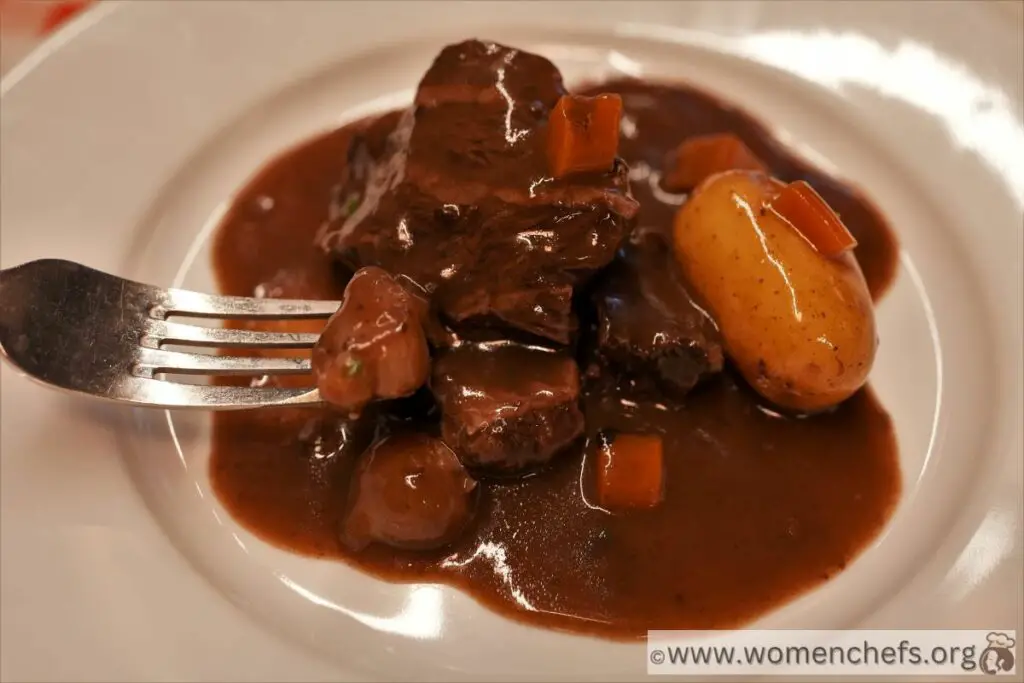 There are a variety of awesome versions of this classic French dish doing the rounds online, but Ina Garten's beef bourguignon recipes are real contenders.
So, in today's delicious deep dive, we'll be listing her best, alongside some other beef bourguignon recipes that cater to a more diverse set of diets.
Ina's beef bourguignon is a step beyond anything you've ever tried before. Not only is it loaded with chuck beef, you also throw 250g of dry-cured applewood smoked bacon rashers in for extra meaty goodness.
The bacon also adds a little more oomph to the beef stock, pushing flavors to the absolute limit (which is where they're at their tastiest!).
We wouldn't say that this is a tricky dish, but Ina warns us that it's a medium-difficulty undertaking. This is likely due to the fact that French cuisine is quite technical and precise.
Don't sweat it, though. As long as you follow Ina's instructions to the word, you'll get through just fine.
As you might imagine, Garten suggests using a good red wine such as Cote du Rhone or Pinot Noir, but not all of us have the privilege. 
Again, this is nothing to worry about. We'd recommend sticking to her wine suggestions, but forget about quality. Don't spend a fortune on cooking wine if you're not able to.
This meal will be mouth-watering no matter the price tag on the bottle.
We're not all meat-eaters, which makes the beef part of this amazing dish somewhat problematic, but you can vegetarianize or even veganize beef bourguignon without much trouble at all.
Essentially, all you have to do is swap out the beef (and bacon if you're following Ina's lead) and beef stock. Mushrooms are the easiest way to replace the beef.
This recipe calls for chestnut mushrooms, but any will do.
If you want to mimic the beef more closely, you're better off using oyster mushrooms, as they have a decidedly meatier texture.
Alternatively, if you can find them, vegetarian or vegan beef pieces will be an awesome stand-in.
As for the beef stock, if you can't source any veggie beef stock (it does exist), then you always have veggie stock to fall back on.
Thanks to the wine, thyme, bay leaves, black pepper, and mirepoix, you still get that typical bourguignon flavor, even without the beef stock.
One last note before we move on… if you are vegan or vegetarian, be sure to check the label of your wine.
Oftentimes, animal products such as isinglass, albumen, casein, chitin, fish oil, or gelatin are used during the production process.
Traditionally, flour is used to thicken up the sauce of a beef bourguignon, meaning our gluten-free friends can't partake… unless we have something to say about it of course!
This gluten-free beef bourguignon recipe replaces the normal plain flour with some glutenless rice flour.
It's not quite as effective a thickener, but combined with some expert simmering and natural sauce reduction, you'll be able to get the consistency just right.
Don't forget, if you want to imitate Ina Garten's recipe as closely as possible (see also "Best Ina Garten Stuffed Mushroom Recipes"), you'll need to pick up some gluten-free bread for serving with toast — Yum!
We've spoken a bit about whether you should always stick to Burgundy wine for this dish, but what about if you want to forgo the wine altogether?
We know all you oenophiles out there are shuddering at the thought, but not everyone likes wine and even those that do don't always want to eat it.
For instance, if you're cooking for young children, a generous spill of wine is probably not the best approach.
Even though the wine seems pretty integral to bourguignon (and is if you're aiming for authenticity), there are a number of creative ways around its omission as evidenced by this brilliant recipe.
Combining a little bit of soy sauce with a couple of tablespoons of blackberry jam and balsamic vinegar, you can get very close to that quintessential Burgundy flavor, sans alcohol.
And if that sounds overly complex to you, we'd suggest simplifying. A fruity juice is always a good stand-in.
Cranberry or pomegranate works best, but unsweetened cherry will also do in a pinch. Just a touch of whatever vinegar you have lying around will help as well.
While beef bourguignon seems like a fancy dish these days, in 19th century France, it was actually considered a pauper's meal, and one of the things that made it such a fitting food for the less fortunate is that it's easily customizable.
You can make something akin to beef bourguignon with very basic ingredients, and incidentally, this makes it a fantastic meal to try on a paleo diet — You can trim the refined, processed parts, and still end up with a tasty meal.
The flour is the biggest issue for those that subscribe to the paleo diet, but this recipe compensates for its absence by increasing the simmering/reduction time, thus thickening the sauce naturally.
Wine might be an issue for some, which is why the creator of this recipe suggests you might want to just double up on the stock.
But, if you want something a little closer to the real deal, perhaps some organic, unsweetened fruit juice is a better choice.
Something as comprehensive as the whole30 nutritional program can feel a little restrictive at first.
Thankfully, though, you can enjoy treats like this awesome set-n-forget beef bourguignon as you settle into your new dietary regime.
As you might expect, the wine gets the boot, replaced by pomegranate juice (as we suggested earlier) and white wine vinegar. The flour is also missing, as gluten is generally considered a big no-no in the whole30 world.
In fact, the whole30 diet can be kind of thought of as an amalgamation of various other diets, which is why this recipe is also paleo-friendly, gluten-free, and dairy-free.
Although, before the veggies out there get excited, there is still plenty of meat to be found in this recipe.
If the simplicity of the set-n-forget recipe above appeals to you, but you're not looking to cut out any traditional ingredients, you need to check out this instant pot beef bourguignon recipe.
It follows all the same principles as Ina's magnificent recipe up top but simplifies the process to the point where you just throw everything into an instant pot. It's quick, easy, and delicious.
As the creator of this recipe remarks, "If Ina Garten and Julia Child created a beef bourguignon recipe (see also: 8 Best Ina Garten Beef Stew Recipes To Try Today)together — this would be it!"
Final Thoughts
Talk about food for thought! This dish may have started out as a totem of poverty, but now all it signifies is great taste and a penchant for French cuisine. 
We've covered some truly amazing beef bourguignon recipes here today most of which relate in some way to Ina Garten's (see also: 5 Best Ina Garten Brownies Recipes To Try Today)efforts.
We worked hard to find a little something magical for just about any diet, so dig on, folks; there's plenty to go around.
Frequently Asked Questions
How Do You Pronounce Bourguignon?
Hard to spell and even harder to pronounce, bourguignon has been tripping up tongues all around the world for centuries now, so let's end the confusion once and for all with a quick French elocution lesson.

One mistake people make is to assume that both Gs are silent, which isn't the case.

The first syllable is as follows:

• Bawg

The second syllable is:

• In

And the third:

• Yon

All together now… Bawg – in – yon
Who Created Beef Bourguignon?
While Ina Garten's take on this dish is masterful to say the least, she was a good few centuries off being the inventor of beef bourguignon.

Similarly to most stews, bourguignon was developed in the Middle Ages, primarily as a means of tenderizing tough meat whilst it was cooked. 

However, the first instance of it actually being recorded as a discrete meal was in 1903 when Auguste Escoffier, referred to by the French press as "the king of chefs and the chef of kings", published it among his culinary writings.

Soon after, beef bourguignon was appropriated by the upper classes and gained traction as a staple of French "haute cuisine".
Is Ina Garten's Beef Bourguignon Better Than Julia Childs'?
Food is a sensory experience and perception is subjective, so we can't tell you that Ina Garten's beef bourguignon recipe is categorically better than Julia Childs', just different.

We suggest that you give them both a try and see which you prefer.

And regardless of the outcome, we should all thank Julia Childs and her recipe for popularizing this wonderful dish in the US, as before she did so in the late 60s, it was one of the best-kept secrets of the French kitchen.
7 Best Ina Garten Beef Bourguignon Recipes To Try Today
Course: Cookbooks
Directions
Pick a recipe from above
Click the recipe name and visit the website
Collect the ingredients and the food
Enjoy – don't forget to leave a review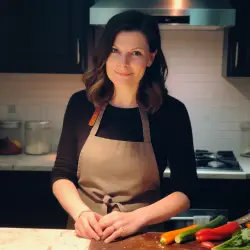 Latest posts by Barbara Hunt
(see all)