Stuffed mushrooms is a go-to recipe if you need a tasty appetizer for a dinner party or even a vegetable-based side dish.
There is so much variety when it comes to stuffed mushrooms – you can use different types of mushrooms and create all kinds of fillings.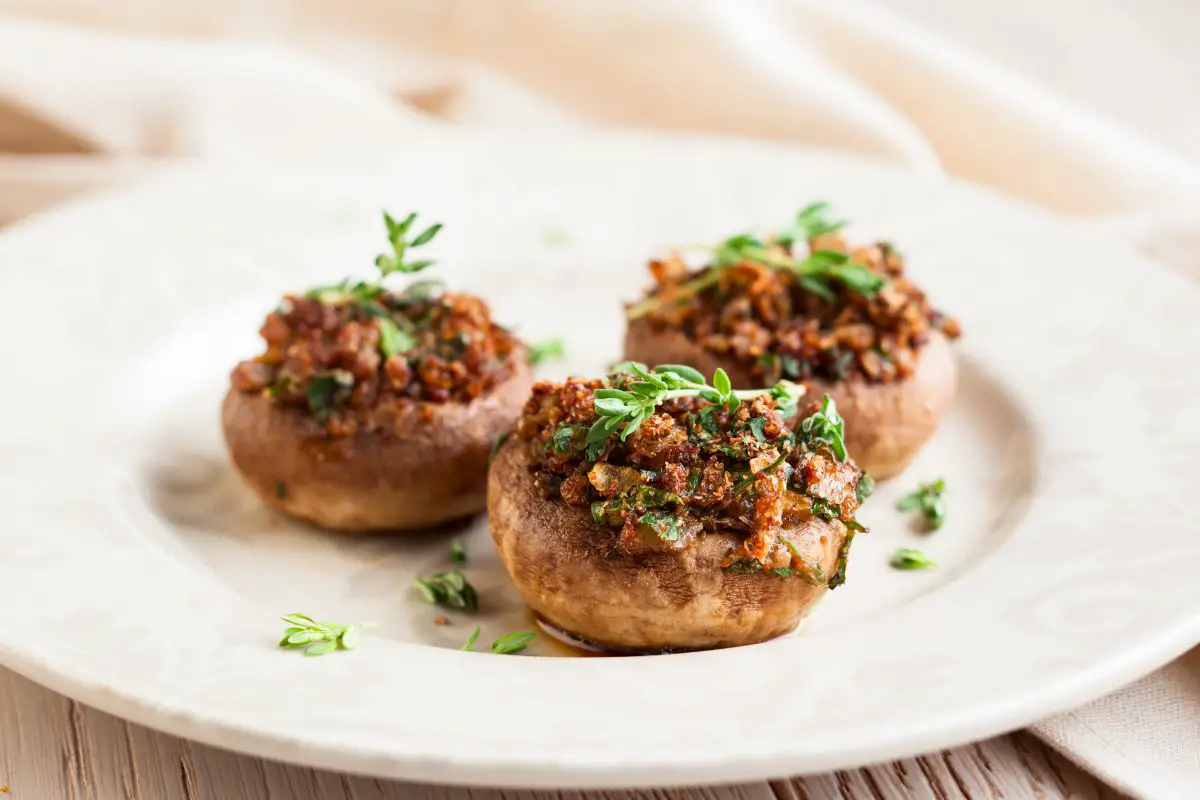 They tend to be easy to make, so it is an accessible meal for beginners to try out even if they don't have much kitchen experience. 
Ina Garten, host of the 'Barefoot Contessa' cooking show, has some amazing mushroom recipes.
Her main recipe is for sausage stuffed mushrooms, but you can use her other mushroom recipes as inspiration to create delicious stuffed mushroom dishes.
Here are her best stuffed mushroom recipes that you will want to try today (see also "Best Kelly Rizzo Recipes"). 
In this recipe, Ina Garten takes the classic stuffed mushroom and makes it so much more exciting and flavorsome (Also check out Best Ina Garten Stuffing Recipes). This recipe is suitable for beginners as is perfect for a party buffet or appetizer.
Ina uses extra large white mushrooms for this recipe, but you could use a different, large variety if you prefer (such as portobello). 
You need to start by removing the mushroom caps from the stems. Do this gently to avoid breaking the mushrooms. Finely chop the mushroom stems and set them aside.
Put the mushroom caps in a bowl and toss them in olive oil and marsala wine or dry sherry. 
Cook the crumbled sausage meat in olive oil over a medium heat until it is browned. Add the chopped mushroom stems and cook for a few more minutes. To the pan, add garlic, scallions, salt and pepper.
Keep stirring to mix the ingredients, then add mascarpone cheese and panko breadcrumbs. As soon as the mascarpone has melted, take the pan off the heat. 
With the pan off the heat, stir in the parmesan cheese and parsley. Taste the creamy mixture and add any more seasoning that you need. Next, it is time to stuff the mushrooms.
Fill each mushroom with the sausage mixture and arrange them in a dish. Bake the dish of mushrooms until the mushrooms are cooked through and the stuffing mixture has developed a brown crust. 
This recipe is inspired by Ina Garten's mushroom risotto recipe in her 'Back To Basics' cookbook(see also: Ina Garten Cranberry Sauce Recipes To Try Today).
Mushroom and risotto is a great combination, but instead of making a mushroom risotto this recipe stuffed mushrooms with a cheesy risotto.
The risotto is made with wine, chicken stock, onion, peas, butter, and a bay leaf. It has a creamy texture and wonderfully savory flavor. 
You can use any type of cheese you want for this recipe, but monterey jack is recommended. If you prefer a stronger flavor, try a blue cheese instead.
Once the risotto is ready you can separate the caps from the stems of the mushrooms and stuff them. Sprinkle each stuffed mushroom with cheese and then bake for 20 to 30 minutes. 
You can make the risotto up to 2 days ahead of time if you want to. This is very convenient if you are making this recipe for a party and you have a lot to do on the day of the event.
If you want to avoid wasting the mushroom stems, chop them up and add them to the risotto a few minutes after the chopped onion. 
This recipe is inspired by Ina Garten's mushroom bolognese recipe from her 'Barefoot Contessa Foolproof' cookbook.
You can stuff the mushrooms with beef bolognese, or use a vegetable bolognese if you want to make this a vegetarian recipe.
If you decide to use vegetables instead of minced beef, make sure that all of the vegetables are very finely diced. If the vegetables are in large chunks then they will not fit into the mushrooms. 
This recipe uses portobello mushrooms which are nice and big, so you can fit plenty of bolognese in each one. Each mushroom is topped with cheese.
The cheese melts as the mushroom is baked, creating an irresistible melty lid for the stuffed mushroom. The bolognese is flavored with basil, garlic, and tomatoes for a rich and authentic Italian flavor (Also check out Best Ina Garten Tomato Soup Recipes). 
This recipe is inspired by Ina Garten's chicken with wild mushrooms recipe in her 'Barefoot Contessa Foolproof' cookbook. This meal is a great source of protein as there is protein in the mushrooms and in the chicken.
The chicken is in a creamy sauce, made with soft cream cheese (Also check out Best Ina Garten Lemon Chicken Recipes). The chopped mushroom stems are fried with finely chopped onion before being added to the creamy chicken mixture, giving it a lovely savory flavor. 
This recipe is inspired by Ina Garten's mushroom and leek bread pudding recipe from her 'Barefoot Contessa Foolproof' cookbook.
If you want to impress your vegetarian friends then this is the perfect recipe to make. Each portobello mushroom is stuffed with leek, thyme, garlic, and breadcrumbs.
The combination of textures and flavors is incredible. You can serve these mushrooms as an appetizer, a main course, or even as a side dish. 
This recipe is inspired by Ina Garten's baked polenta with blue cheese and mushrooms recipe from her 'Make It Ahead' cookbook.
Mushrooms and blue cheese is a winning combination, and this recipe is a perfect example of why these flavors work so well together.
If you want to make this even more like Ina Garten's recipe, you can serve it with polenta or sprinkle some polenta on top of the stuffed mushrooms. 
You can choose whatever blue cheese you want for this recipe, so you can make it as mild or as strong as you prefer.
The blue cheese is mixed with cream cheese, so if you prefer a milder flavor then use more cream cheese to dilute the flavor of the blue cheese. 
This recipe is inspired by Ina Garten's wild mushroom and farro soup (see also: 12 Amazing Ina Garten Soup Recipes To Try Today)from her 'Make It Ahead' cookbook.
It uses Greek flavors to create a vegan meal that is very nutritious (leave out the parmesan cheese to make this meal vegan).
Farro is whole grain that contains lots of protein and fiber, making it a nourishing ingredient to include in your diet. It has a chewy texture and an earthy flavor which makes it a great accompaniment to mushrooms. 
You can customize this recipe by using whichever vegetables you fancy. This dish has zucchini and sweet potato along with the mushrooms. Green onions and garlic add a punchy flavor. 
This vegan and gluten free recipe is ideal if you are hosting a holiday party and you have guests with various dietary requirements. The recipe uses chestnut mushrooms which have a wonderful flavor.
The mushrooms are stuffed with the finely chopped mushroom stems that have been sauteed with shallots, herbs, garlic, nutritional yeast and miso. 
Bacon and cream cheese is a classic filling for stuffed mushrooms that will go down well with the whole family.
This snack or appetizer is great for game day or a fun party, and the irresistible combination of salty bacon and creamy cheese will get your mouth watering. You might want to make two batches!
You only need 5 ingredients to make this recipe, so it is nice and simple and very budget friendly. 
This recipe for stuffed mushrooms is a little different. The mushrooms are stuffed with a creamy garlic filling. The mushrooms are then dipped in flour then egg and finally coated with breadcrumbs.
You can then deep fry the mushrooms to create a crispy texture on the outside, but the middle stays soft and smooth. 
If you want to make this recipe healthier, you could oven bake the mushrooms instead of frying them. They won't be quite as crispy, but they will still taste amazing.
Alternatively, you could use an air-fryer or shallow fry the mushrooms and turn them frequently to cook them evenly. 
Final Thoughts 
Stuffed mushrooms are a great dish to make for family and friends and these recipes will help you to create the perfect stuffed mushrooms. You can also experiment with your own flavor ideas and fillings. 
Frequently Asked Questions
Here are some frequently asked questions about stuffed mushrooms. 
Which Variety Of Mushrooms Should You Use For Stuffed Mushrooms? 
A lot of people use portobello mushrooms because they are nice and big, so it is easier to stuff them. You can use whichever variety you like as long as you can get some filling inside or on top.

Some other recommended varieties are chestnut mushrooms and button mushrooms due to their even shape.
Are Stuffed Mushrooms Vegetarian? 
A lot of recipes for stuffed mushrooms happen to be vegetarian, and they are often used as a vegetarian alternative on restaurant menus.

However, stuffed mushrooms don't have to be vegetarian. You can add meat if you want to. 
What Is The Best Filling For Stuffed Mushrooms? 
There are lots of delicious fillings for stuffed mushrooms. One of the most popular fillings is cheese, but you can also make tasty vegan stuffed mushrooms.
10 Best Ina Garten Stuffed Mushroom Recipes To Try Today
Course: Recipes
A guide to the best recipes for stuffed mushrooms that were created by Ina Garten or inspired by her wholesome cooking style.
Directions
Pick a recipe from above
Click the recipe name and visit the website
Collect the ingredients and the food
Enjoy – don't forget to leave a review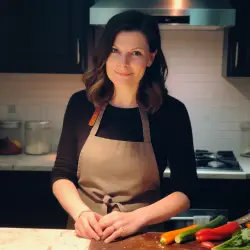 Latest posts by Barbara Hunt
(see all)