There's nothing like bolognese to quiet our rumbling tums when we want something quick, easy, and oh-so-delicious, and who better to source a recipe from than the Barefoot Contessa herself, Ina Garten.
From the Office of Management and Budget to celebrity chef, Ina's journey to foodie fame has been somewhat unorthodox, but that doesn't mean she doesn't know her stuff, especially when it comes to a comforting classic such as bolognese!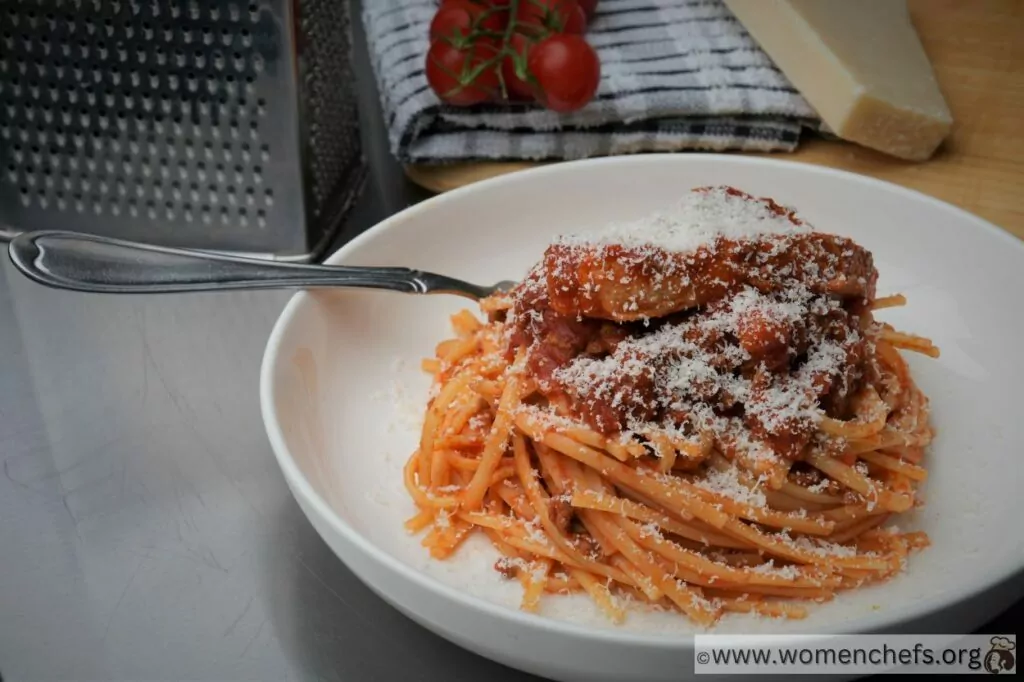 In today's article, we'll be breaking down her very best variations on everyone's favorite tomato-based sauce. But before diving into her magnificent recipes, let's take a moment to cover a couple of bolognese basics.
What Is Bolognese?
Traditionally, bolognese (or ragu alla bolognese, as it's known in Italy), is a ragu-style, tomato-based meat sauce cooked over a great many hours using numerous techniques.
However, across the US and much of Europe, appreciation of efficiency has led to some procedural shortcuts over the years, and it's this culinary need for speed Ina Garten tries to satisfy with most of her bolognese recipes.
It's difficult to give a brief answer regarding the flavor of bolognese, as its simplest form provides the perfect blank canvas for experimentation — It's the kind of dish everyone has their own take on.
There are a few universals to speak of, such as the robust tomato flavoring, a faint sweetness that holds the acidity of the tomatoes in check, and lots of lovely garlic (Also check out Best Ina Garten Tomato Soup Recipes). But the great thing about bolognese is that you can make it your own.
That said, there's no better place to start your exploration of this epic dish than one (or all) of the Ina Garten recipes detailed below.
How could we start this list with anything other than Ina's mouthwatering "Weeknight Bolognese", but get this… we've stumbled across the even tastier updated version.
While she had already made a name for herself as a culinary whiz before she published this recipe in Barefoot Contessa: How Easy Is That? (2010), it's one of the creations she's most known for.
Utilizing a wealth of synergistic herbs, plenty of dry red wine, some lean ground sirloin, and, of course, a light snow of freshly-grated Parmesan cheese, this recipe doesn't hold back in the flavor department!
It's rich, it's bold, and if it wasn't so darn filling, it'd be devilishly moreish.
However, we'd best caveat that by mentioning that if you're calorie counting at the minute, you may want to skip this recipe, as it's quite (okay a lot) indulgent.
Take the inclusion of heavy cream for instance.
While this is a nice touch as far as authenticity is concerned (the traditional Italian dish would include either milk or cream), it's largely considered an optional addition in modern bolognese recipes.
Ina categorizes this as a beginner-friendly recipe, which we happen to agree with, but there are a few classical techniques to be aware of, such as deglazing.
This is the process of using liquid and agitation to loosen and dissolve food particles stuck to the pan.
From chopping board to belly, you're looking at about 20 minutes to half an hour, and it serves 4 people, but it's so delicious that two of you may well get through the whole thing. Extravagant? Yes. Worth it? Also yes!
Ina largely sticks to the parameters set out in her Weeknight Bolognese recipe for her Turkey bolognese.
All the same aromatics are here, including basil, oregano, and nutmeg, and the heavy cream makes a return as well.
But before dieters close the door on this option, you should know that turkey is a much leaner option than the beef used in the aforementioned recipe.
Turkey is way lower in saturated fats, meaning it's not too bad for the old ticker, and particular cuts can even be incredibly low-cal, so it won't derail your weight loss progress.
With that said, we'd recommend choosing a fattier specimen for this recipe, though, as it will retain more moisture during the cooking process. 
We've all had super dry turkey before, and it's never a fun experience, so you have to ask yourself if you're willing to sacrifice a bit of meal quality for meal health here.
Thankfully, the reduced preparation and cook time also carries over into this recipe, but if you're cooking your turkey from scratch, needless to say, you're looking at a much longer wait.
We'd recommend sticking to the instructions and using ground turkey to speed things up significantly.
Or, better yet, if you've got oodles of leftover turkey after the holiday season, pick the bird clean and throw the meat into this dish.
Okay, so cards on the table, this is a vegan reimagining of the Weeknight Bolognese we discussed earlier.
If you liked the sound of it but can't give it a try due to your vegan or vegetarian diet, the creator of this recipe shows how easy it is to veganize.
In place of ground beef, they use seasoned soy beef strips. They can be hard to find in your local grocery store, but they're by no means your only option. Vegan mince is pretty common stock across the US now.
Failing that, if there are some vegan beef burgers about, you could simply crumble a few of them into the pan. Lentils are a fantastic sub as well, and they're much healthier than soy beef pieces.
Instead of heavy cream, the creator uses soy creamer. It's nowhere near as thick as the real deal, but it does the job. You could also use a splash of oat milk to achieve more or less the same results.
And if that makes the sauce a little too thin, a touch of corn flour will thicken things up.
The recipe calls for soy Parmesan, which, again, is hard to come by, so don't hesitate to just pick up your favorite vegan cheese and run with it.
If you're after a lean bolognese recipe from the great Ina Garten, her mushroom bolognese from Go-To Dinners is definitely your best bet.
The heavy cream gets the boot, with a small amount of Italian mascarpone cheese doing the heavy lifting in the dairy department, and the meat is replaced by lots of delicious cremini mushrooms, 1 ½ lbs worth, to be precise.
The cremini mushroom comes from the same fungus family as the white button and portobello mushroom.
The button is harvested young, the portobello when mature, and the cremini is harvested somewhere in between.
They have a much stronger flavor profile than the common button mushroom, and they're a lot firmer as well, giving them an almost meaty texture. 
Sadly, these awesome mushrooms aren't always available in local supermarkets, which is a shame, but the meal won't be ruined if you have to settle for button mushrooms.
Emily Blunt recently took to Ina's Be My Guest cooking show to whip up her own take on turkey bolognese. 
While it's not technically an original Garten recipe, Ina has included Blunt's recipes in her cookbooks before, and she absolutely loved this one, so we thought… what the hey, let's share it with you, now.
This recipe takes significantly longer than the others we've shown you thus far. But, if you have the time to spare, your patience will pay off, big time!
It all begins with a carrot and celery blitzing session in the food processor. This makes for a smoother sauce and reduces the cook time of the mirepoix ingredients that establish the base flavor.
And once all the ingredients are merging together beautifully in the skillet, Emily finishes her bolognese by reducing it in the oven for 45 minutes.
What comes out is a luxuriously thick bolognese sauce absolutely bursting with flavor.
Final Thoughts
Ina Garten may not be Italian, but she sure whips up a bolognese like a pro. Her takes on this classic recipe have helped to maintain her position at the pinnacle of culinary stardom, and when you taste them, you'll understand why.
Let's hope she gives us more ingenious recipes in her future publications, but until then, we've got plenty of tasty options to tide us over — Thanks Ina!
Frequently Asked Questions
Are Ina Garten's Bolognese Recipes Authentically Italian?
While Ina Garten takes inspiration from classic Italian recipes, such as the inclusion of cream in her bolognese, she throws the rule book out the window in a lot of respects.

For example, she tends not to use the mirepoix base commonly associated with traditional bolognese, and she shortens the cooking process significantly to boost the convenience factor of her recipes.

What's more, Ina opts for a dry red wine, while an authentic bolognese would use white, but, to be fair, red has become the norm for bolognese these days.
Is Bolognese Better The Longer You Cook It?
The longer you give your ingredients to simmer in a bolognese, the more robust and nuanced the flavor profile will be.

It's hard to find the time for such mammoth culinary endeavors these days, which is why Ina Garten has done what she can to reduce both the preparation and cooking times of her bolognese recipes.

Though, if you do ever find yourself with time to kill and you've got a hankering for bolognese, we highly recommend giving a long, slow recipe a go. You'll taste the difference!
4 Best Ina Garten Bolognese Recipes To Try Today
Course: Recipes
Ina Garten is a fantastic cook, as evidenced by her takes on the Italian classic, bolognese. Check out her best bolognese recipes you can try tonight.
Directions
Pick a recipe from above
Click the recipe name and visit the website
Collect the ingredients and the food
Enjoy – don't forget to leave a review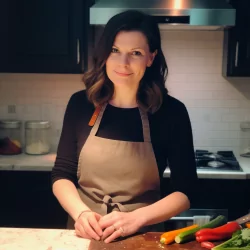 Latest posts by Barbara Hunt
(see all)