So, you open up your refrigerator door and look for some inspiration for tonight's meal and you notice some eggplant sitting patiently to be used.
Maybe it's almost out of date, perhaps it's sat there a while because you simply can't think of a way to incorporate it into a meal that will be totally delicious.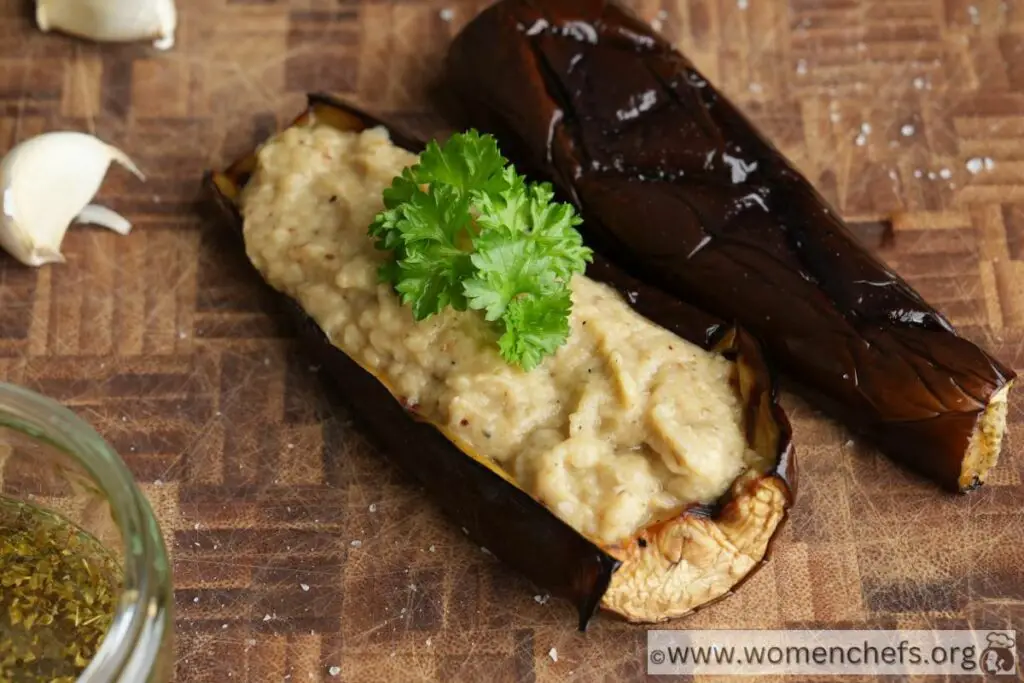 Well, that's where we come in handy. 
Don't let that scrumptious veggie go to waste. There are tons of excellent meals out there where eggplant is the shining star.
And even better, most are super easy and effortless to make, meaning you don't have to slave away behind a stove for hours after a long hard day at work. 
And when it comes to eggplant, Ina Garten really knows a thing or two.
We'll start this article off with the top 5 very best Ina Garten eggplant recipes and then we'll even throw in a few of our other favorite eggplant recipes along the way (see also "Best Ina Garten Frittata Recipes To Try Today"). 
Ready to be inspired, chef? Let's get straight to it then! 
Of course, at the coveted top spot is none other than Ina Garten's famously renowned Roasted Eggplant Parmesan. This meal is packed full of flavor that you'll experience with each and every mouthful. 
It's the perfect option for vegetarians who can't eat chicken parm; all those familiar flavors just without the meat.
The texture of this meal is phenomenal, you get that super tender melt-in-the-mouth cooked eggplant with just a hint of bitterness. 
Pair that with the rich and chunky marinara sauce and the oozing gooey melted mozzarella, creamy goat's cheese, and parmesan cheese, and you're in for a real delicious and decadent treat. 
If you're looking for something a little bit lighter but still just as tasty, then you can never go wrong with this stunning Eggplant dip.
This thick and chunky dip can be easily devoured on its own straight from the bowl, but we'd definitely suggest dunking a few tortilla chips into this veggie medley. 
The only thing you'll want to remember about this recipe is that veggies tend to shrink in size when they're cooked.
So, two whole trays filled with all your ingredients will actually only make one bowl of the dip.
If you're planning to make a large sharing dip, for parties, etc, we suggest doubling down on the ingredients provided in the recipe. 
Is there any meal more comforting or filling than a heart bowl filled to the brim with pasta? This is one of those recipes that never fails and is perfect for a weeknight meal.
It's quick and easy to make and uses just a handful of ingredients making it incredibly convenient. And the result is scrumptious pasta in a rich sauce with tons of cheesy goodness in each forkful. 
This recipe calls for just tomatoes and eggplant, but the beauty of this recipe is that you can tweak it to your own personal taste.
Prefer to add a little zucchini to the mix? Go for it. Prefer to add a little extra meat for protein? There's no stopping you. 
On a cold winter evening, there's nothing that can warm your soul better than a good old bowl of soup. And when it comes to soup, this one is delightful. It's chunky and saucy, and bursts with flavor. 
Ina Garten masterfully balances several different spices and seasonings like the professional she is, to create a soup that you'll be super sad to finish.
You may even lick the bowl clean. It also takes no more than 30 minutes to prepare and so it's a great option for those on the go. 
And of course, don't forget to slice yourself up some thick and crusty bread for dunking…that's the best part. 
Now, this recipe will take a little longer to prepare and can be a little tricker for beginners, but trust us, your efforts will be highly rewarded.
This is the perfect evening meal that the whole family will chow down on and probably finish in mere minutes. 
You'll prepare layer after layer of cheese, marinara sauce, pasta, and eggplant along with a few other featured veggies.
You can expect to find all your favorite textures and flavors that are recognizable in a lasagna, except there is no meat in sight – perfect for vegetarians. 
This recipe is what we call a labor of love. It will take some time and some effort, but we promise that it's definitely worth it. Because of this, we recommend making it when you've got a little extra free time. 
This Mediterranean dish features a rich and tangy tomato sauce, wobbly and gooey bechamel sauce, tons of veggies, and some juicy ground meat.
Don't worry, if you're vegetarian, the last ingredient is optional. 
The result? A dish oozing with scrumptious flavors and stunning textures from the smooth and creamy sauce, to tender baked eggplant, to chewy and succulent ground meat. 
There's nothing tastier than an eggplant filled to the brim with delicious ingredients, and that is exactly what this recipe provides.
Now, don't be fooled by this scrumptious meal – it's a lot more filling than it looks. 
The combination of tons of veggies, along with the juicy and succulent ground beef, cheese, and breadcrumbs makes this a textual dream.
You'll get that softness from your vegetables, while the meat gives it a more chewy quality, and then those breadcrumbs provide the much-needed crunch. 
If you're vegetarian, you can always substitute the ground beef for a vegetarian-friendly alternative such as tofu or halloumi, or you can simply omit it altogether. 
Calling all those following vegan or gluten-free diets – this one is for you. For this delightful and flavorsome meal, we're getting our inspiration all the way from Morocco.
So, expect tons of spices in your stew, and a nice hint of cinnamon in the couscous you'll serve beside it. 
This meal is so scrumptious and filling. You'll definitely have a busting belly after scoffing down a bowl of this vegan stew. 
This fast and easy meal can be made in as little as 30 minutes, so satisfying your curry craving has never been simpler.
And eggplant isn't the only star of the show for this mid-week meal, you can choose between chunky pieces of tofu, chicken, or shrimp too. 
To keep things moving a little quicker, you can opt to buy your green curry paste from the store, or alternatively, for a more authentic experience, you can make it from scratch yourself.
Regardless of which option you pick, you can still expect a creamy, delicious, and moreish curry. 
This delicious sandwich is a fantastic option at any time of the year, but the summer is our favorite time to tuck into this delight.
When it comes to a fully loaded sandwich, you won't find a better option than this. 
Between two slices of bread, you'll pack tender grilled eggplant, roasted peppers, a hearty pesto portion, mozzarella cheese, and even an olive tapenade, you know just for good measure. 
This is the perfect picnic option for long expeditions, walks, and more. It'll definitely give you the fuel to carry on with your journey! 
If you're fancying a light bite or snack that is sure to keep you going until your next meal, then these air-fryer eggplant sticks are a super healthy yet totally tasty option to try. 
These diced-up portions of eggplant come out of the air fryer super crispy on the outside and soft and creamy on the inside. They're basically like veggie fries or wedges, except a whole lot healthier. 
Don't forget to season them up really nicely for some extra flavor and then serve with a portion of rich and tangy marinara sauce for dipping. 
If you, like us, are a glutton for chips but are trying to make healthier choices, then this eggplant chips recipe will be a lifesaver for you.
The result is thin and crispy slices of eggplant that are a little bit salty and a little bit cheesy. 
Just keep in mind though, that these bad boys can burn pretty easily, so you'll want to keep a close eye on them.
They can take as little as 10 minutes to be ready though, so rest assured that you'll satisfy your chip craving in no time at all. 
Final Thoughts 
As you can see from this article, there is no end to the possibilities when you have some eggplant lying around.
Each of these recipes is sure to be packed to the brim with delicious flavors and keep the whole family happy, too. 
So, now for the really hard question…which of these recipes will you try first? 
Ready for more? Take a look at these tasty eggplant side dishes.
12 Amazing Ina Garten Eggplant Recipes To Try Today
Course: Cookbooks
Directions
Pick a recipe from above
Click the recipe name and visit the website
Collect the ingredients and the food
Enjoy – don't forget to leave a review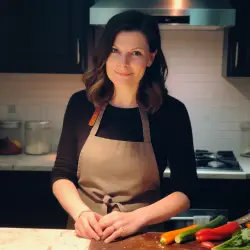 Latest posts by Barbara Hunt
(see all)