If you're looking for comfort food that features a twist of sophistication, then you can never go wrong with the Barefoot Contessa. 
In fact, Ina Garten's lasagna is a classic recipe you'll be whipping up again and again – your whole family will love it.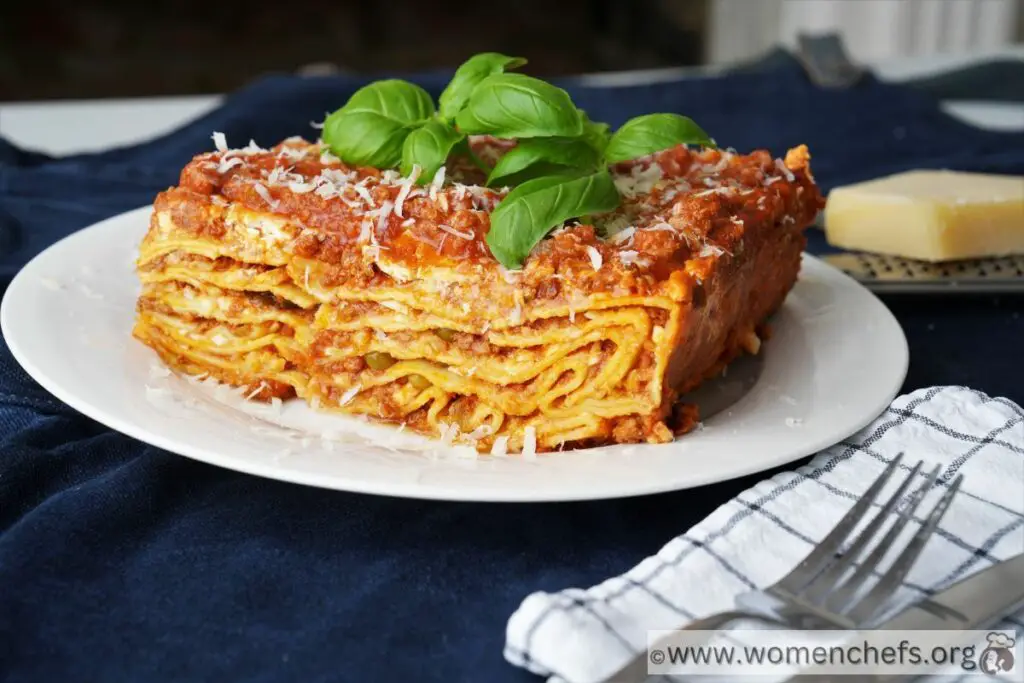 Ina Garten can be considered the unofficial Queen of the Hamptons. Not only does she exude grace and style but her cooking does, too – her turkey lasagna bears no exception. 
The result is a meaty, cheesy, and overall utterly delicious lasagna that you won't be disappointed with. 
Seriously, Ina Garten's lasagna is flavorful, rich, and incredibly comforting – what's there not to love?! 
With this in mind, this article will explore Ina Garten's lasagna recipe and a few other similar lasagnas that may be of interest to you. 
Let's get started. 
Since there are so many lasagna recipes out there, you may be wondering what makes this one so special. 
Well, instead of one reason, there are five – to be exact. 
Firstly, as opposed to pork or beef, this recipe uses Italian turkey sausage. Not only is it lighter and leaner – therefore, healthier – than other meat but it is bursting with flavor, too. 
Therefore, you can "accidentally" eat three slices of this lasagna without feeling an overwhelming heaviness in your stomach – trust us, we know! 
When it comes to the other four reasons to make this lasagna, these can be summed up quickly: goat cheese, ricotta, mozzarella, and Parmesan. 
Yes, that's right, this wonderful lasagna is packed with FOUR different types of cheese – you're about to be in cheese heaven! 
Each cheese added to this lasagna has its own distinct flavor that melts and combines with the other cheeses perfectly. 
When you combine this with the seasonings, tomatoes, and noodles – you are rewarded with perfection with every mouthful. 
If you love Ina Garten's lasagna recipe, then take a look at some of these other recipes we have found for you that taste just as amazing:
Transform Saturday night dinner into something the whole family is looking forward to with this lip-smacking roasted vegetable lasagna. Not only is it super simple to make but the results are out-of-this-world, too. 
If you have some delicious pasta sauce ready, then this recipe becomes a whole lot easier – just prepare all the other ingredients and assemble your lasagna, then top with extra cheese.
Serve it along with a glass of wine for a special dinner for you and your loved one. 
You can never go wrong with lasagna, and this roasted vegetable lasagna makes sure you're getting your 5-a-day.
Packed with cheesy goodness thanks to the ricotta and tons of delicious vegetables, this lasagna is nourishing, wholesome, and utterly delicious. 
Like any other pasta, making pasta sauce from home is a piece of cake. All you need are fresh vegetables, fragrant herbs, and delicious ricotta placed between the delicate lasagna noodles for an oozing, gooey masterpiece. 
However, for those days when making a pasta sauce from scratch is too much, then you can always rely on a high-quality store-bought pasta sauce. 
The best part about these sauces is that they already contain all the herbs your dish needs, including chilies and oregano, allowing you to whip up something quickly before your guests arrive. 
If you're looking for something to whip up this weekend then look no further than this delicious spinach and corn lasagna corn recipe – it is sure to become a family favorite. 
It is super simple to assemble with each layer containing sheets of lasagna, creamy spinach, tomato sauce, and crunchy corn. It is then topped with mouth-watering cheese and baked to perfection. 
Perfect for a party, this spinach and corn lasagna recipe is packed with delicious flavor. The recipe itself is fairly simple and straightforward – all you need is a few basic ingredients.
The result is something incredibly healthy that both adults and children will enjoy.
Once you have finished assembling your lasagna, it is then topped with some delicious grated britannia cheeza – which not only tastes delicious but melts perfectly into all those different flavors. 
If you're a fan of cheese, then this recipe will become your version of heaven – yum! 
If you're looking for the best vegetable lasagna, well, you're in the right place! Here it is.
This vegetarian lasagna is packed with delicious vegetables, a simple tomato sauce, spinach, and, of course, tons of cheese! 
For those of you who have meatless-meal skeptics in your family, then this lasagna is sure to change their mind – we're sure of it. 
Essentially, this recipe combines two delicious types of lasagna: roasted eggplant lasagna and spinach artichoke lasagna – two less-conventional but delicious meals. 
However, this recipe was designed to offer you something suitable for weeknights and holidays, and thus, the vegetable lasagna was created. 
While the tomato sauce remains the same in all these recipes, the vegetables vary considerably – offering you an entirely new experience (Also check out Best Ina Garten Tomato Soup Recipes). 
When it comes to this recipe, all you have to do is chop the zucchini, bell pepper, and carrot into tiny pieces and sauté them until they are bronzed and golden. 
Here, the caramelization helps to bring out tons of flavor into the dish. Then, simply add your spinach to a skillet and cook for a few minutes. 
Then simply build your lasagna and cook to perfection – or until the cheese melts and has a delicious bronzed look – delicious! 
For this super simple, no-boil lasagna recipe, you're taking two different types of meat and three kinds of cheese to create something bursting with delicious flavors.
Plus, if you're looking to keep things easy, then you can't go wrong with a jar of your favorite spaghetti sauce. 
While homemade lasagna is always 100% more delicious than store-bought or partially-prepared lasagna, we understand that not everyone is able to dedicate enough time to prepare this time-consuming meal. 
However, if you do, we certainly recommend it as the extra time and effort work out in the end. 
That said, for those days when you're short on time but are craving the homemade lasagna flavor. Then you need to try this easy lasagna recipe – it is here to save the day. 
Here, all you have to do is take your favorite spaghetti sauce and combine it with other simple ingredients to create an easy and quick meal that the whole family will enjoy. 
Move aside pre-made, frozen lasagna – you are not welcome in our kitchen! Instead, say hello to this easy lasagna recipe featuring delicious ricotta cheese. 
The best part? It is super simple to make – combining all your favorite flavors for a homemade take on the classic recipe. 
Once you have finished assembling your lasagna, simply toss it with a delicious salad. For instance, why not try a Sicilian roasted artichoke salad? 
This recipe provides you with all the delicious flavors of homemade lasagna, however, it contains a few shortcuts to make it super simple to prepare – even for a weeknight meal. 
Trust us, you won't be disappointed. 
With this recipe, you're provided with an incredibly satisfying white sauce chicken lasagna. Here, layers of lasagna noodles are combined with creamy spinach sauce and tender chicken. 
Similar to the classic lasagna recipe, this recipe reheats perfectly, too – perfect for when it comes to meal planning. Once you make it, you won't stop getting requests to make it again and again.
There are four different components to the creamy white chicken lasagna: a simple bechamel spinach sauce, ricotta cheese sauce, and lasagna noodles. Not to mention the tender chicken! 
Here, you can use store-bought rotisserie chicken or instant pot chicken (see also "Female Chef Instant Pot Cookbooks You Do Not Want to Miss"). Alternatively, if you have a can of canned chicken in your pantry, you can use this in your recipe, too. 
Just make sure that it has been adequately drained before adding it to your lasagna – you don't want soggy noodles! 
Furthermore, another tip when making this lasagna is to cook your noodles for a couple of extra minutes to ensure they don't break while cooking. 
Final Thoughts
You can never go wrong with a hearty lasagna: it is satisfying, delicious, and incredibly healthy (depending on the ingredients you put inside). 
When the queen herself, Ina Garten, makes a lasagna, then you have to try it! Trust us, you won't be disappointed. 
Once you have made her recipe, you may look to expand your lasagna knowledge and flavors, therefore, why not test out some of the other recipes included in this guide?
Hopefully, this guide has informed you about the best Ina Garten lasagna recipe and some others that are equally delicious. 
Frequently Asked Questions
Do You Have To Cook Noodles For Lasagna?
Typically, you don't have to boil lasagna sheets before assembling the lasagna. Usually, the liquid from the spaghetti sauce is enough to cook the noodles beautifully as it bakes.
7 Amazing Ina Garten Lasagna Recipes To Try Today
Course: Recipes
Directions
Pick a recipe from above
Click the recipe name and visit the website
Collect the ingredients and the food
Enjoy – don't forget to leave a review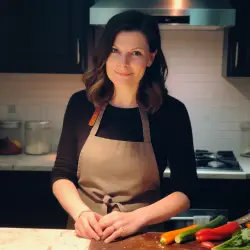 Latest posts by Barbara Hunt
(see all)