Are you ready to meet some of the most talented female chefs in Thailand? Because in this article, we have the best female Thai chefs you need to know about!
There are many reasons why we adore them, and once you read this article you will understand why.
From their cooking and unique creations to their passion for the promotion of Thai cuisine and their side hobbies, there are so many things they have done in their lives that are simply inspirational.
So, get ready to be inspired and awed by these amazing women!
Duangporn Songvisava, also known as Bo, is a renowned Thai chef who co-owns the restaurant Bo.lan in Bangkok.
She was a financial consultant before becoming a chef, but her love for cooking eventually led her to pursue a career in the culinary arts. And we are the luckiest people in the world ever since!
Bo is a beloved figure in the Thai culinary scene and has been recognized internationally for her contributions to the industry.
The reasons why we love her? Her commitment to preserving traditional Thai cuisine and promoting sustainability, as well as her innovative and exciting approach to cooking – to name a few.
In fact, together with her husband, Dylan Jones, they founded Bo.lan with the goal of preserving traditional Thai cuisine and promoting the use of locally sourced, sustainable ingredients.
As for her cooking, it is characterized by its emphasis on bold flavors and inventive combinations of ingredients.
Her dishes are a fusion of traditional Thai flavors and modern techniques, resulting in unique and unforgettable flavor profiles, with some of her most popular dishes including the Pla Gao Nam Prik Gapi (grilled snakehead fish with shrimp paste chili sauce) and the Pad Thai Goong Sod (stir-fried rice noodles with prawns, tofu, and peanuts).
Bee Satongun is another highly acclaimed Thai chef that we absolutely adore!
She is the co-owner of the restaurant Paste Bangkok Chef Bee and is known for her contemporary take on traditional Thai cuisine, as well as her talent in incorporating modern techniques and ingredients while maintaining the flavors and essence of Thai cooking.
One of Chef Bee's specialties is her use of herbs and spices, which are essential in Thai cuisine. Indeed, she carefully selects and blends herbs and spices to create complex and nuanced flavors in her dishes.
Among her many creations are the Moo Krob Songkruang (crispy pork belly with a tamarind reduction and an assortment of herbs), and the Gaeng Som Cha-Om Goong (spicy and sour soup with shrimp, acacia leaves, and tamarind).
And if you are interested in what the Michelin judges think, then we should tell you that in 2018, she and her husband were awarded a Michelin star for their outstanding culinary creations at Paste Bangkok!
Have you heard of Chef Pam Panyasiri? She's the founder and chef of Soul Food Mahanakorn in Bangkok, and let us tell you, her street food-inspired dishes are out of this world!
Chef Pam is all about showcasing the vibrant and diverse flavors of Thai street food while elevating them to a whole new level of sophistication.
Her dishes are a fusion of classic Thai ingredients and modern techniques, resulting in bold, unforgettable flavors that will leave you craving more.
Some of her most popular dishes include the Yum Makeua Yao (smoky grilled eggplant salad with prawns, pork crackling, and mint), and the Khao Soi Gai (rich and creamy chicken curry noodles with crispy noodles and pickled mustard greens).
But Chef Pam's culinary creations aren't just delicious; they're also sustainable.
That is because Pam sources her ingredients from local farmers and vendors, supporting small businesses and promoting eco-friendly practices.
Nooror Somany Steppe is a total rockstar in the culinary world and once you try her food, you're going to love her too!
She is the founder and head chef of the iconic Blue Elephant restaurants, which serve up some of the most mouth-watering Thai cuisine you've ever tasted.
With a career spanning over 30 years, she has become a true ambassador of Thai cuisine, sharing its rich history and culture with the world through her cooking.
One of the things that make Chef Nooror so special is her passion for using traditional Thai ingredients and cooking techniques in her dishes.
Her recipes are inspired by the vibrant flavors of Thailand, but she's not afraid to put her own unique twist on them.
As for her signature dishes, those have to be the Tom Yum Kung (spicy and sour prawn soup), and the Gaeng Keow Wan Gai (green curry chicken).
And let's not forget her stunning desserts, like the Khao Niew Mamuang (mango sticky rice)!
Next on our list of our favorite female Thai chefs is Phatchara Pirapak, the chef at Sorn Fine Southern Cuisine in Bangkok.
Phatchara is a master at crafting complex and nuanced flavors using traditional Southern Thai ingredients and techniques, and her dishes reflect the rich culinary heritage of Southern Thailand making each bite a true culinary experience.
Some of her standout recipes include the Goong Sarong (deep-fried prawns wrapped in rice noodles), the Kua Kling Nuea (spicy dry curry with beef), and the Kaeng Tai Pla (spicy fish curry).
Of course, as another chef who showcases the richness of her cultural food and sources, she also works closely with local farmers and fishermen to source the freshest and most environmentally friendly ingredients possible.
Jutamas "Som" Theantae, is the next Thai chef on this list that's going to knock your socks off!
She is the big boss at Chim by Siam Wisdom, a super cool restaurant in Bangkok that serves up some of the most amazing Thai cuisine you've ever tasted.
Som is also a culinary rockstar on the international stage as she's won awards and cooked at events all around the world representing Thailand.
And as if that's not enough, not only is she a culinary goddess, but she's also a total trailblazer; as a woman in the male-dominated world of Thai cuisine, she's broken barriers and inspired a new generation of female chefs to follow in her footsteps.
And did you know that Chef Som has a background in architecture? That's right! Before she became a chef, she studied architecture in school.
So, in case you are wondering why her dishes are so uniquely and masterfully presented, that is a good reason behind it!
Now, this is a female Thai chef who will make you believe that anything is possible!
Naree Boonyakiat is one of the most famous Thai chefs in the world and she is actually a self-taught one!
Indeed, Naree learned how to cook by watching her grandmother and mother in the kitchen, and she's been experimenting with flavors and techniques ever since.
In addition to her culinary skills, she's also a bit of a history buff. Chef Naree is fascinated by the rich history of Thai cuisine, and she's done extensive research on the origins of different ingredients and dishes.
This passion for history and culture is reflected in her cooking, as she creates dishes that are not only delicious but also tell a story.
Each dish at Paste Bangkok is carefully crafted to showcase the flavors and ingredients that have shaped Thai cuisine over the centuries.
And speaking of crafting, Chef Naree is a true artist when it comes to plating her dishes!
That is because she takes inspiration from Thai art and architecture to create beautiful, intricate presentations that are almost too pretty to eat. Almost!
Last on our list is Pim Techamuanvivit, who was one of the Best Female Chefs in the Michelin 2019 Guide!
Apart from being a chef, she is also a food writer and entrepreneur. Born and raised in Bangkok, Thailand, she later moved to the United States to pursue her education.
After working in the tech industry for several years, Pim decided to follow her passion for food and enrolled in culinary school.
Pim's culinary expertise is heavily influenced by her upbringing in Thailand and her travels around the world, and she is particularly skilled in creating dishes that fuse traditional Thai flavors with modern techniques and ingredients.
In fact, Pim's innovative approach to cooking has earned her numerous accolades, including a James Beard Foundation Award for Best Food Blog!
In addition to her culinary achievements, Pim is also a successful entrepreneur.
She is the founder of Kin Khao, a popular Thai restaurant in San Francisco, and Nari, a restaurant that celebrates the flavors of northern Thailand, while she has also authored several cookbooks and writes a popular food blog, "Chez Pim."
The Bottom Line
So, next time you are in Thailand or want to cook some Thai dishes, make sure to check out these 8 chefs to create or try the most delicious meals!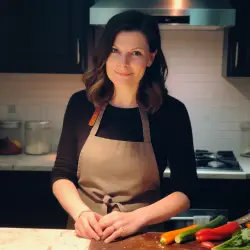 Latest posts by Barbara Hunt
(see all)