Ina Garten (famously known as Barefoot Contessa), is one of America's best-loved chefs and cookbook authors.
All of her recipes are truly special, and these brownie recipes are no exception! If you're a chocolate lover with a big sweet tooth, you're in for a treat. 
Ina Garten has given us everything from classic brownies to inventive new creations like the brownie pudding and salted caramel brownies, which are consistently delicious, and have easy-to-follow recipes that even beginner bakers will love! 
So, whether you're looking for a new weekend treat to satisfy your cravings or something sophisticated to serve at a party, you'll find a brownie recipe on this list to meet your needs.
Today, we're going to take a look at 5 of Ina's best brownie recipes and talk you through their taste, texture, and the exact ingredients you'll need to bring them together.
It's never been easier to whip up a beautiful, tasty batch of brownies! 
What Is A Brownie? 
Brownies are usually considered a cross between a cake and a cookie. These dense, fudgy treats are often chocolate-flavored and have a distinctively moist texture.
There are many variations of a brownie recipe, and some may include extra ingredients like chocolate chips or nuts to enhance their flavor and texture.
Brownies are often served warm and pair beautifully with a generous helping of ice cream, chocolate sauce, custard, or whipped cream.
However, you can also just enjoy them as they are!
It's unclear where brownies originate from, however, many believe they were first invented in the US during the late 19th century.
The first known brownie recipe appeared in 1897, and since then, this delicious treat has become a staple in many households and continues to be a favorite snack or party treat for many people.
If you're a chocolate lover with a sweet tooth, you'll never fail to satisfy your cravings with a brownie! 
Ina Garten's Outrageous Brownies are one of her most popular dessert recipes ever (see also "Amazing Ina Garten Dessert Recipes").
These decadent brownies are the definition of rich, gooey, fudgy and chocolatey, and they're loaded with walnuts and chocolate chips, which add plenty of extra bite for you to enjoy! 
There's no brownie lover that won't fall head over heels for these decadent treats.
These brownies will take you around one hour and fifteen minutes to make and prepare, and they can be served at almost any special occasion, or just as a treat for yourself! We'd recommend serving these outrageous brownies with a helping of vanilla ice cream, whipped cream, or just enjoy them on their own!
These are perfect for any chocolate lover in need of something moreish and indulgent. 
Ingredients 
3 cups chopped walnuts
1 tsp salt
1 cup unsalted butter
1 pound semisweet chocolate chips 
6 large eggs
1 tbsp baking powder 
2/14 cups granulated sugar
2 tbsp pure vanilla extract
2 tbsp coffee granules (instant)
Peanut butter lovers, listen up – you're going to love these Peanut Butter Swirl Brownies! If you want something a little different, but a twist on your traditional brownie recipe with this peanut butter alternative. 
These brownies have an irresistibly rich, fudgy texture and a deep, complex flavor that's balanced beautifully by that statement peanut butter swirl.
These brownies are surprisingly simple to make (thanks, Ina!), and even novice bakers should be able to create the perfect batch. 
These peanut butter swirl brownies will take just over an hour to make, including prep and baking, and they'll be the ultimate treat to serve at a party, or even as a gift to someone special.
However, they're a timeless recipe that you can use for almost any occasion – even just a lazy weekend!
Like the outrageous brownies, you can eat these on their own, or serve them with whipped cream, ice cream, or custard. Peanut butter lovers will go crazy for these gorgeous brownies! 
Ingredients 
½ pound unsalted butter
3 large eggs
½  cup plus 2 tbsp granulated sugar
½ cup peanut butter
1 ½ tbsp baking powder
1 tbsp pure vanilla extract
8 ounces of semisweet chocolate chips 
1 ½ tbsp instant coffee granules 
½ cup (plus 2 tbsp) of flour 
1 ½ tsp baking powder 
½ tsp salt 
Next up, we have Ina's decadent brownie tart. This is one brownie recipe you won't be able to get enough of! 
Ina Garten's brownie tart is a truly delightful dessert that's decadent, impressive, and perfect for almost any occasion.
This particular recipe results in a brownie that's fudgy with an elegant tart-like presentation. It's creamy, rich, and a new and improved version of your traditional brownie recipe! 
This intriguing brownie tart will take around 3-40 minutes to bake, with a little extra time for prep and cooling. Remember to let this tart cool to room temperature before removing it from the pan.
Although this is perfect served on its own, you could serve it with extra goodies (if desired), including ice cream or whipped cream! 
This show-stopping dessert was made to impress. If you're looking for a brownie-based recipe to serve at a dinner party, this is the ideal choice.
Its beautiful presentation will make it a little more special than a regular brownie, but it still has all the statement textures and flavors we know and love in this traditional recipe! 
Ingredients 
12 tbsp unsalted butter
2 tbsp heavy cream 
½ tsp kosher salt 
½ cup + 2 tbsp all-purpose flour 
2 large eggs
1 ¼ cup of semisweet chocolate chips 
½ cup granulated sugar 
1 tsp vanilla extract 
½ tsp baking powder 
Ina certainly knows her brownies, and this time, she's come to bless us with another classic recipe – Brownie Pudding! 
Ina's brownie pudding is simple, delicious, and timeless. Any chocolate lover will fall in love with this decadent, creamy dessert that boasts the gooey texture of a brownie with that creamy consistency of pudding.
It's satisfying, refreshing, and indulgent all at once! 
This brownie pudding recipe will take you around 45 minutes to make (Including baking), making it the perfect sweet treat to whip up in a flash.
Whether you need something for a night in front of the TV or a treat for a special guest, you can't go wrong with this recipe.
Serve this brownie pudding warm or at room temperature, and you can either dish it up on its own, or with a side of ice cream or whipped cream for some extra flavor! 
This is the ultimate comfort food for anyone with a sweet tooth. The recipe is also extremely easy to follow, so you don't need to be a pro to pull this off! 
Ingredients 
This recipe uses just a few staple ingredients, including: 
½ pound of unsalted butter
4 xl eggs, left at room temperature
2 cups of granulated sugar 
½ cup hot coffee (or water!)
½ tsp kosher salt 
1 tsp vanilla extract
¾ cup cocoa powder 
½ cup all-purpose flour 
Last up, we have one brownie recipe you can't go wrong with – Ina's salted caramel brownies. Sure, salted caramel brownies may not be too hard to find in your local grocery store, but trust us, they're nothing like these ones!
These salted caramel brownies will make you fall in love with this classic dessert all over again.
If you need another twist on the classic brownie recipe, these fudgy, chocolate-loaded treats benefit from a swirl of luscious caramel sauce that takes them to new heights.
The result is a combination of sweet and salty flavor that makes these brownies stand out from the crowd. 
They'll only take you around 35 minutes to make, and this recipe is so simple to follow, you won't struggle to get the perfect results!
Whether you want a treat for yourself or something to serve at a birthday party, potluck, or for a special guest, these salted caramel brownies will hit the spot.
Serve these on their own, or with a helping of ice cream for a true crowd-pleaser. 
Delicious, indulgent, and super simple – you can't go wrong with these salted caramel brownies! 
Ingredients 
½ pound unsalted butter
2-3 tbsp flaky sea salt
½ cup caramel sauce
½ tsp kosher salt 
1 ½ tsp baking powder
8 ounces of semisweet chocolate chips 
3 ounces of unsweetened chocolate (chopped)
3 large eggs 
1 tbsp pure vanilla extract
1 cup granulated sugar
1 ½ tsp baking powder
The Bottom Line 
One thing's for sure – Ina has a knack for creating beautiful food! These brownies are a fine example of her talents, and what you can achieve in the kitchen, even if you have limited baking experience! 
Whether you're in need of a classic brownie recipe or something a little more inventive, Ina has made something for everyone.
So, whatever you're looking for, we hope you've found a decadent dessert in this list that can please even the fussiest of eaters!
5 Best Ina Garten Brownies Recipes To Try Today
Course: Recipes
Looking for some delicious new brownies to satisfy your sweet cravings? Try out one of these 5 delicious Ina Garten brownie recipes today!
Directions
Pick a recipe from above
Click the recipe name and visit the website
Collect the ingredients and the food
Enjoy – don't forget to leave a review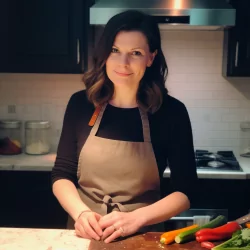 Latest posts by Barbara Hunt
(see all)