There has been a massive shift in the number of people who identify as vegans across the world. It is now estimated that 1% of people around the globe don't consume animal products anymore – that's an awful lot. 
Along with this shift, we've also seen a boom in the vegan food industry, with a lot more people on board with creating interesting dishes. Where it used to just be kale salads (which, don't get us wrong, still have a place on our table), now we're seeing such interesting and flavorful foods being served up in the vegan community. 
On that note, here we have collated our favorite simple and healthy vegan recipes that every vegan needs to know about. And if you're just considering going vegan, this is just a small selection of the great-tasting healthy options that could be in your future. 
Get stuck into a flavor-packed delight with this recipe for stuffed butternut squash. This Mediterranean gem boasts a wondrous blend of sweet and savory. It consists of roasted butternut squash halves cradling a mix of quinoa, chickpeas, sun-dried tomatoes, and fresh herbs.
The squash's tender sweetness beautifully complements the nutty quinoa and the earthiness of chickpeas. Pair this dish with grilled lemon oregano chicken, creating a meal that bursts with contrasting flavors. 
When making this recipe, our recommendation is to not waste the scooped-out squash seeds! Roast them with a sprinkle of salt for a crunchy garnish or a light snack.
Who says vegans can't enjoy hearty comfort food? This vegan spaghetti bolognese is a bowl of pure bliss. Al dente spaghetti is smothered in a rich, tomato-based sauce studded with lentils, mushrooms, and diced veggies. 
The umami goodness of the sauce is enhanced by a dash of red wine and aromatic herbs. It's so hearty and satisfying that even your meat-loving friends will be asking for seconds. Pair this with a crisp Caesar salad for a balanced dinner.
We recommend letting the sauce simmer low and slow to develop the flavors this recipe offers fully.
Pizza cravings, anyone? This vegan pizza will knock your socks off. A thin, crispy crust topped with vibrant tomato sauce, vegan mozzarella, sautéed spinach, roasted red peppers, and a sprinkle of nutritional yeast.
This dish boasts a splendid fusion of tangy, savory, and slightly nutty flavors. This pie pairs perfectly with a refreshing arugula salad with lemon vinaigrette.
If you're looking for an extra flavor punch, drizzle a touch of balsamic reduction over the pizza after it comes out of the oven – you can thank us later.
Spice up your dinner routine with Jamaican jerk-spiced tacos. Imagine tender jackfruit marinated in a tantalizing blend of jerk spices – fiery Scotch bonnet peppers, allspice, thyme, and more.
The result is a beautiful mix of heat, sweetness, and a hint of smokiness. Load up your tortillas with this flavor bomb, and top with a refreshing pineapple salsa for a tropical twist. These tacos are the ultimate partner for coconut rice and black beans. 
Crispy on the outside, and fluffy on the inside, these chickpea patties are a Mediterranean dream. They're bursting with fragrant herbs and aromatic spices, making each bite an explosion of flavor. 
Serve them in warm pita pockets, drizzled with tahini sauce, and nestled alongside a vibrant tabbouleh salad. The fresh herbs in the tabbouleh beautifully contrast the richness of the falafel.
This sushi variation brings together umami-rich shiitake mushrooms, crunchy cucumber, and creamy avocado, all tied together with nutty sesame seeds. The flavors and textures harmonize, creating a delightful contrast in every bite. 
Pair these rolls with a miso soup to complete the Japanese experience. Before working with sushi rice, we recommend wetting your hands to prevent the rice from sticking to your fingers.
Warm your soul with a bowl of vegan pho. Fragrant, comforting, and bursting with complexity, this Vietnamese noodle soup is a masterpiece. 
The broth, simmered with star anise, cinnamon, and cloves, is a luxurious blend of aromas. Thin rice noodles swim alongside crisp bean sprouts and fresh herbs. For a satisfying meal, pair pho with spring rolls dipped in hoisin-peanut sauce.  
Lighten things up with a spiralized daikon noodle bowl. The daikon noodles are refreshing, and crisp, and provide the perfect canvas for a colorful array of veggies – bell peppers, carrots, purple cabbage, and more. 
Toss it all in a zesty lemon-tahini dressing for a burst of tanginess. This bowl pairs perfectly with grilled shrimp or tofu for added protein.
When it's chilly outside, warm up with Roasted Butternut Squash Soup. Velvety and smooth, this soup is a hug in a bowl. Roasted butternut squash, aromatic garlic, and a hint of nutmeg blend into a comforting masterpiece.
Pair it with a crisp apple and fennel salad to balance the richness of the soup.
This dish takes humble cauliflower to new heights by roasting it to caramelized perfection. With this culinary creation, the simple components are elevated to new heights, resulting in a delightful salad that's perfect for any occasion. 
Each bite is a journey through contrasting flavors that come together beautifully. Enjoy it as a light lunch or pair it with grilled chicken for a well-rounded dinner.
Indulge in the luxuriously creamy goodness of creamy oyster mushroom soup. Silky, velvety, and downright delectable, this soup is a mushroom lover's dream. 
Earthy oyster mushrooms are sauteed with onions and garlic and then blended into a luscious broth. Pair it with crusty sourdough bread and a simple green salad for a satisfying meal. 
To retain the soup's creamy texture, we recommend avoiding over-boiling it vigorously after adding the dairy-free cream.
Packed with protein and seasoned to perfection, these burgers are a meatless marvel. Black beans, onions, peppers, and a medley of spices come together to create a savory patty that's a taste sensation. 
Serve the burgers on whole-grain buns with avocado slices and a side of sweet potato fries. We recommend refrigerating the patties before cooking as it helps them retain their shape while cooking.
Are you ready to satisfy your sweet tooth? Try your hand at this chocolate ganache brownie recipe – it's divine! These fudgy squares of heaven are the epitome of indulgence. 
Rich cocoa and melted chocolate create a gooey interior, while the ganache topping adds a velvety layer of luxury. Pair them with a scoop of dairy-free vanilla ice cream for the ultimate dessert experience. 
If you're looking to achieve that perfectly crackly top, we recommend beating the brownie batter until it's smooth and glossy.
Channel your inner cookie monster with Rachael Ray's cookie dough balls. These little bites of joy capture the essence of freshly baked chocolate chip cookies. Packed with oats, almond flour, and chocolate chips, they're a healthier way to curb your cookie cravings. 
Pop them in your mouth as a quick sweet snack, or pair them with a glass of almond milk for a tasty dessert. Top tip: Chill the dough before shaping to make it easier to work with.
We end our list on a citrusy high note with this lemon posset recipe. This elegant dessert is a symphony of tangy and sweet. Just a few ingredients – cream, sugar, and lemon juice – magically transform into a velvety custard-like treat. 
Serve it in a small glass with a dollop of whipped coconut cream and a shortbread cookie on the side. Make sure to be patient while bringing the cream and sugar to a simmer, slow and steady heating is the key to achieving the perfect texture.
Final Thoughts
As we said, there are far more interesting and nutritious foods available to you on a vegan diet than it gets credit for. So whether you're on a health kick or just want to do your bit for the environment, there are so many different types of food that you can still enjoy. Plus, once you have the principles down as to what makes a good substitute, you can start experimenting with other meals. 
Frequently Asked Questions
Why Isn't Gelatin Vegan?
Because gelatin is made out of the ground-up bones, skin, and ligaments of various animals. Typically, this is pigs or cows, but you can get kosher gelatin that's made from fish. I'm sure you can understand why this isn't considered vegan.
How Can I Eat Vegan On A Budget?
The most important thing is to eat as much naturally vegan food as possible. This means a lot of fruit, veg, and beans. This will prevent you from having to buy "vegan" branded items that you usually have to pay a premium for.
15 Simple Vegan Recipes Everyone Needs To Know
Course: Other Recipes, Recipes
Directions
Pick a recipe from above
Click the recipe name and visit the website
Collect the ingredients and the food
Enjoy – don't forget to leave a review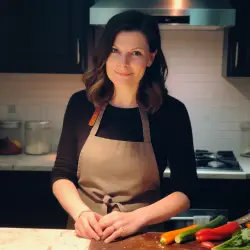 Latest posts by Barbara Hunt
(see all)