We're here to take you on an adventure that's all about those scrumptious vegan side dishes. We're talking about the kind of sides that aren't just stuck on the sidelines – they're ready to steal the show and wow your taste buds. 
Whether you're a seasoned vegan veteran or simply looking to explore plant-powered flavors, this list is your passport to a world of deliciousness. 
But here's the twist: It's not just any collection, it's the ultimate lineup curated by your fellow vegan enthusiasts. 
From roasted veggies that redefine yumminess to creative grain salads that are basically edible art, we've got it all in store for you. So, without further ado, let's dive in and make those taste buds tango!
Let's kick things off with a side dish that's as crispy as it is flavorful: roasted teriyaki Brussels sprouts. 
With this recipe, you can have the most perfectly roasted Brussels sprouts that redefine what it means to eat these little nuggets of heaven. 
The roasting process brings out their natural nuttiness while the teriyaki glaze adds that irresistible umami kick. 
Cooking Tips: For that ultimate crispiness, make sure to spread the sprouts evenly on the baking sheet and don't overcrowd them.
Pairs With: A hearty tofu-stir fry or a vegan sushi roll.
Who can resist a creamy, velvety scoop of mashed potatoes and gravy? Certainly not us. 
This classic side dish is a comfort food heaven for vegans and non-vegans alike. Creamy potatoes, whipped to perfection, and topped with rich, savory vegan gravy – need I say more?
Cooking Tips: Remember to use starchy potatoes like Russets for that fluffy texture, and adding a bit of vegan butter and plant-based milk makes them irresistibly smooth.
Pairs With: A delicious vegan meatloaf or a lentil-based shepherd's pie.
If you're looking to add a pop of color and flavor to your meal, Ina Garten's confetti corn is here to impress. 
This vibrant dish combines sweet corn kernels with colorful bell peppers, creating a visually stunning and deliciously crunchy side. 
Cooking Tips: For that perfect balance of sweetness and crunch, don't overcook the corn and peppers. You want them to be tender-crisp.
Pairs With: A grilled vegetable platter or a plant-based BBQ sandwich.
Transport your taste buds to the Mediterranean with this zesty and refreshing Mediterranean pasta salad. 
Bursting with cherry tomatoes, cucumber, olives, and tangy vinaigrette, this salad brings together the flavors of the sun-soaked region. 
Cooking Tip: Cook the pasta al dente and rinse it with cold water to prevent overcooking and to keep the salad light and refreshing.
Pairs With: A chickpea or falafel wrap.
When life gives you lemons, make lemon herb rice! This fragrant and zesty rice dish is a wonderful way to elevate your meals. 
Fresh herbs, lemon zest, and a touch of olive oil come together to create a burst of flavor that complements a variety of main courses. 
Cooking Tip: Fluff the rice with a fork after cooking to ensure each grain is separate and perfectly seasoned.
Pairs With: A vegan curry or grilled vegetable platter.
Looking for something that's not only delicious but also packed with nutrients? Racheal Ray's Asian-style veggie and quinoa bowls are a must-try. 
This dish combines fluffy quinoa with a medley of sauteed vegetables and a delectable Asian-inspired sauce.
Cooking Tip: To infuse the quinoa with extra flavor, cook it in a vegetable broth instead of water.
Pairs With: Sesame-crusted tofu steak or a tempeh stir-fry.
Craving some heat and spice? Buffalo vegan chicken wings are here to satisfy your taste buds. These plant-based wings are crispy on the outside, tender on the inside, and smothered in tangy buffalo sauce. 
Cooking Tip: For extra crispiness, give the wings a light coating of cornstarch before baking or air frying.
Pairs With: A cooling avocado ranch dip with celery and carrot sticks.
Get ready to indulge in a side dish that perfectly balances sweetness and crunchiness: Paula Deen's baked sweet potato wedges. 
These wedges are a healthier take on the classic French fry, with the natural sweetness of sweet potatoes taking center stage. 
Cooking Tip: Toss the sweet potato wedges in a bit of cornstarch before baking to achieve that extra crispiness.
Pairs With: A veggie burger or a vegan BBQ sandwich.
A meal isn't complete without a touch of comfort, and that's where vegan cornbread comes in. 
This golden-brown delight boasts the perfect balance of sweet and savory flavors. Whether served warm with a pat of vegan butter or used to soak up sauces and gravies, this cornbread is a versatile side dish that's sure to please. 
Cooking Tip: For that classic cornbread texture, mix the wet and dry ingredients until just combined – a few lumps are perfectly okay.
Pairs With: A bowl of vegan chili or a plate of smoky BBQ tofu.
Looking to add a touch of elegance to your table? Veggie croquettes are here to impress. 
These crispy and flavorful bites are loaded with a mixture of finely chopped vegetables, herbs, and breadcrumbs. Whether served as an appetizer or a side, they're bound to be a hit. 
Cooking Tip: When shaping the croquettes, dampen your hands slightly to prevent the mixture from sticking.
Pairs With: Mushroom risotto or a plant-based quiche.
Potato salad is a picnic and potluck staple, and this vegan potato salad is no exception. Creamy, tangy, and packed with colorful veggies, it's a side dish that's light on dairy but heavy on flavor. 
Cooking Tip: To keep the potatoes from getting mushy, cook them until they're just fork-tender, and let them cool slightly before mixing in the dressing.
Pairs With: Vegan burger or seitan-based sandwich.
When simplicity meets deliciousness, you get vegan roasted vegetables with thyme. 
This dish takes your favorite vegetables and coats them in olive oil and fresh thyme, and roasts them to perfection. 
Cooking Tip: Make sure to cut the vegetables into uniform sizes for even roasting.
Pairs With: Lentil stew or vegan pot pie.
Craving something with a bit of exotic flair? Check out this crunchy cashew Thai quinoa salad recipe. 
This vibrant salad combines quinoa with a medley of crunchy veggies and a zesty Thai-inspired dressing. It's a fusion of textures and flavors that will take your taste buds on a journey. 
Cooking Tip: Rinse the quinoa thoroughly before cooking to remove any bitterness.
Pairs With: A vegan Thai curry or lemongrass tofu stir-fry.
Looking for a salad that eats like a meal? This hearty sweet potato, arugula, and wild rice salad is just what you need. 
This satisfying salad combines roasted sweet potatoes, peppery arugula, and nutty wild rice, all drizzled with a zingy ginger dressing. 
Cooking Tip: When roasting the sweet potatoes, give them a toss halfway through to ensure even cooking.
Pairs With: Marinated tofu steak or tempeh.
Our final recipe is an ultimate crowd-pleaser: Fresh tomato salsa. This zesty and vibrant salsa is a staple at any gathering and it's incredibly easy to make. 
Tomatoes, onions, cilantro, lime juice – that's the core of this delectable side. 
Cooking Tip: For a milder salsa remove the seeds from the tomatoes before dicing.
Pairs With: Fajitas or a bean and rice burrito.
Conclusion
From vibrant salads to hearty grains, this list has been crafted with passion and a dash of foodie magic. These dishes aren't just sides; they're the supporting cast that turns your meal into a gourmet masterpiece. 
Here's to enjoying every bite, discovering new favorites, and diving into a world of vegan culinary delight.
Frequently Asked Questions
What Is The Most Popular Food For Vegans?
Tofu is one of the most popular foods for vegans due to its versatility, protein content, and ability to adapt to various cooking methods. 

It serves as a valuable meat substitute in vegan recipes and is rich in nutrients like protein, calcium, and iron. While tofu stands out, the vegan diet offers a diverse array of plant-based options beyond just tofu, including legumes, grains, vegetables, fruits, nuts, and seeds.
What Can Vegans Eat For Snacks?
Vegans have a plethora of snack options to choose from. They can enjoy fresh fruits like berries and oranges, raw veggies such as carrot sticks, a variety of nuts, seeds, and nut butter. For a treat, vegans can indulge in dairy-free dark chocolate. This list isn't extensive, but there are plenty of snacks for vegans to explore and try.
What Is Surprisingly Not Vegan?
Surprisingly non-vegan foods include marshmallows (gelatin), honey (ethical concerns), certain wines (animal-derived fining agents), certain candles (shellac, dairy components), certain breads (animal-derived additives), some salad dressings (dairy or egg-based ingredients), and gummy candies (gelatin). 

Vegans should be cautious and read ingredient labels to avoid animal-derived components in unexpected places.
15 Delicious Vegan Side Dishes
Course: Other Recipes, Recipes
Directions
Pick a recipe from above
Click the recipe name and visit the website
Collect the ingredients and the food
Enjoy – don't forget to leave a review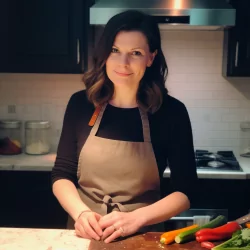 Latest posts by Barbara Hunt
(see all)