Looking to jazz up your meals with some tasty and chilled vegan side dishes? Well, you're in for a treat! 
We've put together a delightful collection of 15 easy-peasy cold vegan side dishes that'll make your taste buds dance and your heart sing.
Whether you're a seasoned plant-based pro or just testing the waters, these dishes are bound to add that extra flair to your dining experience.
So, without further ado, let's dive into a world of plant-based deliciousness.
Pairs with: Tacos, grilled vegetable skewers, and nachos.
Kicking things off with a burst of flavor, we have the ever-refreshing Pico De Gallo with a creamy twist of avocado. 
This zesty combination of tomatoes, onions, cilantro, lime juice, and avocado brings a fiesta of colors and tastes to your plate. 
It's the perfect side dish to accompany tacos, chips, or even grilled veggies. The creamy avocado adds a satisfying richness that complements the tangy freshness of the pico de gallo.
A surefire hit at any gathering! 
Pairs with: Grilled tofu, quinoa salad, and lemon herb pasta.
Next up, we have a dish that's as fun to make as it is to eat: Vegan zucchini boats. These adorable vessels are carved out of zucchini and then filled with a delectable mixture of quinoa, veggies, and herbs. 
Drizzled with a touch of olive oil and a sprinkle of nutritional yeast, these boats are then chilled to perfection. The result? A refreshing, light, and satisfying side dish that's perfect for a light lunch or a breezy summer dinner.
Pairs with: Crusty bread, hummus and veggie platter, cucumber sandwiches.
Gazpacho, the Spanish chilled soup, gets a vegan makeover in Paula Deen's rendition. Blend together ripe tomatoes, cucumber, bell peppers, red onion, garlic, and a touch of olive oil for a refreshing and tangy soup that's perfect for those hot summer days. 
Garnish with fresh herbs and croutons for an extra layer of flavor and texture.
Pairs with: Lentil soup, roasted vegetable medley, and wild rice pilaf.
Sink your teeth into a slice of heaven with this savory fried leek and kale tart. A delicate, flaky crust cradles a mixture of sauteed leeks, kale, garlic, and creamy vegan cheese. 
This dish is a delightful fusion of textures and tastes that's bound to be a showstopper at any gathering.
Pairs with: Tomato soup, sweet potato fries, cucumber mint lemonade.
Looking for a vegan twist on a classic egg salad sandwich?  Look no further than the chickpea "egg" salad sandwich. 
Mashed chickpeas mimic the texture of eggs, while diced celery, red onion, and a creamy mayo dressing create a delightful filling. 
Pile it high on whole-grain bread with crisp lettuce, and you've got a sandwich that's as satisfying as it is delicious.
Pairs with: Guacamole, black bean salad, and tropical fruit salsa.
Who can resist the temptation of crispy corn fritters? These vegan corn fritters are a perfect side dish or snack option. 
Combine fresh corn kernels with a batter made from chickpea flour and aromatic spices. Fry them up until golden brown and serve with a zesty dipping sauce for an irresistible treat. 
Pairs with: Balsamic glaze, lemon tahini dressing, and tropical fruit salsa.
Elevate your salad game with these fun and fresh salad skewers. Thread cherry tomatoes, cucumber slices, olives, and your favorite salad greens onto skewers for a vibrant presentation that's perfect for parties or a simple lunch. 
Drizzle with a tangy vinaigrette, and you've got a colorful dish that's as delightful to eat as it is to look at.
Pairs with: Grilled tempeh, cilantro lime rice, and mango salsa.
If you're in the mood for a side dish that's bursting with color and flavor, Rachael Ray's black bean and corn salad is here to deliver. 
Mix together black beans, corn, red onion, bell peppers, and cilantro, and toss with a zesty lime dressing. 
This salad is the embodiment of summer on a plate. 
Pairs with: Falafel, roasted vegetable platter, lemon herb quinoa.
When it comes to a protein packed side dish that's both satisfying and delicious, chickpea salad takes the crown. 
Combine chickpeas with diced veggies like cucumber, bell pepper, and cherry tomatoes. A sprinkle of fresh herbs and a light lemon vinaigrette tie it all together in a harmonious medley of flavors.
Pairs with: BBQ tofu, veggie burgers, and potato salad.
Crunchy cabbage and carrots come together in this vegan coleslaw that's both creamy and refreshing. 
A dairy-free mayo dressing with a hint of tanginess coats the veggies perfectly. Enjoy it as a side dish, in sandwiches, or as a topping for tacos – it's a versatile staple that's sure to become a household favorite.
Pairs with: Creamy tomato soup, garlic bread, and Mediterranean pasta.
Get ready for a flavor explosion with this panzanella recipe from the Barefoot Contessa herself, Ina Garten. 
This Italian bread salad combines crusty bread cubes with juicy tomatoes, cucumber, red onion, and fragrant basil. A balsamic vinaigrette ties everything together, creating a concoction of textures and tastes that will leave you craving more.
Pairs with: Grilled tofu skewers, quinoa tabbouleh, minty iced tea.
When summer rolls around, nothing hits the spot like a minty watermelon cucumber salad. Juicy watermelon, crisp cucumber, and fresh mint leaves create a cooling and invigorating dish that's as visually appealing as it is delicious. 
A drizzle of lime juice adds a zesty kick that balances out the sweetness of the fruit.
Pairs with: Portobello mushroom steak, garlic mashed potatoes, sparkling lemonade.
Indulge in the creamy goodness of a Caesar salad, perfectly manipulated to be suitable for the vegan diet whilst still remaining just as delicious as the classic recipes. 
Tossed with a rich cashew-based dressing, crisp romaine lettuce, homemade croutons, and a sprinkle of nutritional yeast, this salad is a marriage of textures and flavors that's sure to please the palate.
Pair with: Grilled veggie skewers, lentil shepherd's pie, and fruit punch.
Nostalgia meets innovation in this vegan macaroni salad. Creamy dairy-free mayo coats tender macaroni noodles, while crunchy veggies like celery and bell pepper add a delightful contrast. 
Whip up a batch for your next potluck and watch it disappear in no time.
Pairs with: Vegetable spring rolls, tofu stir-fry, and green tea.
If you're craving a taste of Asia, look no further than this sesame soba noodle salad. Nutty soba noodles mingle with julienned veggies and a sesame-soy dressing that's both savory and slightly sweet. 
Garnish with sesame seeds and chopped scallions for an extra pop of flavor and visual appeal. 
Conclusion
And there you have it – a delectable lineup of 15 cold vegan side dishes that are sure to improve your meals and bring them to a whole new level. 
Whether you're in the mood for something zesty, crunchy, creamy, or refreshing, these options have you covered.
So go ahead, experiment with these recipes, and let your taste buds embark on a delicious adventure.
Frequently Asked Questions
Can I Make These Cold Vegan Side Dishes Ahead Of Time?
Absolutely! One of the great things about these side dishes is that many of them actually taste even better after the flavors have had a chance to mingle. 

Feel free to prepare them a day in advance and store them in the fridge. Just be sure to keep any crispy elements separate until you're ready to serve to maintain that delightful crunch.
Can I Customize The Ingredients In These Recipes?
Absolutely, these recipes are meant to be versatile! Feel free to get creative and adapt the ingredients to your preferences or what's available in your kitchen. 

If you're not a fan of a particular veggie, swap it out for something you love. Additionally, don't hesitate to adjust seasonings and dressings to suit your taste buds.

Cooking is all about making dishes that you truly enjoy, so feel empowered to experiment and make these recipes your own!
Are These Dishes Nutrient-Rich?
Definitely! These vegan side dishes are designed to showcase a variety of colorful and nutrient-rich ingredients. From fresh veggies and herbs to legumes and whole grains, each recipe offers a unique combination of vitamins, minerals, and plant-based goodness. 

Plus, many of these dishes feature ingredients that are packed with fiber, protein, and healthy fats, making them not only delicious but also nourishing for your body.
15 Simple Cold Vegan Side Dishes
Course: Other Recipes, Recipes
Directions
Pick a recipe from above
Click the recipe name and visit the website
Collect the ingredients and the food
Enjoy – don't forget to leave a review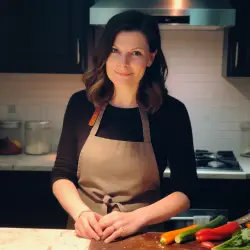 Latest posts by Barbara Hunt
(see all)