When it comes to culinary adventures, the Mediterranean region is a goldmine of flavors and traditions. The delightful array of ingredients and cooking techniques create dishes that are not only delicious but also incredibly wholesome.
Get ready to embark on a mouthwatering journey through the Mediterranean with these sensational side dishes that are sure to take your meals to a whole new level.
Whether you're a fan of vibrant salads or crave savory dips, these Mediterranean flavors are about to dazzle your taste buds. 
So, let's dive into these 15 incredible Mediterranean side dishes that promise to uplift every meal they accompany.
First up, we have this delightful pearl couscous recipe – small, round pasta pearls that are cooked to perfection and then tossed with fresh herbs, olive oil, and lemon. 
This dish is like a mini flavor explosion in your mouth, with each pearl capturing the essence of the Mediterranean.
We recommend pairing this dish with grilled chicken or roasted lamb for the best experience.
Gone are the days of ordinary green beans. Say hello to Mediterranean green beans – a dish that transforms this humble vegetable into a culinary masterpiece. 
Mediterranean green beans are lightly sauteed and then simmered with tomatoes, onions, and aromatic herbs. 
The result? A tender and flavorful dish that complements any main course beautifully. This dish pairs perfectly with fish or roasted pork.
Ah, the classic Greek Salad. Ina Garten's rendition of this Mediterranean masterpiece brings together crisp cucumbers, ripe tomatoes, briny olives, and creamy feta cheese. 
Drizzle it with a zesty lemon vinaigrette, and you've got yourself a tangy delight that makes every bit pop. 
Pair Ina Garten's Greek salad with grilled lamb chops or a hearty gyro for a flavor-fueled heaven. 
If you're in need of a crispy, addictive snack that's as wholesome as it is flavorful, let me introduce you to spiced lemon roasted chickpeas.
They're tossed in a medley of spices, roasted to a golden crisp, and infused with a hint of zesty lemon. Warning: They're addictive!
The hint of lemon cuts through the spice, creating a cacophony of tastes that pairs perfectly with a juicy grilled salmon filet, the chickpeas offering a delightful crunch to contrast the tender fish.
Artichokes take on a whole new personality when they're transformed into Mediterranean roasted artichokes. Plump, tender hearts are roasted to a sublime golden hue, capturing the essence of the Mediterranean sun.
The earthy flavors of the artichokes are a match made in culinary heaven with a perfectly seared and succulent steak, their boldness and richness pair perfectly with the juicy meat.
Nachos with a Mediterranean twist? Yes, please! Rachael Ray's sheet pan nachos feature pita chips loaded with hummus, olives, tomatoes, and feta cheese. 
It's a fiesta of flavors that will have your taste buds dancing with joy. This dish is the life of the party and pairs beautifully with a leisurely evening of grilling, where skewers of marinated chicken, beef, and veggies are served to your heart's content.
Who can resist a creamy bowl of Hummus? Ina Garten's version is silky-smooth and bursting with the nutty, garlicky goodness you crave. It's perfect for dipping, spreading, or just enjoying the spoonful. 
As a versatile companion, it's perfect with freshly baked pita bread, but it also plays well with marinated and grilled lamb, creating a medley of textures and tastes that redefine indulgence. 
Get ready for a taste of Turkish delight with Gözleme. These savory stuffed flatbreads are filled with a variety of delectable fillings, from spinach to minced lamb. 
This particular recipe showcases the classic Mediterranean tastes of spinach and feta. Folded, grilled, and utterly satisfying.
Grilled to perfection, they're a delightful mainstay alongside grilled kebabs, the combination creating a symphony of flavors that transport you to the bustling markets of Istanbul.
Zucchini fritters, or Kolokithokeftedes, are your ticket to experiencing crispy on the outside, tender on the inside bites of Mediterranean goodness. 
Grated zucchini is mixed with aromatic herbs and a hint of cheese, forming patties that are lightly fried to golden perfection. Whether you dip them in yogurt sauce or enjoy them on their own, they're a Mediterranean treat. 
Paired with a beautifully grilled filet of fish, these fritters add a touch of crunch and freshness to every bite.
Looking for a pasta dish that radiates the flavors of the Mediterranean? Enter the Greek pasta salad. 
Tender pasta mixed with colorful veggies, tangy olives, and crumbly feta cheese – all dressed in a zesty vinaigrette. It's a picnic-ready delight.
Pair it with succulent roast chicken, and you have a complete meal that's both comforting and invigorating.
Fresh peas mingle with aromatic mint and feta cheese in this refreshing pea salad. It's like a burst of Mediterranean spring on your plate, and each bite is a celebration of vibrant flavors. 
This salad is a delightful companion to a simply grilled piece of salmon, the flavors harmonizing and enhancing the natural flavors of the fish.
With this recipe, asparagus gets a Mediterranean makeover to create a delicious and gorgeous salad. 
Blanched asparagus spears are paired with juicy tomatoes, briny olives, and the ever-present feta cheese. Drizzled with olive oil, it's an explosion of textures and flavors. 
Serve it alongside a perfectly seared piece of halloumi cheese for a dish that's rich and satisfying.
Hearty roasted vegetables meet the irresistible allure of halloumi cheese in this roast vegetable salad. 
The warm and cheesy goodness contrasts beautifully with the earthy flavors of the veggies. Pair this with a juicy grilled portobello mushroom cap, the combination will offer a medley of textures that's both comforting and exciting.
Grilled romaine lettuce takes center stage in this unique salad. With charred corn, juicy tomatoes, and a drizzle of creamy tahini dressing, this dish proves that salads can be exciting and satisfying.
This dish pairs incredibly well with a protein packed plate of falafel, adding a fresh and crunchy counterpart to the flavorful chickpea patties.
Paula Deen brings her Southern charm to the Mediterranean with this couscous salad. It's a harmonious blend of tender couscous, colorful veggies, and a lively lemon dressing. 
One bite, and you'll be hooked. The result of this well executed recipe is a harmonious blend of flavors that complements a hearty serving of Moroccan spiced chicken, creating a feast that's as comforting as it is exotic.
Conclusion
Our journey through this collection of amazing Mediterranean side dishes has come to an end, but the magic of the Mediterranean flavors lingers on.
From the vibrant freshness of Greek salads to the comforting warmth of roasted veggies, these dishes showcase the diversity and richness of Mediterranean cuisine. 
The best part is that you don't have to pair these with Mediterranean main dishes, they will blend perfectly with a number of dishes from various cuisines and traditions.
So why wait? Bring a touch of the Mediterranean into your kitchen and elevate every meal with these unforgettable flavors. 
Frequently Asked Questions
I'm New To Mediterranean Cooking. Where Should I Start?
First of all, welcome to this exciting world of Mediterranean cuisine! A great place to start is by trying out some of the simpler dishes on the list such as the Greek salad or the hummus. 

These dishes capture the essence of Mediterranean flavors and are relatively easy to make. As you become more comfortable, you can gradually experiment with more complex recipes.
Can I Customize These To My Dietary Preferences?
Absolutely! Many of these dishes are versatile and can be adapted to suit your dietary needs, whether you're vegetarian, vegan, or looking for gluten-free options. Feel free to get creative and make them your own.
Are These Dishes Filling Enough To Enjoy As A Main Course?
Some of these dishes are so hearty and satisfying that they can certainly stand alone as a main course. 

For example, dishes like Turkish Gözleme and Greek Pasta Salad are substantial enough to enjoy as a delicious meal on their own.
Where Can I Find The Ingredients For These Mediterranean Dishes?
Most of the ingredients used in these dishes can be found at your local grocery store or specialty food markets.

Mediterranean cuisine often relies on fresh produce, herbs, and pantry staples like olive oil and various spices, making it accessible to many.
15 Amazing Mediterranean Side Dishes
Course: Other Recipes, Recipes
Directions
Pick a recipe from above
Click the recipe name and visit the website
Collect the ingredients and the food
Enjoy – don't forget to leave a review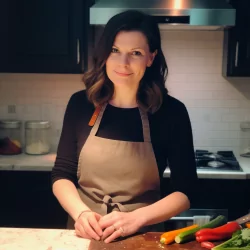 Latest posts by Barbara Hunt
(see all)