Mediterranean and Moroccan cuisine in particular is one of our favorite styles of food. This is because of the way that the spices blend together to make an explosion of flavor in every single bite.
Whether you're looking for a meal that's tangy and fresh, or spicy and smokey, then Moroccan food is going to have you covered.
Below we have collated our favorite Moroccan recipes you can try out right now. There are dishes here that are perfect for simple weekday nights, and more special occasions as well.
Whatever you're looking for that you can add to your menu, you're sure to find something that's going to suit you. 
Starting off this list with a Beef Tagine. A tagine is both the name of the vessel that you cook the meal with and the name of the finished dish.
If you travel to Morocco, tagine is the most popular and common food that you're going to be met with and this is because it is easy to put together and versatile enough to suit all different kinds of flavor profiles. 
This particular tagine only takes about 15 minutes to put together, and then the rest of the time is spent cooking. Similar to a stew, this recipe can just be left to simmer for at least an hour, but you'll get better results the longer that you're able to leave it. 
What would a list of Mediterranean and Moroccan dishes look like if we didn't include a kebab recipe somewhere in here? 
This recipe calls for a beautiful marinade that the lamb soaks in for a few hours, before cooking everything up and plating with hummus or a tzatziki sauce. 
Personally, we love this dish with tzatziki because of the contrast between the smokey, spicy flavor of the kebabs and the refreshing yogurt sauce. 
We didn't want to just present full meals on this list, but give you ways to add a Moroccan flavor to a lot of your meals.
For example, this recipe is for an authentic Zaalouk, which is a Moroccan eggplant dip, perfect as a side dish for any of these mean meals, or enjoyed as an appetizer with some delicious crusty bread. 
This next dish is one that is typically kept aside for special occasions, family gatherings, or celebrations like Eid Al Adha.
So if you have a fancy dinner coming up, you could try your hand at this braised and roasted lamb recipe, also known as L'ham M'hammar. 
This dish is absolutely mouthwatering, as well as being packed full of cultural significance. We love to serve meals that have meaning, which always leads to an interesting conversation at the dinner table. 
If you're looking for a meal that's going to be hearty and packed with flavor, then this chickpea and lentil soup could be the meal for you. 
Not only is this meal guaranteed to satisfy, but you'll also love how jam-packed with nutrients and protein it is. Our favorite thing has to be how easy it is to alter it so that the recipe can be gluten-free and vegan. 
Harrisa chicken is a very simple meal that is perfect for serving over rice on a busy weekday night. This particular recipe is spicy, and smokey, and brings the full profile of Morocco right to your kitchen. 
You can either buy harissa, or you can actually make your own by smoking a red chili pepper and then blending it with oil, tomatoes, and a stunning blend of spices. 
Shakshuka is a dish that is traditionally served at breakfast, and it's not hard to see how a meal like this would fill you up and set you off on a great day. 
Packed full of tomatoes, onions, and plenty of spices, this isn't the kind of breakfast we're used to seeing in the West, however, you can't deny that it packs a punch first thing in the morning. 
If you're not sure that you can get on board with it as a morning meal, then there's nothing wrong with serving it through the day as a lunch or dinner. 
Another sauce, this time a green chermoula. This particular sauce is typically used as a marinade for various types of meat or as a topping for seafood dishes. However, you could also serve this on the table as a dipping sauce, or mixed into couscous or pasta. 
Though couscous is so popular throughout Morocco, we tried not to put too much of it on this list. However, we can't just ignore the stuff, so here is our favorite couscous dish, served with roasted vegetables and a delicious blend of spices. 
Something that we love about this recipe is that it is perfect for a lunch on its own, or you can add some cooked fish or chicken to it in order to turn this from a light bite into a satisfying evening meal. 
Another tagine dish here, this time with egg and meatballs. This meal is incredibly filling and hearty, being packed full of meats and vegetables.
Our favorite thing about this particular meal is that it is served out of the same dish that you cook it in, making it a great meal to serve at a dinner party, and everyone can just get as much or as little as they want. 
Serve this with fresh bread and enjoy! 
If you prefer your meals a bit fishier, then you need to check out Paula Deen's Moroccan-spiced halibut recipe. Paula uses skin-on fish fillets, however, whatever you need or want for your own meal is going to work fine. 
Serve this fish on a bed of green beans and other Moroccan vegetables for a delicious hearty meal. 
This next dish brings the aromas straight from Marakesh to your kitchen. Paula Deen presents this incredible Marrakesh chicken that surprisingly only takes about 20 minutes to cook and put together. 
The vegetables might seem a little complicated at first, but once you're familiar with the process you'll find that it's actually a piece of cake to get through. 
Moving on to Rachael Ray, her Moroccan chicken with pearl couscous and chickpeas is absolutely fantastic. We love the spicy, smokey flavor of the chicken combined with the creamy couscous and chickpeas. 
If you're looking for an authentic Moroccan meal that is sure to satisfy you, then look no further. 
Another fantastic Moroccan meal from Rachael Ray, this lamb dish will make you feel as though you have traveled to the Mediterranean without leaving your kitchen. 
Something that we love about this recipe is the fact that you can use either lamb or chicken depending on what's available to you and what your preferences are, but either way, you'll end up with a delicious meal. 
The final recipe that we're going to look at in this list comes straight from the kitchen of Ina Garten. We mentioned how popular tagines are, so it makes sense that Ina Garten would bring her own twist on this traditional and popular cuisine. 
This dish does take quite a while to make because of the cooking time, however, if you have the time to spare, you and your dinner guests will definitely appreciate how flavorful this dish ends up being. 
Final Thoughts
Well, there you have it – our 15 favorite Moroccan recipes that are sure to satisfy any dinner table. 
The best thing about this kind of cuisine is how versatile it is. A lot of these recipes end up being quite spicy, which might not be suitable for a family meal with children, which is why it's great that you can easily create alternative spice blends.
And if you don't want to change how spicy your meal is, you can just opt to pair it with a creamy yogurt sauce to cool it down for anything that needs that. 
Frequently Asked Questions
What Is The Most Famous Food In Morocco?
Couscous is commonly considered the most well-known dish to come out of Morocco. You can pair this with popular Moroccan vegetables and spices to create a traditional dish.
What Are Some Popular Moroccan Drinks?
The national drink of Morocco is mint tea, however, other popular drinks include Sharbat, orange juice, and Moroccan coffee. Moroccans enjoy a large variety of teas, including ginger and rose, as well as Shiba tea.
15 Easy Moroccan Recipes Everyone Needs To Know
Course: Other Recipes, Recipes
Directions
Pick a recipe from above
Click the recipe name and visit the website
Collect the ingredients and the food
Enjoy – don't forget to leave a review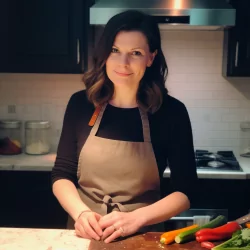 Latest posts by Barbara Hunt
(see all)