There are loads of reasons why someone might want or have to live on a vegan and gluten-free diet. These could be dietary requirements for someone's health, and preference, or a political reason. 
However, whatever the circumstances that have led someone to vegan and gluten-free life, there's one thing they all have in common: finding a large enough variety of different foods to keep things interesting whilst also satisfying their requirements.
There are loads of places where you can find vegan recipes and a plethora of websites that include gluten-free recipes. However, vegan and gluten-free? That can be a bit more difficult. 
That's why we've put together our favorite vegan and gluten-free recipes for all day, so you'll never be out of a meal. 
Main Meals
The first meal that we wanted to present is this high-protein Shawarma that is absolutely packed full of tofu and all of your favorite vegetables. If you really want to kick it up a notch, you can include a tzatziki sauce over the top of it all. 
Something that we love about this meal is how versatile it is. Once you know how to create the spice mix and cook the tofu, you can combine it with whatever veg you have on hand for each meal. 
Something we couldn't live without on a vegan diet would be jambalaya. Luckily, the good people over at Abby's Kitchen have us covered. 
This recipe makes use of vegan sausages and a whole host of delicious veggies to really fill it out. Our favorite thing about this dish is the spice blend that will have your non-vegan friends begging you for the recipe.
Another staple of our diet is curry, which is why we're so glad that tofu is as versatile as it is because we wouldn't want to have to give it up. This boiled-tofu curry tastes just like the real thing and is just as hearty and satisfying. 
We love how rich in flavor this meal is, and the fact that it all comes together in about 45 minutes, making it perfect for a busy weekday night. 
Another curry, this time without the tofu. We absolutely love how this dish looks, and think that the different pops of color that come from the use of red lentils and different green veg make this meal as much of a feast for the eyes as well as the stomach. 
Serve with a gluten-free naan for a well-rounded meal.
We wanted to avoid basic salads as much as possible on this list, however, this Paula Deen corn, avocado, and tomato salad sang to us in a way we couldn't resist. The beautiful blend of textures and colors makes this one of our favorite salad recipes, full stop. 
Add to that the fact that this is not only a vegan recipe, but a gluten-free one as well, and you have a fantastic meal, no matter your dietary requirements. 
Side Dishes
We think that a good side dish is just as important as the main thing, and that's why we've created an entire section just for our favorite gluten-free and vegan side dish recipes.
For example, this Palak Panner with curried tofu is the perfect side dish for a buffet-style table so that you know you or the other vegans in your life have something absolutely delicious to enjoy. 
Who doesn't love a taco? But the issue with tacos is that the shell has gluten, and the fillings typically contain meat. 
That's why we absolutely love this chickpea taco recipe. It has all of the flavor and crunch of a regular taco but is suitable for a variety of different dietary requirements. 
Something that we like about this recipe is how bright and colorful it all ends up being. We love a meal that's aesthetically pleasing as well as tasting amazing. 
Similar to tacos, nachos are another side dish or appetizer that has a lot of issues when it comes to a gluten-free and vegan diet. 
But this fantastic nacho recipe really makes up for that. You can either buy gluten-free nachos or make your own for a more personalized touch. You can also use vegan cheese to top, or skip that ingredient altogether, whatever your preference is. 
Nachos are always a personal dish, so whatever you like to have on them, this recipe will help you achieve something great. 
Few words grab our attention the way that smashed potatoes do, so when we were collating this list of great vegan and gluten-free meals, we knew that we had to include them somewhere. 
The ginger and tahini dressing is out of this world and transports you straight to India, and mixed with the crunch of the potatoes you're left with a side dish that might easily overshadow the main meal. 
For another great potato side dish, you have to try Ina Garten's garlic-roasted potatoes. Roast potatoes are already an amazing side dish for a large variety of different dishes, but there's something about adding garlic into the mix that just makes them irresistible. 
Make some spicy or creamy dip to go along with them and you have a side dish fit for a king. 
Desserts
Moving onto our desserts, we're starting off with some amazing vegan and gluten-free brownies. We would be absolutely shocked if anyone recognized that this was a gluten-free and vegan recipe because of how fudgy and chocolatey these brownies end up being. 
We love a chocolate tart, but we never expected to be able to make a chocolate tart that would be both vegan and gluten-free.
Luckily, this recipe is absolutely fantastic, with a delicious blend of saltiness and creamy chocolate without using a single animal by-product at all, who'd have thought? 
Cookie dough deserves to be on the list of foods we don't want to live without, so when we found this incredible no-bake cookie dough recipe and realized that it was vegan and gluten-free, we were overjoyed. 
With this recipe, we can live our movie-night dreams without having to compromise our dietary requirements. 
These bars have fast become our favorite snacks for long days or road trips. We love how filling these are for small snacks and how when we serve them to our non-vegan, gluten-eating friends never even notice. 
The final recipe that we want to look over is Rachael Ray's fruit salad. Again, it's very easy to put a fruit salad on a list of vegan and gluten-free recipes, but this one has a special added twist.
The inclusion of the orange liqueur not only makes it not for kids, but it adds an element of decadence that we think is often missing in special diet food. We really like how extravagant this dessert feels, even though it's "only a fruit salad". 
Our favorite thing has to be the sorbet though. If you're vegan, you're definitely no stranger to sorbet, and pairing it with this combination of fruit and liqueur makes for a dessert that's made to impress. Save it for date night or a girl's night in, and it's guaranteed to satisfy. 
Final Thoughts
Whether you are eating vegan or gluten-free because of dietary requirements or preferences, we hope that you've found a meal or dessert on this list that piques your interest. 
Something we love about these recipes is how, even if you or whoever you're cooking for doesn't have to eat vegan or gluten-free, they can still enjoy these delicious recipes. 
Frequently Asked Questions
How Hard Is It To Be Vegan And Gluten-Free?
We won't lie, it's pretty difficult. This is because there are animal products or by-products in a large number of foods, and there's a similarly large amount of food with some kind of gluten-filled grain.

If you're used to eating pre-made food, then you're going to struggle. 

With a diet like this, you're going to have to rely on making your food a lot, however, that gives you more opportunities to experiment and ensure that everything you eat is something you like.
How Can I Eat Gluten-Free And Vegan On A Budget?
The most important thing is to eat as much naturally vegan and gluten-free food as possible. This means a lot of fruit, veg, and beans. This will prevent you from having to buy "gluten-free" or "vegan" branded items that you usually have to pay a premium for.
15 Great Vegan Gluten-Free Recipes You Can Make Right Now
Course: Other Recipes, Recipes
Directions
Pick a recipe from above
Click the recipe name and visit the website
Collect the ingredients and the food
Enjoy – don't forget to leave a review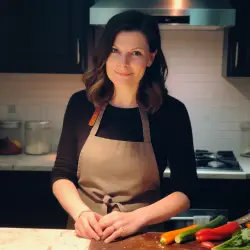 Latest posts by Barbara Hunt
(see all)