Did you know that nearly 10 million Americans identify as vegan? That number has been steadily climbing for years now and is now a solid 3% of the population.
Because of this shift, there has been a major increase in the varieties of food that you can find to suit vegan and vegetarian lifestyles. 
Where it used to just be kale salads (which, don't get us wrong, still have a place on our table), now we're seeing such interesting and flavorful foods being served up in the vegan community. 
On that note, here we have collated our favorite simple and healthy vegan recipes that every vegan needs to know about.
And if you're just considering going vegan, this is just a small selection of the great-tasting healthy options that could be in your future. 
Side Dishes
Who doesn't want something delicious and crispy fried-like food to nibble at as a side dish or light bite? Well, that's exactly what you get with these crispy buffalo cauliflower bites. 
Although they might look like a complicated recipe, these cauliflower bites couldn't be easier to prepare and make. 
Our favorite part is the fact that these bites are oven-cooked, instead of actually frying them, which makes them a lot healthier. 
When you're in the mood for taquitos, you need something particularly good to satisfy those cravings. Luckily, these air-fryer black bean taquitos have you covered.
Something that we love about this recipe is how versatile it is. If you want to serve them as a side dish, then they're perfect. If you want these as a main meal, then just add salad, guac, and salsa for a nutritious, healthy, and fun meal. 
We love loaded nachos, and the idea of never being able to enjoy them again was something we just couldn't abide by. That's why this vegan-loaded nachos recipe is one of our favorites. 
Something that we really appreciate about these nachos is the fact that you can spruce them up as you like. Hate vegan cheese? Just leave it out. Need something with a kick? Add spicy jalapenos. You can really tailor this side dish to whatever you want it to be. 
Who would have thought that mushrooms, walnuts, and black beans would come together to create the most succulent meatballs a vegan menu has ever seen?
If you want to make the most of your mushrooms, try cooking them in tamari! 
Serve these meatballs with regular spaghetti, or with zucchini noodles for a gluten and carb-free meal. 
Lunch
For a vegan lunch option, you can do a lot worse than this amazing heirloom tomato sandwich. 
Although this recipe includes the option to add bacon to create a BLT, don't worry, this dish tastes absolutely amazing even without it. Or you could even try to find a good alternative, like mushrooms, tofu, or potato skins. 
If you find yourself craving an egg salad but don't want to give up on a vegan diet, then you need to get on board with this "Almost-Egg" salad. 
Use medium-soft tofu, because this is the type of tofu with the most egg-like consistency, and add lots of black pepper. You'll be shocked at how much this recipe ends up tasting like the real thing. 
Once you know how to make these, you'll be able to make all kinds of not-egg recipes.
Who knew how versatile cauliflower was? Well, if you're on a vegan diet then you probably do already know. Cauliflower is one of those miracle vegetables that just so happens to work as a substitute for a lot of different things. 
This time, however, it's the star of the show in these Romesco cauliflower sandwiches. 
Our favorite part of this recipe has to be the Romesco Almond Milk sauce which brings a nutty, earthy flavor to the whole dish. 
Dinner
With a mild flavor and simple cooking method, this next meal is perfect for families and people with busy schedules.
We love how the baseline spice level is totally accessible to people with a low heat tolerance, but you are more than able to increase this to suit your own preferences. 
Sweet potato, spinach, and coconut will always be a winning combination in our eyes. There's just something about the way that the flavors mix and mingle and complement each other that puts this recipe very high on our favorites list. 
We love how the chickpeas in this particular recipe add some much-needed protein to a diet that can sometimes struggle to include enough. 
Spinach is once again showing up in a main role, this time along with spaghetti squash and vegan cheese to make these interesting stuffed squash halves.
Something that we love about this recipe is how healthy it is, and the fact that it looks so interesting. Not only is this a nutritious and satisfying meal, but it's also something of a feast for the eyes. 
What would life be like without sushi? Hardly worth it in our opinion. Thank goodness these spicy tomato sushi rolls have us covered. 
If you're in the mood for sushi, then you're going to absolutely love these. They have just the right amount of spice and seasoning to satisfy your cravings. Roll them up like a burrito if you want to be able to take this dish out on the road with you. 
Dessert
We're finally moving on to our dessert section, and what a way to start. Sweet and silky tofu with mango coulis? What could possibly be better? 
Something that we love about this recipe is how simple it is compared to how complicated and fancy it actually looks – it just goes to show that you don't have to be a gourmet pastry chef in order to make incredible desserts. 
Any kind of baked fruit is going to be special, but there's something in particular about these baked pears that just speaks to us. We would serve this as a dessert with every meal if pears were in season all throughout the year. 
The way that the natural sugars caramelize the fruit is delectable and so worth trying – add vegan ice cream to really make a lasting impression. 
Banana muffins are a staple in our lives, whether it's a dessert, for breakfast, or just as a snack throughout the day. There's something so good about this simple recipe that we find ourselves with the need to make these every time we have bananas in the house. 
If you want to make the most out of this recipe, use bananas that are a little old so that there's plenty of natural sugar to sweeten the muffins. 
Speaking of staples in diets, we're going to close this list off with the king of vegan food – Chia Pudding. 
This dessert has definitely been coming into the limelight over the last few years because of its nutritional value and the ease with which you can create really delicious snacks or light meals. 
There's also something incredibly satisfying about being able to prepare a big batch of this pudding to be able to be enjoyed for a few days, meaning that you get to enjoy the fun for longer. 
If you want a fruity and sweet pudding, you can add fruit coulis and fresh berries. Or, if you prefer something more earthy, opt for nuts and cinnamon to leave you with a dessert that is all up to your preference. 
Final Thoughts
As we said, there are far more interesting and healthy foods available to you on a vegan diet than it gets credit for. In fact, we think that you could serve up a lot of these meals to non-vegan people and they probably wouldn't even notice or care that there were no animal products involved at all. 
Frequently Asked Questions
Why Isn't Gelatin Vegan?
Because gelatin is made out of the ground-up bones, skin, and ligaments of various animals. Typically, this is pigs or cows, but you can get kosher gelatin that's made from fish. I'm sure you can understand why this isn't considered vegan.
How Can I Eat Vegan On A Budget?
The most important thing is to eat as much naturally vegan food as possible. This means a lot of fruit, veg, and beans. This will prevent you from having to buy "vegan" branded items that you usually have to pay a premium for.
15 Simple Healthy Vegan Recipes Everyone Needs To Know
Course: Other Recipes, Recipes
Directions
Pick a recipe from above
Click the recipe name and visit the website
Collect the ingredients and the food
Enjoy – don't forget to leave a review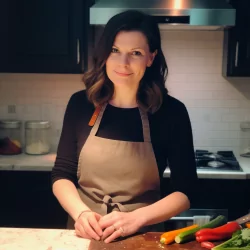 Latest posts by Barbara Hunt
(see all)