One of our favorite cuisines from around the world has to be Mediterranean.
Of course, there are a lot of different kinds of foods within the Mediterranean, for example, Turkish, Spanish, and Morrocan are all under the umbrella of Mediterranean food, but they each have their own unique style. 
But overall, what we like so much about Mediterranean food is the way that the spices blend together and pack every single mouthful with a burst of flavor.
Whether you're looking for a meal that's tangy and fresh, or spicy and smokey, then you're going to find something on the menu you'll enjoy. 
We have put together our favorite Mediterranean recipes that everyone needs to know about. There are dishes here that are perfect for simple weekday nights, and more special occasions as well.
Whatever you're looking for that you can add to your menu, you're sure to find something that's going to suit you. 
This Mediterranean gem consists of poached eggs nestled in a tomato-based sauce bursting with aromatic spices like cumin, paprika and a hint of chili for a gentle kick. 
The sauce itself is a blend of tomatoes, bell peppers, onions, and garlic. For a brunch that knocks it out of the park, pair this tomatoey delight with some crusty bread to mop up every last bit of the goodness. 
Try making a little well in the sauce before cracking the eggs in – it helps keep everything organized and avoids unnecessary eggshell fishing.
These tender chicken thighs are marinated in a luscious green sauce made from fresh herbs like basil, parsley, and tarragon, combined with tangy ingredients like lemon juice and Greek yogurt. 
The result is a burst of herbaceous flavors that's nothing short of enchanting. Grilled to perfection, they pair brilliantly with a simple lemony couscous, making it a meal you'll crave even in your dreams. 
When shrimp meets creamy feta cheese, sparks fly, and that's exactly the case with this feta shrimp dish. The shrimp are cooked to perfection in a medley of tomatoes, garlic, onions, and bell peppers. 
But here's the twist: crumbled feta is showered over the top before popping the skillet in the oven. This results in a creamy, tangy, seafood sensation that's crying out to be scooped up with warm pita bread. 
This Mediterranean marvel pairs fabulously with a side of Greek salad – a refreshing contrast to the richness of the skillet.
Healthy, hearty, and herbalicious – that's exactly what you get with this roasted chickpea salad. These little nuggets of goodness are roasted until they're crunchy and golden, then tossed with fresh cucumbers, tomatoes, red onions, and a zesty lemon vinaigrette.
This salad pairs like a dream with grilled chicken skewers, creating a balanced meal that'll leave you feeling nourished and satisfied. When making this recipe, be sure to pat the chickpeas dry before roasting – it helps them get that perfect crunch.
Cozy up with a bowl of red lentil soup. This comforting Mediterranean classic consists of red lentils simmered with aromatic onions, garlic, and a bouquet of spices which come together to create a velvety, hearty soup that's both nutritious and deeply flavorful. 
Enjoy this dish with a side of crusty bread or a simple green salad for a light and satisfying lunch or dinner. Here's a tip: If the soup thickens as it sits, just add a splash of vegetable broth to bring it back to your preferred consistency.
Say hello to your new favorite appetizer – Spinach Feta Pinwheels! These little bites of joy are made by rolling a delectable mixture of sautéed spinach, creamy feta cheese, and fragrant herbs inside flaky puff pastry. 
Baked until golden and crispy, they're perfect for parties or whenever you're in the mood for a savory treat. Pair them with a Mediterranean-inspired antipasto platter for a spread that's bursting with flavors and textures. 
To prevent the pinwheel from unraveling during baking, chill them in the fridge for about 15 minutes before slicing and baking.
If there's one dessert that's truly iconic in Mediterranean cuisine, it's Baklava. Layers of delicate phyllo pastry, buttery and crisp, are alternated with a luscious mixture of chopped walnuts and cinnamon.
The whole thing is baked to perfection and then drenched in a sweet honey syrup that seeps into every layer. The result is a dessert that's a harmonious blend of textures – crunchy, flaky, and sticky – with flavors that linger on your palate.
Enjoy a piece of Baklava after a hearty dinner of grilled lamb chops for a truly indulgent experience.
Looking for a wholesome and filling meal? Try your hand at this roasted sweet potato bulgur bowl recipe. Roasted sweet potatoes mingle with nutty bulgur, cucumbers, tangy tomatoes, and creamy avocado for a dish that's a celebration of flavor and texture. 
Drizzle it all with a tahini dressing for that extra Middle Eastern flair. Pair this bowl with grilled chicken or falafel for a balanced meal that's as nutritious as it is delicious.
This one's for the seafood lovers out there. Cioppino is a seafood stew that's a true celebration of ocean flavors. This hearty dish features an array of seafood such as shrimp, clams, mussels, and fish, all swimming in a tomato-based broth infused with garlic, onions, and fragrant herbs. 
The result is a complex medley of flavors that's truly impressive. Serve it with a side of crusty bread to soak up every last drop of that flavorful broth. 
Transport your taste buds to the bustling markets of Morocco with this aromatic and flavorful Moroccan chicken. Marinated in a blend of warm spices like cumin, coriander, and paprika, the chicken is seared perfectly and can be served over a bed of fluffy couscous.
This dish is exceptionally comforting and has a perfect balance of savory and slightly sweet flavors. Pair it with a simple cucumber and mint salad for a refreshing contrast.
Cauliflower goes from ordinary to extraordinary in Paula Deen's cauliflower casserole. Creamy, cheesy, and extremely comforting, this casserole features tender cauliflower florets baked in a rich and decadent sauce made from cream, cheese and a hint of nutmeg. 
Enjoy it as a satisfying side dish alongside roasted chicken or grilled steak.
When it comes to simple yet delicious side dishes, Paula Deen's Couscous Salad takes the cake. This fluffy couscous salad is studded with colorful bell peppers, sweet dried cranberries, crunchy almonds, and fresh herbs.
A zesty lemon vinaigrette ties everything together in a burst of flavor. Pair it with grilled fish for a light and refreshing meal that's perfect for warm days.
Succotash is the epitome of down-home comfort with a Mediterranean twist, and Rachael Ray's version is a winner. A medley of corn, lima beans, and colorful bell peppers are sautéed together with smoky bacon for a dish that's both hearty and wholesome. 
Pair it with grilled chicken thighs for a satisfying meal that'll transport you to a rustic Mediterranean farmhouse.
Whether you're hosting a game day gathering or just craving a cheesy treat, Rachael Ray's Sheet Pan Nachos are a must-try. 
Loaded with all the classic nacho fixings – think gooey melted cheese, black beans, jalapeños, and fresh pico de gallo – these nachos are taken to the next level with a Mediterranean twist.
Ina Garten's Middle Eastern Vegetable Salad is a colorful and vibrant dish that's as delicious as it is eye-catching.
Fresh vegetables like cucumbers, tomatoes, and bell peppers are tossed with fragrant herbs like parsley and mint and then dressed in a lemony tahini dressing.
Final Thoughts
Well, there you have it – our 15 favorite Mediterranean recipes that are sure to satisfy any dinner table. 
The best thing about this kind of cuisine is how versatile it is. A lot of these recipes end up being quite spicy, which might not be suitable for a family meal with children, which is why it's great that you can easily create alternative spice blends.
And if you don't want to change how spicy your meal is, you can just opt to pair it with a creamy yogurt sauce to cool it down for anything that needs that. 
Frequently Asked Questions
What Is A Mediterranean Diet?
The Mediterranean diet is inspired by the cuisine of the Mediterranean but isn't necessarily the diet that everyone there sticks to.

This diet consists of limiting your intake of dairy products and red meat, instead eating lots of vegetables and fresh produce.
Can You Eat Chocolate On A Mediterranean Diet?
Yes! You can actually eat as much chocolate as you want on a Mediterranean diet, so long as that chocolate is at least 50% cocoa.
15 Simple Mediterranean Recipes Everyone Needs To Know
Course: Other Recipes, Recipes
Directions
Pick a recipe from above
Click the recipe name and visit the website
Collect the ingredients and the food
Enjoy – don't forget to leave a review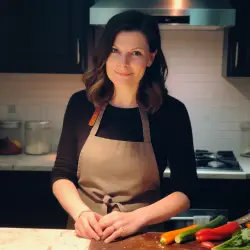 Latest posts by Barbara Hunt
(see all)