Step into the world of Turkish culinary delight. If you've ever craved more than just the main course, you're in for a treat! We're about to head on a flavor-packed journey through Turkey's kitchen.
Imagine biting into the doughy goodness of bazlama, accompanied by the zesty freshness of cacik. These aren't just ordinary side dishes; they're stories waiting to be tasted. 
From the bustling markets to the heartwarming family gatherings, each of these 15 dishes has a unique story to tell. 
So, whether you're a passionate foodie looking for your next culinary adventure or someone who simply enjoys good food, this is for you. 
Our thoughtfully curated selection of Turkish side dishes, including the aforementioned kisir and cacik, will undoubtedly add a touch of magic to your meals. 
Oh, hummus – the beloved Middle Eastern dip that's made its way into hearts and snack bowls worldwide!
Ina Garten's version takes this classic to new heights with a slight twist that'll leave you craving more. Her hummus is super creamy, and the secret ingredient that sets it apart? A dash of white miso paste. 
Cooking Tip: A little extra effort, but peeling the chickpeas can make your hummus even smoother. Simply pinch them gently and the skin will pop off. 
If you're an adventurous eater, Turkish cuisine has a treat for you! Arnavut Cigeri, or Turkish liver and onions, is a dish that might surprise you with its intense flavors and unique combination.
This dish might not be everyone's cup of tea, but if you're a fan of organ meats, then this is perfect for you. The liver is tender, slightly earthy, and rich in flavor. 
Cooking Tip: Liver cooks fast. Overcooking can result in a tough and grainy texture. Keep a close eye on it.
Rice can be so much more than a plain side dish, and Ic Pilav is here to prove that point with its delightful mix of sweet and savory flavors. 
The fluffy rice is studded with plump raisins and crunchy nuts, all perfumed with fragrant spices. The sweetness of the raisins dance synonymously with the savory richness of the nuts and rice. 
Cooking Tip: For that perfectly fluffy rice, saute it with a little butter or oil until the grain turns slightly translucent. 
Smoky, creamy, and oh-so-delicious, Közde Patlıcan Salatası, or Turkish smoked eggplant, is one you won't want to miss. 
This salad showcases the deep, smoky flavor of roasted eggplant combined with the brightness of lemon juice and the warmth of olive oil. It's a flavor explosion that's both familiar and exotic.
Cooking Tip: To achieve the smoky flavor, roast the eggplants over an open flame until the skin is charred and blistered. This can also be done under a broiler.
When it comes to salads, Piyaz is in a league of its own. This Turkish white bean salad is not just refreshing but also hearty enough to be a meal on its own. 
The creaminess of white beans, the crunch of fresh vegetables, and the tanginess of a lemon vinaigrette all come together in perfect harmony. It's a balanced medley of textures and flavors. 
Cooking Tip: The lemon vinaigrette is the star here. Adjust the acidity and oil ratio to your taste. A touch of garlic can also elevate the flavors.
If you're craving comfort food with a Turkish twist, Kizartma is your go-to. This fry-up with meatballs is the epitome of crispy indulgence. 
The golden-brown meatballs and assortment of vegetables coated in a light, crispy batter create a wonder of texture and flavor on the palate. 
Cooking Tip: After frying, let the meatballs and vegetables drain on a paper towel to get rid of excess oil.
Zucchini takes center stage in this delightful dish. Kabak Mücveri, or Turkish zucchini fritters, is a celebration of fresh flavors and satisfying crunch. 
Imagine biting into crispy fritters with a tender zucchini interior, flecked with herbs and a touch of cheese. It's like a flavorful hug for your taste buds. 
Cooking Tip: Grate the zucchini and squeeze out excess moisture. This ensures your fritters don't turn soggy.
Kisir is a classic Turkish bulgur salad that's anything but ordinary. Packed with vibrant flavors and satisfying textures, it's a dish that's both hearty and refreshing.
The bulgur contains flavors of nutty goodness and is paired perfectly with the tanginess of pomegranate molasses. The herbs add a hint of freshness and the red pepper flakes give it an added kick! 
Cooking Tip: Let the salad sit for a while before serving. This allows the bulgur to absorb the flavors fully.
Cacik is the Turkish answer to cooling, refreshing dips. It's a simple yet elegant combination of yogurt, cucumber, and a hint of garlic that's perfect for any occasion. 
Cooking Tip: If you're sensitive to raw garlic, consider rubbing the serving bowl with a garlic clove before adding the yogurt and cucumber.
This delightful dish brings together the nutty flavor of bulgur with a medley of aromatic vegetables and fragrant spices. The result? A warm, satisfying pilaf that's not only delicious but also packed with nutrition. 
Cooking Tip: There are different types of bulgur, ranging from fine to coarse. For pilaf, medium-grain or coarse bulgur works best as it retains its texture during cooking.
Get ready for a burst of Mediterranean flavors with Rachael Ray's succotash recipe. This vibrant dish takes the classic Southern succotash and gives it a Mediterranean twist, using a variety of colorful vegetables and aromatic herbs.

Cooking Tip: While basil adds a wonderful aromatic note, feel free to experiment with other Mediterranean herbs like oregano or thyme. These herbs can elevate the dish's flavor in unique ways.
Bazlama, a comforting and pillowy Turkish flatbread that's made with a special ingredient: Greek yogurt! 
This bread is all about softness and satisfaction, making it a wonderful accompaniment to a range of dishes.
Cooking Tip: Greek yogurt not only adds flavor but also contributes to the bread's tenderness. It's important to use strained Greek yogurt for the best results. 
For a taste of a Turkish classic, let's explore Fasulye Piyaz, a refreshing white bean salad that combines creamy beans with crunchy vegetables and a zesty dressing. It's the perfect balance of textures and flavors. 
Cooking Tip: Be sure to rinse and drain the white beans thoroughly ro remove excess starch and salt. This enhances the salad's overall texture and flavor.
Prepare to savor the crispy goodness of Mücver, Turkish zucchini fritters that are a popular appetizer or snack.
These fritters are a wonderful way to enjoy the mild flavor of zucchini, paired with fragrant herbs and a hint of cheese.
Cooking Tip: Achieve that perfect crunch by frying the fritters in oil that's hot but not smoking. Avoid overcrowding the pan, which could lead to uneven cooking.
Last but not least, let's indulge in Saksuka, a delightful Turkish vegetable meze that's a celebration of various textures and flavors. This dish is a medley of cooked and marinated vegetables, making it a versatile addition to any spread. 
Cooking Tip: Saksuka is best enjoyed after the flavors have had time to meld. Allow the dish to chill in the refrigerator for a few hours before serving to let the flavors fully develop.
Conclusion
As we wrap up this culinary expedition through the enchanting world of Turkish side dishes, one thing is clear: these flavors are a gateway to the heart and soul of Turkey. 
From the first bite of flaky börek to the last taste of refreshing cacik, each dish tells a story of tradition, family, and a passion for vibrant spices. 
Here's to keeping the spirit of Turkey alive in your cooking and to many more culinary adventures that broaden our palates and warm our hearts. Afiyet Olsun! 
Frequently Asked Questions
What is Turkey's National Dish? 
Turkey's national dish is "Iskender Kebab." It's a famous Turkish dish consisting of thinly sliced lamb or beef doner kebab meat, typically served over pieces of pide bread (similar to a flatbread), drizzled with a rich tomato sauce and melted butter, and often accompanied by yogurt on the side.
What is a Typical Turkish Dinner?
A typical Turkish dinner is a delightful spread of mezes (appetizers) like hummus and stuffed grape leaves, followed by a warm soup or grilled meat dish like kebabs. Side dishes include rice, vegetables, and salads. 

Traditional desserts like baklava or Turkish delight can be found as well as fruits and nuts. The communal aspect of dining is central to Turkish culture, making dinner a leisurely and social affair.
15 Delicious Turkish Side Dishes
Course: Other Recipes, Recipes
Directions
Pick a recipe from above
Click the recipe name and visit the website
Collect the ingredients and the food
Enjoy – don't forget to leave a review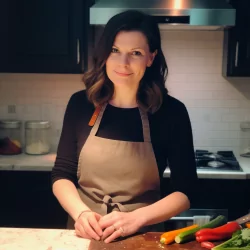 Latest posts by Barbara Hunt
(see all)