Italian food is loved worldwide for its rich flavors and variety, but when it comes to fine dining, it's revered for its versatility and how the dishes can be transformed into true art.
One chef who has made a significant impact on the world of fine Italian cuisine is Anna Matscher.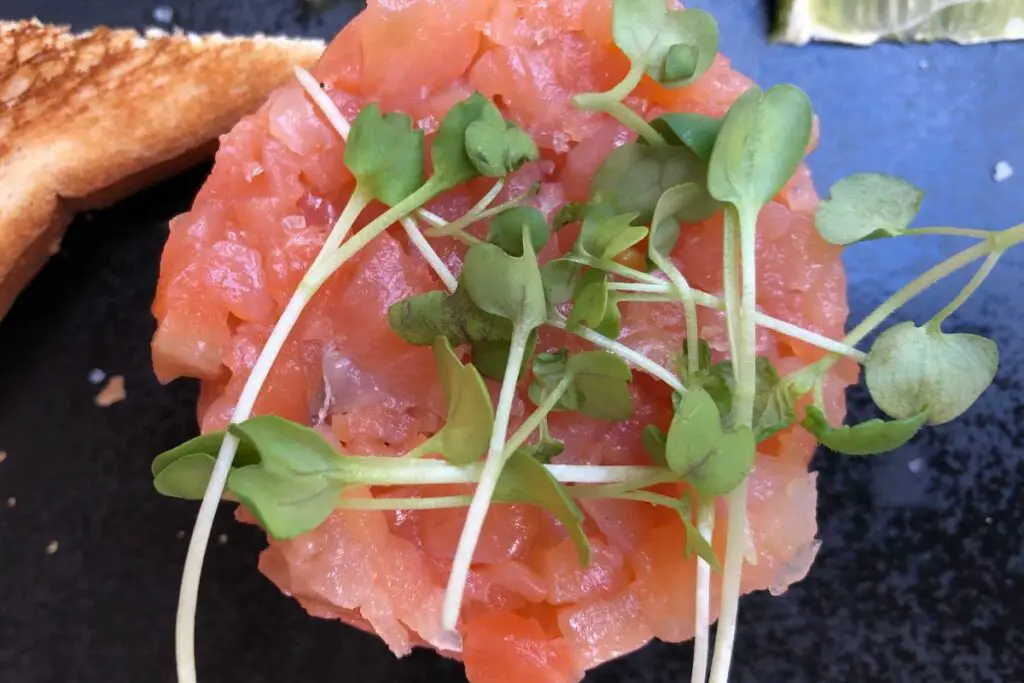 Known for her Michelin-starred restaurant and her focus on Italian and Alpine cuisine, Matscher is a must-know name for anyone interested in Italian cooking.
In this article, we will explore Anna Matscher's culinary journey, stopping off to take a look at her restaurant and then moving on to share some of her most outstanding recipes.
Let's dig in.
Who Is Anna Matscher?
Anna Matscher is a Michelin-starred chef who specializes in Italian cuisine, particularly with a focus on the South Tyrol region.
Located in the northernmost part of Italy, this region is known for its unique blend of Italian and Germanic culinary traditions.
Matscher has taken these traditional flavors and techniques and elevated them, earning recognition not only within Italy but also on the international culinary stage.
Originally a masseuse, Matscher decided a career change was in order in 1987, and so took over the family farm with her husband.
She then embarked on culinary courses and internships to build her skills and reputation over the course of 10 years.
Her culinary philosophy revolves around using locally sourced, high-quality to create dishes that are both innovative and deeply rooted in Italian and South Tyrolean traditions.
Over the years, Matscher has earned various awards and accolades, cementing her reputation as an exceptional talent in the world of Italian cuisine.
In addition to her cooking, Matscher is known for her educational contributions to the culinary world. She often shares her knowledge through cooking demonstrations, workshops, and media appearances, thereby serving as an ambassador for Italian and South Tyrolean cuisines.
Her emphasis on authenticity and innovation has made her a standout figure in the culinary scene, and she has garnered a loyal following of food enthusiasts who appreciate her dedication to quality and flavor.
Anna Matscher's Cookbooks
Anna Matscher has co-authored a cookbook with Gabriele Crepaz titled "Schnittlauch statt Petersilie: Lust auf Kochen mit Südtirols Sterneköchin" (which roughly translates to "Chives Instead of Parsley: Desire to Cook with South Tyrol's Star Chef").
This cookbook serves as a comprehensive guide to Matscher's unique approach to cooking.
Readers can expect a curated selection of recipes that reflect her Michelin-starred expertise, along with tips, techniques, and insights that bring the flavors of Italy and South Tyrol into your own kitchen.
For more recipe inspiration, take a look at our list of Italian cookbooks.
Anna Matscher's Restaurants
Located in the picturesque town of Tisens in South Tyrol, Zum Löwen offers a culinary experience that melds South Tyrolean traditions with broader Italian influences.
The restaurant has received a Michelin star, affirming its status as a leading destination for Italian cuisine.
Chef Anna Matscher's approach harmonizes local ingredients with innovative cooking techniques, and the restaurant itself provides an ambiance that complements the exceptional food.
Anna Matscher's Recipes
One of Anna Matscher's standout recipes is her Char Tartare, which showcases her culinary finesse in blending textures, flavors, and ingredients.
This dish is a multi-layered experience and consists of various components: a specially marinated herb oil, the char tartare itself, a beetroot-apple salad, and an apple jelly for that extra zing.
The herb oil marination involves an aromatic blend of rosemary, basil, and thyme soaked with the zest of half an orange and lemon.
Both olive and seed oils serve as the base, and the infusion is left at room temperature for two days to achieve maximum flavor penetration.
The star of the dish, the char, is delicately diced and marinated in pre-prepared herb oil, salt, cayenne pepper, and wood sorrel.
For the salad component, beetroot is oven-simmered for hours with coarse salt and then finely diced.
It's combined with diced apples and seasoned with olive oil, caraway seeds, sea salt, black pepper, and apple cider vinegar.
The beets and apples marinate for a few hours, absorbing the complex flavors.
The apple jelly is a simple yet effective complement.
The dish is elegantly plated with a beetroot marinade line, alternating layers of char tartare and beetroot-apple salad.
Another culinary creation that encapsulates Anna Matscher's expertise is her Tomato Burgers, a dish that turns the classic burger on its head with a focus on the beloved tomato.
This vegetarian delight consists of multiple parts: a vibrant tomato salad, a rich aubergine purée, and braised cocktail tomatoes, all layered between soft bread rolls and creamy buffalo mozzarella.
The tomato salad is a medley of capers, basil, and various types of tomatoes dressed with balsamic vinegar and olive oil.
For the aubergine purée, Matscher roasts aubergines with olive oil, thyme, and garlic, then blends them into a creamy paste seasoned with salt.
This purée serves as a luscious base that adds depth to the burger.
The braised tomatoes are a colorful blend of cocktail tomatoes infused with finely chopped rosemary, thyme, and chili peppers.
Sautéed in olive oil and garlic, these tomatoes become little bursts of flavor that perfectly complement the other components.
To assemble, Matscher layers the aubergine purée, tomato salad, and braised tomatoes between sliced bread rolls, crowning them with slices of buffalo mozzarella.
As an optional touch, finely chopped and fried aubergine skin can be added for extra texture and flavor.
Matscher's Asparagus Ravioli with Tomato Chutney offers a sublime taste of springtime captured in a plate.
This dish highlights the versatility and depth of flavor of asparagus, showcasing it both in the ravioli filling and as a garnish, further enriched by a slow-cooked tomato chutney.
The ravioli starts with a classic dough. Once rested, this forms the casing for a sumptuous filling of green asparagus, mascarpone, and grated Parmesan, finely pureed for a smooth texture.
The tomato chutney, on the other hand, is a labor of love. Diced tomatoes are slow-cooked with cubed onions, olive oil, and seasoning—salt and peperoncino for heat and balsamic vinegar for a blend of acidity and sweetness.
This chutney not only adds a contrasting flavor but also a different texture, making each bite of the ravioli a multi-layered experience.
To serve, the ravioli are cooked briefly in salted water and then presented on deep plates, garnished with chutney and thin slices of green asparagus.
Additional asparagus tips, steamed briefly in olive oil, add yet another dimension.
For the final flourish, Matscher uses red and lemon basil to impart aromatic notes that elevate the dish further.
Anna Matscher's Tortelloni with a filling of Jerusalem artichokes, accompanied by bacon foam and caraway oil, is a culinary feat that encapsulates her knack for combining rustic ingredients with refined techniques.
For the dough, Matscher opts for a blend of regular flour and semolina flour, enriched with both egg yolks and a whole egg.
After letting the dough rest, it's rolled out and cut into squares to serve as the envelope for the filling.
The filling is a creamy blend of Jerusalem artichokes (or artichokes, as a substitute), sautéed with shallots and combined with white wine, vegetable stock, and cream.
Once cooked to softness, the mixture is blended to achieve a velvety texture. The natural earthiness of the Jerusalem artichokes is enhanced by the shallots and white wine, culminating in a complex and deeply satisfying center for the tortelloni.
The bacon foam is another layer of ingenuity. Here, finely chopped shallot and bacon are sautéed, then simmered in a liquid of white wine, vegetable stock, and cream.
After a quick blend and strain, you have a frothy, salty, creamy foam that adds a luxurious mouthfeel and intense flavor contrast to the dish.
The caraway oil is a simple but impactful touch, steeping caraway seeds in olive oil at a low temperature for two days.
This method extracts the essence of caraway, resulting in an aromatic oil that complements the dish with its subtle, earthy spice.
Crispy bacon provides the finishing texture. Deep-fried until crispy, it's then chopped and sprinkled over the dish.
The crunch of the bacon offers a textural juxtaposition to the soft, filled pasta and the airy bacon foam.
To assemble, Matscher artistically arranges the cooked tortelloni on a plate, accompanied by the luscious bacon foam, and drizzled with the aromatic caraway oil.
Crispy bacon pieces serve as the final flourish, offering both flavor and texture contrasts.
In Summary
Anna Matscher is a remarkable chef who has left an indelible mark on Italian cuisine.
Her Michelin-starred restaurant, Zum Löwen, stands as a testament to her culinary skills.
Here, diners can experience the authentic flavors of Italy, carefully crafted and presented with a modern twist.
Anna is one Italian chef who, although she started her culinary career later than some, will go down in history as one of the greats.
The Best Anna Matscher Recipes For The Flavors Of Italy
Course: Other Recipes, Recipes
Directions
Choose a recipe from above
Collect your ingredients
Follow the recipe
Enjoy your Italian dish.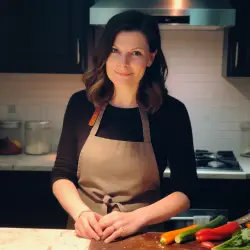 Latest posts by Barbara Hunt
(see all)