Italian cooking is incredibly popular throughout the United States.
Two of the easiest meals that people prepare for their families are pasta or pizza.
Both of these things are staples of Italian cuisine, however, there is a huge difference between cooking a frozen pizza or opening a jar of sauce, and preparing Italian food from scratch.

If you want to dip your toe into the world of authentic Italian food, investing in a quality Italian cookbook is the place to start.
There are infinite amounts of Italian cookbooks on the market. However, some of the best are written by female chefs.
Below are some Italian cookbooks by female chefs that you do not want to miss(see also: 7 Female Chef Indian Cookbooks You Do Not Want To Miss).
7 Italian Cookbooks By Female Chefs
The Essentials of Classic Italian Cooking by Marcella Hazan is an award-winning Italian cookbook.
Aside from the awards, there are numerous other chefs who have praised this book. 
As the name suggests, this cookbook covers the essential elements of Italian cooking.
Once you have mastered the contents of this cookbook, you can cook almost any Italian dish.

While the recipes in this book might not feature the most complex meals of all time, they ensure that you will be able to create authentic Italian dishes that are bursting with flavor from scratch.
This is the perfect cookbook for home cooks who want to master the basics of Italian cooking.

Pros
An amazing introduction to the basics of Italian cooking
Filled with helpful tips and tricks to get your pasta dishes just right
Perfect for home cooks of all experience levels
Interesting pieces of narrative to provide context for the dishes
Cons
There are no photographs or illustrations in the book which might be off-putting for some
This is another cookbook that does exactly what it says on the front. Anna Del Conte On Pasta by Anna Del Conte is the only Italian cookbook that you need in order to make the perfect pasta dish every time.
If you find yourself cooking the same few pasta dishes week after week, this is the ideal cookbook for you.

There are 120 recipes in this amazing book.
The best thing about the recipes, other than their authenticity, is the fact that many of the recipes can be made in just a few minutes. 
The start of this cookbook will teach you about the history of pasta.
The recipes will teach you how to make delicious pasta dishes for your family.

Pros
Delves into the history of classic Italian dishes
Provides delicious, authentic recipes that are quick to make
Clear and easy to follow instructions
A classic Italian cookbook that is full of essential recipes
Cons
This cookbook has no pictures which some people dislike
If you are interested in the type of cooking that you would experience in the Italian capital, this is the book for you.
My Kitchen In Rome: Recipes And Notes On Italian Cooking by Rachel Roddy provides incredible insight into Italian cooking from an English Expat's perspective.

This book is half cookbook and half memoir chronicling a year of recipes from Rachel's small Italian kitchen.
If you are new to Italian cooking, this is the perfect cookbook for you.
Starting from scratch, you can embark on your Italian cooking journey alongside Rachel and discover authentic Italian recipes through the book.

Pros
An interesting mix of narrative and and recipes
Authentic Italian recipes
An introduction to simple Italian recipes
Beautiful photographs and illustrations
Cons
Some of the helpful tips can be buried in the narrative which is inconvenient
Pasta Grannies: The Official Cookbook By Vicky Bennison
As the name suggests, this cookbook focuses on traditional Italian home cooking recipes that have been used by Nonnas for decades.
Pasta Grannies: The Official Cookbook by Vicky Bennison is the ultimate guide to the secrets of Italy's best home cooking.

There is nothing quite like those recipes that get passed down from generation to generation.
The ones that don't really have set measurements and are made with love and care instead of scales.
This cookbook is full of these types of recipes from true Italian Nonnas themselves.

Pros
Truly authentic Italian recipes from Nonnas
Classic pasta recipes that are simple to make
Clear and easy instructions for recipes
Features interesting techniques and tips
Cons
The Photographs aren't always relevant to the recipe
Trattoria: The Best of Casual Italian Cooking By Mary Beth Clark
Another amazing Italian cookbook that focuses on more than one region is Trattoria: The Best Of Casual Italian Cooking by Mary Beth Clark.
This is the perfect cookbook for you if you enjoy simple recipes that are packed with flavors and fresh ingredients.

Although Italy is a relatively small country, the cooking differs drastically from region to region.
This cookbook looks at all different regions from the country. The recipes are the pinnacle of casual Italian cuisine.
This means that you get the maximum flavor and nutrition from as little effort as possible.
Features recipes from diverse regions of the country
Simple family-style cooking techniques
Plenty of authentic seafood recipes
Beautiful photography from all over Italy
Very informal recipes, may not be suitable for more celebratory or formal occasions
How To Choose An Italian Cookbook
There are plenty of different Italian cookbooks available on the market.
However, if you are looking for authentic Italian home cooking, you can't go wrong with a cookbook written by a female Italian chef (see also "Female Chef Moroccan Cookbooks You Do Not Want To Miss").
These books are filled with authentic, traditional recipes that are bursting with Italian flavors and perfect for sharing with your loved ones.
Consider Your Skill Level

This is something that should be considered whenever you are buying any sort of cookbook.
There are so many reasons why you might want to purchase a cookbook that is filled with extravagant and complex recipes.

However, if you are unable to successfully complete these recipes, the book will end up just gathering dust.
Instead, you should aim for cookbooks that are suitable for your level of skill and experience.
Most Italian cookbooks are fairly simple as Italian cooking is all about making your ingredients work harder than you do.
Consider Your Dietary Requirements

Another important thing to consider when purchasing any type of cookbook is the dietary requirements of people in your household or that you may be cooking for.
If you are vegetarian, there is no point buying a cookbook that is 80% meat-based recipes.
Similarly, you should check Italian cookbooks to see how heavy they are on seafood recipes.

There are certain areas of Italy where it is difficult to find anything other than seafood dishes due to their coastal location.
This can be overwhelming in a cookbook outside of coastal areas.
Cookbooks that focus on more than one region of Italy will provide you with more diverse recipes.
Frequently Asked Questions
What Constitutes An Italian Cookbook?

The only thing a cookbook needs to be considered Italian is to feature Italian recipes, most of which will be pasta.
However, if you want a more authentic experience cooking at home, a cookbook featuring Italian recipes that has been written by an Italian chef or cook is your best bet.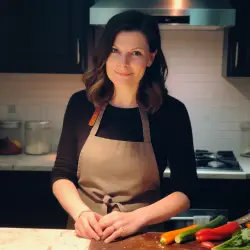 Latest posts by Barbara Hunt
(see all)