If you're a devotee of Italian cuisine or a newbie looking for a trustworthy guide to the land of pasta and amore, Rachel Roddy provides an authentic experience.
The British food writer has not only made a home in Rome but has also opened up the world of Italian cooking for her readers.
Her work acts as a bridge between the humble Italian kitchens and the global audience.
If you're a fan of Italian cuisine and enjoy a narrative that transports you to the Roman lanes or Sicilian coasts, Roddy is the writer for you.
Her recipes are not just about food; they are about stories, places, and people.
In this article, we'll explore a little more about Rachel's career, and we will, of course, share some of her finest recipes.
What are you waiting for?
Who Is Rachel Roddy?
Rachel Roddy is a British-born food writer who found her calling in Italy, a country she now calls home.
Moving to Rome in 2005, she fell in love with the essence of Roman life, particularly its culinary heritage.
She started sharing her journey and food explorations through her blog, "Rachel Eats," and quickly gathered a following.
The blog was just the beginning; her writing gained wider recognition, leading her to write columns for The Guardian.
What sets Roddy apart is her keen eye for detail and her skill in conveying the subtleties of Italian culture.
Each recipe comes with a story, a slice of life, and a nugget of history, making her a storyteller and culinary guide rolled into one.
Rachel Roddy's Cookbooks
Rachel has published two notable cookbooks in her career so far, these are:
Five Quarters: Recipes and Notes from a Kitchen in Rome (2015): This is the book where it all started.

Winning awards like the André Simon Food Book Award and the Guild of Food Writers First Book Award, "Five Quarters" is more than a cookbook. It's a love letter to Rome, with detailed narratives accompanying every recipe.
It explores Rome in five quarters, diving into the city's geography and delving into the cultural significance of the foods she describes.
Two Kitchens: Family Recipes from Sicily and Rome (2017): Her second cookbook expands her culinary cartography to include Sicily, adding more colors and flavors to her already rich repertoire.
The book offers a range of recipes, from simple weekday dishes to holiday feasts.
It's an invaluable resource for anyone looking to deepen their understanding of regional Italian cuisine.
She has also released 'An A-Z of Pasta: Stories, Shapes, Sauces, Recipes' – a must-read for pasta lovers everywhere.
Rachel Roddy's Recipes
It's time for our favorite part as we give you a glimpse into some of Rachel Roddy's most delicious recipes:
Roddy's rendition of Chicken Parmigiana is a celebration of classic Italian-American culinary fusion.
Her emphasis on quality tomato sauce and the meticulous layering of mozzarella cheese give this dish a profound character.
It's comfort food at its finest but served with a touch of Italian elegance.
This is an easy dish for a mid-week treat or a lavish weekend meal.
With an array of beans, lentils, and chickpeas, this dish personifies simple, wholesome Italian food.
The soup is hearty and balanced, with various textures and flavors that make it much more than the sum of its parts.
It's a tribute to the traditional cooking methods of Italy, where the focus is on making simple ingredients shine.
Serve this filling soup with a slice of garlic bread.
This isn't just dessert; it's an experience.
It is a dish that tells you a lot about the Italian approach to food: the quality of each element is paramount.
The blend of robust espresso and creamy vanilla ice cream proves that sometimes, the simplest things offer the most satisfaction.
Roddy's Smoked Haddock Risotto is a culinary conversation between Italy and Britain.
She brilliantly marries the smoky notes of the haddock with the creamy, starchy texture of Arborio rice.
This is a dish that packs a punch for the palate and expands one's understanding of what Italian cuisine can encompass.
These rice balls are decadent morsels of goodness that transport you straight to Sicily.
The saffron-infused rice balls filled with aromatic ragu are a reflection of Roddy's love for Sicilian cuisine.
It's a dish of contrast: the crispiness of the breadcrumb coating and the soft, flavorful filling.
This dish is a prime example of Roddy's culinary philosophy: focus on a few quality ingredients and let them shine.
The smokiness of the red peppers complements the creamy richness of the ricotta, creating a harmonious blend that tantalizes the palate.
Serve with cheesy garlic bread slices.
This chickpea flour pancake is a nod to the versatility and simplicity of Italian cooking. Roddy's version is ideal for those who want a quick, nutritious snack.
With just chickpea flour and olive oil, this dish is a testament to the magic that can happen when simple ingredients are treated with respect.
Roddy serves these delicate pancakes in a soft roll with some black pepper.
Rachel Roddy's watermelon salad is an ode to Italian summers.
It combines the freshness of watermelon and cucumber with the robustness of bread and tomatoes.
Although simple, this salad is a palette of Mediterranean colors, textures, and flavors that epitomize the Italian love for fresh produce.
In Summary
Rachel Roddy is an irreplaceable voice in the culinary world, blending food writing with heartfelt narratives.
Her journey from a curious visitor to a culinary ambassador for Italian cuisine has been extraordinary.
Through her cookbooks and a plethora of recipes, she has managed to open up not just her kitchen but the broader landscape of Italian cooking.
She empowers her readers to understand not just the 'how' but also the 'why' behind each dish.
Enjoy Italian Cuisine With Our Favorite Rachel Roddy Recipes
Course: Chef Profiles
Directions
Choose a recipe from above
Gather your ingredients
Prepare your meal
Enjoy.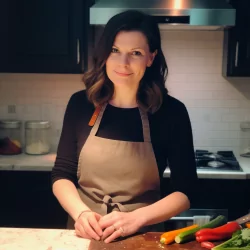 Latest posts by Barbara Hunt
(see all)