Hell's Kitchen has been on the air since 2005; since then, we've watched countless chefs compete.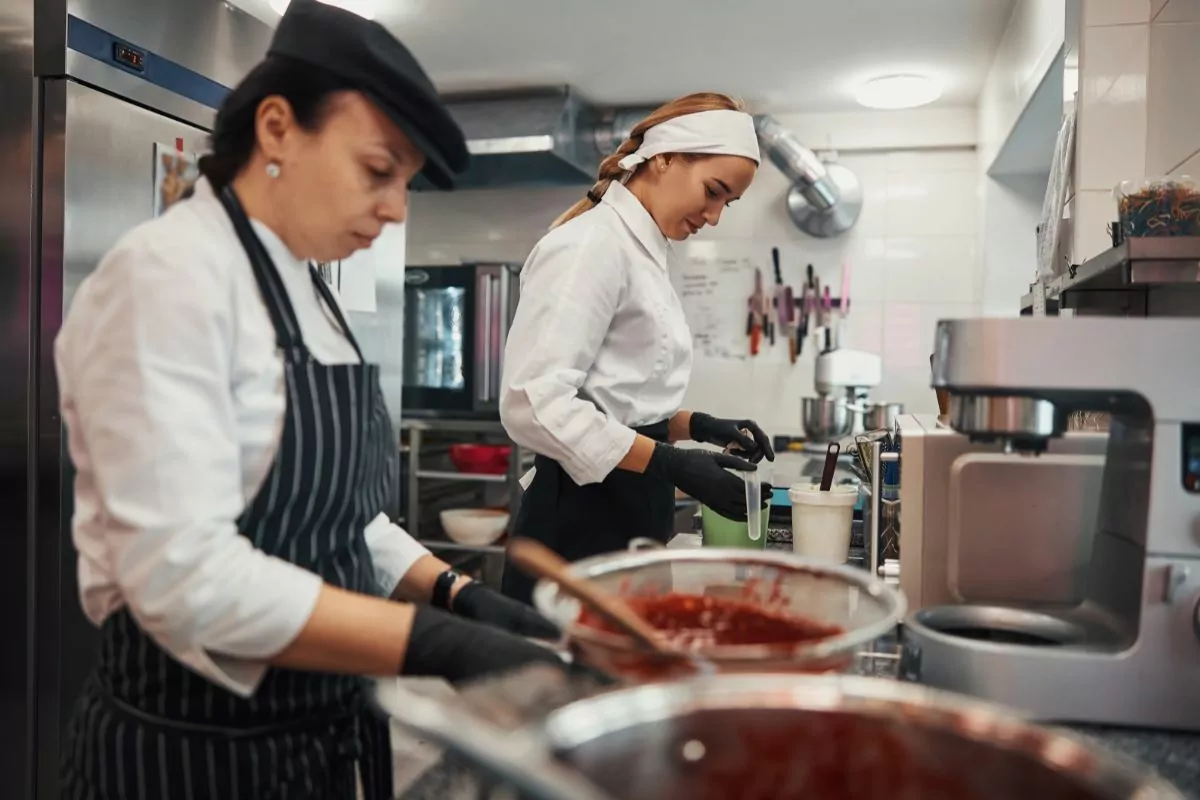 Placed into two teams of red and blue, the competitors must battle against one another to earn a place as head chef at one of Gordon Ramsay's restaurants.
Each team is led by a sous chef, Gordon's eyes and ears in the kitchen. They lead each team through dinner service and ensure all the competitors serve high-quality dishes.
The red team is the women's team, and after 20 seasons and counting, we've had 5 amazing sous chefs lead the red team.
These sous chefs are amazingly talented, and we adore their work on the show. But let's look closer at their accomplishments and why we love them. 
1. Mary-Ann Salcedo
Mary-Ann Salcedo was the sous chef for the first three seasons of Hell's Kitchen and held the same high standards as Gordon Ramsay.
She could get frustrated with the contestants, as in the first three seasons, they allowed amateur chefs to compete for the head chef title. 
When Mary-Ann joined the show, she was promised by Ramsay that he would help her set up her own restaurant. However, she was frustrated with the lack of experience of the contestants.
Due to her frustration with the show, she left after the third season in 2007. 
It's easy to understand her frustration, as she was a 1999 graduate of New York's Institute of Culinary Education. Commonly known as ICE, it's ranked as America's number one culinary school.
After she got this degree, she established herself in several bakeries and restaurants in New York until she became the head chef at Green Street Café. 
While originally specialized in traditional French cuisine, she became more proficient in cooking regional new American, Argentinian, Asian, and Italian dishes.
She is also known for making vegetarian and vegan dishes and has versatile experiences. Unsurprisingly, she also taught recreational cooking classes and spent time as a consultant. 
It's believed that after Hell's Kitchen, she focused on her professional career and returned to New York, where she became the executive chef at Merchant's Restaurant in New York. 
2. Gloria Felix
After Mary-Ann left, she was replaced by Gloria Felix, the sous chef for the red team in seasons 4 and 5.
Despite her short tenure on the show, she became a popular sous chef among the fans of those seasons for her high standards but more subdued temperament.
She graduated from Le Cordon Bleu College of Culinary Arts in Pasadena, California, in 2001. This was also the Pasadena Campus's first graduating class.
After her time in the critically acclaimed institution, she gained more experience. By 2003, she became the executive chef at Blair's Restaurant(see also: What Was The Women Chefs & Restaurants Conference?). However, she left in 2004 to pursue other horizons.
By 2008, she was a sous chef for the red team and would continue until 2009, when she focused on opening her own restaurant: Reservoir.
However, she, unfortunately, closed the restaurant in 2012 to focus on her career as a private chef(see also: What Was The Women Chefs & Restaurants Conference?). As a private chef, she worked for several celebrities and had appearances on other known cooking shows.
She worked for The Compass Group as a senior executive chef and now as a personal chef in East Los Angeles. 
3. Heather West
Heather West is the first female winner of Hell's Kitchen and the red team's sous chef for season 6.
Originally from Port Jefferson, she moved to study at the Culinary Institute of America, where she graduated. In 2006, she competed in the second season of Hell's Kitchen. 
She won an executive chef position at the Las Vegas Red Rock Resort Spa and Casino. She was offered a $250,000 salary.
She worked in the Terra Rosa Restaurant, where she gained more experience as an executive chef. However, she left Terra Rossa after a year to become a Head Chef at Monteray Restaurant.
After this, she would go through the kitchens of Jellyfish Restaurant and Broadway Grill before choosing to work at Schafer's in her hometown of Port Jefferson. 
In 2009, she returned to Hell's Kitchen not as a contestant but as a sous chef for the red team. However, she only had a short tenure on the show, being a sous chef for the shortest time for one season.
Since leaving her role as a sous chef, she married in 2014 and has had three sons. Nowadays, she raises awareness of postpartum depression and is currently focused on her family. 
4. Andi Van Willigan-Cutspec
Andi Van Willigan is one of the longest-serving sous chefs on Hell's Kitchen, having been on the show from season 7 to season 14, with a brief return in season 16. 
She grew up in California, where she would help her father prepare meals.
Although she knew cooking was her passion, she got a business degree from California State before attending culinary school at Le Cordon Bleu College of Culinary Arts.
After graduating, she joined the Boston Culinary Group, where she worked her way up until she began to focus on opening restaurants.
She opened Michael Mina's Strip Steak. After the successful opening, she became an executive corporate sous chef for the Michael Mina Restaurant Group.
For four years, she opened restaurants, and she happened to be working where Gordon was filming Hell's Kitchen.
As he was looking for a replacement sous chef after Heather's departure, her boss suggested she take the role, and she quickly found her footing.
Soon, she was playing a pivotal role in Ramsay's Kitchen Nightmares and quickly became his executive group chef for the US. It was her job to open Gordon Ramsay restaurants nationally, so she became his right hand. 
After working for so long with Gordon Ramsay for many years, she decided to take a step back to focus on her marriage and her family. However, she still works in the industry.
She has since worked as a culinary specialist for Sysco. She has continued work as a consultant and project manager of restaurants. 
5. Christina Wilson
Christina temporarily became the sous chef for season 15 before taking a full-time position from season 17 onwards. She's the current sous chef for the red team and won season 10 of Hell's Kitchen. 
Compared to the other sous chefs on the show, Christina had no official culinary education but gained more experience by working immediately.
While studying at college, she waited tables after losing her basketball scholarship at West Chester University. She ultimately moved to Temple University, and her first job in the kitchen was at McDonald's.
However, she begged to learn more in the kitchen while waiting tables at West Chester Country Club.
At Temple University, she started working in city restaurants to support herself. She worked until she became chef de cuisine at Mercato BYOB. She would do this until she finally started at Hell's Kitchen and eventually won. 
After winning Hell's Kitchen in season 10, she worked as a head chef for Gordon Ramsay Steak at the Paris Las Vegas, with a salary of $250,000.
However, she was put into a six-week training course before she began her job to prepare for her career in Vegas. 
Once she finished her contract with Gordon Ramsay, he was impressed and offered her a full-time job as the executive chef for his Vegas restaurants. Since 2020, she has gone even further and became the VP of Culinary for Gordon Ramsay North America. 
Over the years, she's appeared in several of Gordon Ramsay's other shows, including 24 Hours to Hell and Back, the F Word, and MasterChef Junior.
She's even hosted a short YouTube series where she teaches Recipes From Hell's Kitchen.
So far, Christina has no plans to slow down and continues to climb the ladder in Gordon Ramsay's Restaurant Group.
Final Thoughts
These are the 5 female sous chefs (see also: 6 Female Sous Chefs We Adore)who have steadily led the red team of Hell's Kitchen to victory on many occasions.
Christina is still the sous chef of Hell's Kitchen, but she follows a long string of renowned chefs with a lot of experience.
With two winners taking the role of sous chef for the red team, it wouldn't surprise us if more contestants appear to take the mantle in the future. 
The sous chefs of Hell's Kitchen are known for their experience and are all talented cooks. Although not all winners become sous chefs, it is a mark of respect from Ramsay to be chosen for this role. 
Frequently Asked Questions
Who Are The Hell'S Kitchen Sous Chefs?
Each team has the services of one sous chef. Currently, Christina Wilson is the current sous chef for the red team. The blue team is led by the season 7 runner-up, Jason Santos.
Who Is The Best Female Chef On Hell'S Kitchen?
After over 20 seasons, many have wondered who the best chef in Hell's Kitchen is. Generally, it's agreed that Christina Wilson is the best chef by the fans.

She's also been recognized by Gordon Ramsay over the years since she has worked with him continuously over the years.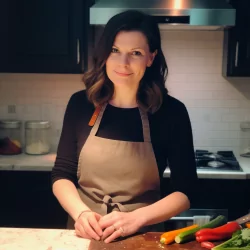 Latest posts by Barbara Hunt
(see all)