Cooking at home is a great way to keep you and your family healthy. It is also a wonderful way to try out new flavors and cultures.
There are so many different cookbooks available on the market that it can become overwhelming when trying to find a new set of recipes or style of cooking to explore.
Settling on a country or culture niche for a cookbook is the fest step and Indian cookbooks are a great option.
The meals are full of flavor and use fresh ingredients rather than processed ingredients.
You can also narrow down the authors of potential cookbooks to get certain perspectives on the food and culture. 
7 Best Indian Cookbooks By Female Chefs
Indian cookbooks will always be a great addition to your bookshelf because the recipes are so versatile, simple to make, and burst with incredible flavors and spices that you may not ordinarily cook with.
Below are some of the best Indian cookbooks by female chefs to add to your collection (see also "Female Indian Chefs We Adore").
You may recognize the name Asma Khan if you have watched Netflix's Chef's Table. Khan is one of the most prominent female chefs in the world.
This amazing cookbook, Ammu, is filled with warming and hearty recipes that are inspired by the cooking that Khan enjoyed when she was growing up.

All of the recipes in this amazing cookbook are designed to celebrate where Khan came from and to honor her Ammu (mother).
If you enjoy home cooking and pour your heart and soul into the food that you make for your family, this cookbook will resonate with you deeply.
Along with the recipes, there are heartwarming stories of Khan's childhood memories which helps to bring the recipes to life.

Pros
Authentic Indian home cooking recipes from Khan's childhood
A wide range of recipes from comfort food to special occasions
Peppered with stories of Khan's childhood to bring the recipes alive
Cons
There are too many stories and photographs for some people
If you like the idea of learning how to make the same kind of food that you could find in an average Indian home, Made in India, Cooked in Britain by Meera Sodha is the perfect cookbook for you.
Sodha has taken the food that she grew up eating every day and poured it all into this amazing cookbook.

The idea of this cookbook is that the best Indian food is cooked and eaten at home with your family.
Therefore, the recipes in this book are designed to be shared with your loved ones and to provide the basis for many memories and special occasions with your family.
The food in these recipes is different from the type of food you would get at your local Indian restaurant.
The recipes are quick and simple to make with plenty of flavors.

Pros
Quick and simple Indian home cooking recipes
Over 130 recipes in the book provide plenty of choices
Recipes for different types of meals and occasions
Cons
Lots of recipes but not a lot of in-depth instructions for newbies
India Express by Rukmini Iyer does exactly what the title suggests.
The recipes in this cookbook are all about creating homemade meals with minimum effort and maximum flavor. 
The recipes in the book range from delicious snacks to quick curries that will leave your hungry family feeling satisfied and loved.

Iyer grew up in London with busy parents who were always trying to turn traditional family recipes into quick weeknight meals.
During a trip to her parents' hometowns in India, Iyer was inspired to take the food that she experienced there and turn it into quick recipes that are perfect for busy families.

Pros
Makes traditional Indian meals more accessible to modern families
The recipes take inspiration from various regions of India
A range of recipes for all types of meals and snacks
Simple recipes for cooks of all skill levels
Cons
Some of the recipes might feel a bit like filler for some people
Another offering from Meera Sodha is Fresh India.
This cookbook is filled with amazing, fresh vegetarian recipes that are the perfect way to encourage your family to get more veggies into their diets. 
The recipes are full of feel-good food made from the freshest ingredients.

As far as vegetarian dishes go, Indian cuisine has really nailed it in terms of variety and flavors.
Even if you or your family aren't strictly vegetarian, these recipes are perfect to slip into your dinner rotation to take a break from meat and boost your veggie intake.
You might even find that you don't miss meat when you make these meals.

Pros
Simple recipes that use easy-to-find ingredients
A mixture of familiar and unusual vegetarian Indian recipes
A range of starters, snacks, mains, and desserts
The perfect way to get more vegetables into your family's diet
Cons
Despite being vegetarian, the recipes aren't overly healthy
If you are a complete novice when it comes to Indian cooking, this is the perfect Indian cookbook for your collection.
Entice With Spice: Easy Indian Recipes for Beginners by Shubhra Ramineni provides cooks of all abilities with an introduction to traditional Indian home cooking.

There are more than 90 recipes in this cookbook that can give you a strong understanding of the basics of Indian cooking.
Shubhra is a first-generation Indian-American author and chef who has developed her own no-fuss cooking style that brings authentic Indian flavors together using simple techniques and fresh, readily-available ingredients.
The recipes in this book cover samosas, curries, and bread that hail from the Northern and Southern regions of India.

Pros
Simple Indian recipes that are perfect for beginners
Contains plenty of tips, tricks, and shortcuts to help make it even easier
The recipes use ingredients that are available in most grocery stores
Cons
Some of the ingredients are very similar to others in the book
Final Thoughts
There are so many different cookbooks available on the market that it can be overwhelming to choose one.
The cookbooks in this article are some of the best Indian cookbooks on the market in general but they are also the best Indian cookbooks written by female chefs(see also: 6 Female Chef Vegan Indian Cookbooks You Do Not Want To Miss).
They focus on traditional Indian home cooking techniques that have been adjusted for busy modern lives.
Frequently Asked Questions

What Makes A Good Indian Cookbook?
There are a few things that make a good Indian cookbook. One of the main things that makes a great Indian cookbook is authenticity.
There are plenty of chefs who can visit India or study Indian cuisine and publish a cookbook. However, a large part of Indian cuisine is the culture that underpins it.
This is something that can only be present in an Indian cookbook through personal experience. The experience of the culture is what makes a truly great Indian cookbook.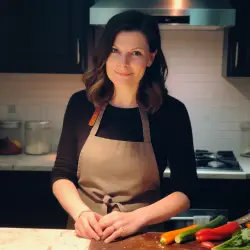 Latest posts by Barbara Hunt
(see all)