You would be hard-pressed to find someone who didn't like any Italian food. The combination of garlic and other herbs comes together in a plethora of different dishes that are sure to satisfy.
Whether you're looking for a new weeknight meal to feed the family or a special dish to impress your dinner guests, you can be sure that an Italian menu is going to hit the spot.
However, knowing a great main dish is one thing, but what about the side dishes? If you're on the lookout for suggestions on Italian side dishes that will fill out your table, then you've come to the right place! 
Below are 15 of our favorite Italian side dishes that are guaranteed to elevate your meals. 
Starting off with something simple, we have our favorite Caprese salad recipe. The combination of thickly sliced tomatoes, and creamy mozzarella, dressed in a balsamic reduction with olive oil and basil. This dish is perfect as a starter or as a side dish to your Italian main. For something so easy, a Caprese salad is sure to be a hit. 
If you're looking for a dressing to keep out on the table for your guests to tuck into as they wish, then this recipe is for you. 
Something that we love about this recipe is how versatile it is, and how, once you understand what goes into it, you can alter it and experiment to make it your own. 
The primary example of this is the fact that it's not strict on whether you use red or white wine vinegar. Just use whatever you prefer or have to hand. Prefer your dressing with a bit of a kick? Add some chili flakes and more red pepper! 
Have you created an amazing main meal only to realize right before you dish up that you don't have anything to serve it with? Well, then you're in luck! This simple cannellini bean salad recipe takes less than 5 minutes to put together but still tastes amazing. 
No more boring, bland bean salads – this cannellini salad is refreshing and zingy, thanks to the simple dressing. The best part? It's super easy to keep the ingredients on hand for any time you're short a dish and need to whip something together quickly. 
It would have been easy to make every entry on this list a different kind of garlic bread, but we managed to show some restraint. 
This super easy garlic bread is the perfect side dish for most Italian main meals and will have you and your guests wishing they made loaves of bread bigger. 
Though adding cheese is totally optional, we highly recommend it for the perfect cheesy side dish. 
Something that we love about this next entry is how easily this dish can either be the star of the show or simply a side dish. Risotto rice is one of those ingredients that we love to keep stocked in the pantry because of how easily it comes together as a hearty and filling meal. 
However, we've recently found that a smaller portion actually makes a fantastic side dish for any meat-heavy meals. 
If you're looking for something simple to put in the center of your table that will pair beautifully with the majority of Italian main meals, then this easy arugula salad is perfect! 
Not everyone is a big fan of arugula, but when you combine it with sharp parmesan cheese, tangy lemon juice, and a decent olive oil, then you have a tasty salad that even the kids won't be able to complain about. 
This next entry is sure to add a pop of color to your dinner table. 
We already like a chaud salad, however, you can bring the flavor out and create a stunning meal by sauteeing it and adding parmesan and pine nuts. Pair this with a salmon dish, or a creamy lasagna to get the most out of this mild leafy green. 
If you can't find pine nuts, then toasted almonds work just as well! 
Look, we know. Using the work blister in the context of food feels kind of wrong, but just stick with us. This delicious farro salad works best with tomatoes that have been roasted until they blister and deflate because this brings out the natural sugars of the vegetable. 
Though this particular salad is a little more complicated than the other salads on this list, it's definitely worth it for a spectacular side dish that might just end up overshadowing the main meal!
If you're serving a meaty dish or a mostly veggie dish, then this angel hair pasta salad is the perfect bowl to serve alongside on the table. 
Angel hair pasta is the quickest type of pasta to cook, which means that you can pull this pasta together in about 10 minutes and have either a main meal that's sure to satisfy or a scrumptious side dish that pairs well with a lot of great meals that are typically devoid of pasta. 
Gnocchi is another dish that works similarly to the angel hair pasta dish or the risotto – meaning that you can easily serve this as a main meal or as a side dish, whatever suits your table (and your hunger levels) more. 
Side note: But how surprised were you when you found out that gnocchi is made out of potatoes and not pasta? Because it totally blew our minds. 
If you want something a little fancier, check out this next recipe from celebrity chef, Ina Garten. The Barefoot Contessa is serving up delicious asparagus and prosciutto bundles that are the perfect side dish for pasta or fish meals. 
Is this side dish healthy? No. Is this side dish super simple like some of the other recipes? Also no. But trust us when we say that these bundles will steal the show at whatever meal you happen to serve them. 
Another Ina Garten recipe, this time it's an orzo and roasted vegetable salad. Something that we love about this recipe is how jam-packed with delicious ingredients it is. We would be surprised if you ended the meal with any of this left due to how moreish the whole thing is. 
For another celebrity chef, we're looking at Paula Deen's simple pasta salad. If you're serving up a fish or meat meal and want to make sure you have a decent serving of carbs to go with the meal, then you should consider a simple pasta salad to get some more veg into the mix as well as making it more filling. 
This next recipe is a day-long endeavor. So if you're wanting to serve it with a meal, you're best making it in the morning. This is because it needs to rest for at least 4 hours, being stirred every hour, however, Paula recommends leaving it for a full 8 hours for the best results. 
Though it's certainly more time-consuming, you'll have to trust us that it's absolutely worth it when you bite into these creamy, flavorful potatoes. 
The final recipe that we're looking at today is these Italian-style grilled carrots. This recipe also calls for goat's cheese and pistachio pesto, all of which combine to create an incredible side dish that bursts with flavor in every mouthful. 
Again, this is a pretty complicated side dish, so we don't recommend it for a simple weeknight, but if you're making a meal for a date night or a fancy grown-up meal with the in-laws or someone similar, then this side dish is guaranteed to impress. 
Final Thoughts
Our favorite thing about Italian side dishes is the ease with which you can mix and match them all. Any main meal will pair beautifully with practically any of the side dishes we've collected. 
Try experimenting with what sides go best with your favorite mains! 
Frequently Asked Questions
What Kind Of Vegetables Go Well With Italian Food?
There are loads of vegetables that go great with Italian dishes. Some of our favorites include arugula, portobello mushrooms, and celery.
What Are The Best Drinks To Serve With Italian Food?
You can't go wrong with a good white wine, but there are some other great Italian cocktails you can try. For example, a negroni, or a bellini pair wonderfully with most Italian dishes. Or you can go traditional with an aperitivo before you sit down to eat.
15 Great Italian Side Dishes
Course: Other Recipes, Recipes
Directions
Pick a recipe from above
Click the recipe name and visit the website
Collect the ingredients and the food
Enjoy – don't forget to leave a review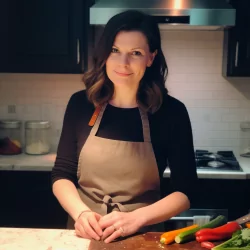 Latest posts by Barbara Hunt
(see all)