The unassuming peach is a real delight. It tastes like sunshine and days on the beach.
It's juicy and delicious, and it's one of your five a day.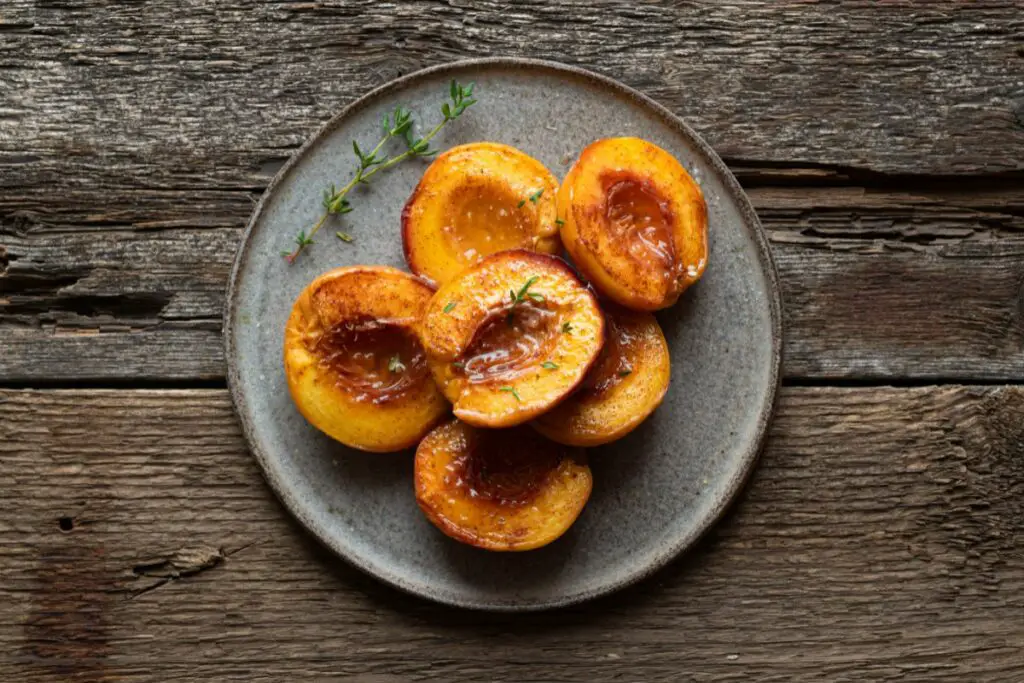 This versatile, stoned fruit makes the perfect dessert but works just as well in a savory dish or added to a refreshing drink.
When working with peaches, you may be tempted just to bake them into a cake or a crumble, but there's so much more that you can do with this fruit. Let us show you.
We're kicking off with an absolute classic – the peach cobbler.
This is the recipe most people turn to when they have peaches to use up because it's well-known and well-loved.
Paula Deen's peach cobbler recipein calls for just a few ingredients: sugar, peaches, water, butter, self-rising flour, milk, and ground cinnamon.
Serve this delightful cobbler with ice cream or whipped cream.
This may seem like a surprising choice, but peaches are actually so delicious in savory dishes.
Grilled cheese is a reliable comfort food, but sometimes, it's good to have a bit of fun with the dishes we know and love so well.
That's why we adore this recipe – the sweetness of the peaches and the mild chili flavor blend wonderfully together.
This is still a quick and easy snack to make, but it feels more luxurious, thanks to the peaches.
Grilled peaches are incredible, and they're oh-so-easy to make in the air fryer.
They're a perfect after-dinner dessert as it's not too heavy but satiates the sweet tooth.
This recipe serves two and is ready in under half an hour.
Serve your warm peaches with vanilla ice cream. You could also add a drizzle of dessert sauce.
Ina Garten's peach and almond torte has everything we need in a good dessert – the sweetness of the peaches, the crunch of the nuts, and the softness of the torte.
This recipe is perfect for a dinner party or for a relaxing baking session on a Sunday afternoon.
The key to making this delicious torte is to add the ingredients slowly and methodically. We love that it's topped with raw sugar, which gives it a great finish.
We've given you grilled peaches made in the air fryer, and now it's time for some baked peaches.
This is such a simple dessert, but it's a real crowd-pleaser. The flavors from the bourbon, brown sugar, maple syrup, and ground cinnamon give real warmth and depth to this dish.
If you're trying to create something that's a little more on the healthy side, serve your baked peaches with Greek yogurt.
In the height of summer, as you crave something cold and refreshing, why not give this peach sorbet recipe a try?
This is a great way to use up any surplus peaches in the house, and it's something the whole family can enjoy.
Blend your peaches, add peach puree, and lemon juice, then pop it in the fridge.
Make yourself a simple syrup and allow it to cool. Then combine your puree and your syrup and freeze.
You may be more accustomed to mango chutney, but peach is a great alternative.
This simple recipe is a great way to preserve your peaches – your chutney should keep for up to six months.
Try serving it with pork chops!
The Barefoot Contessa is serving up another peachy treat with her fresh peach cake.
Digging into the layers of peach and soft, fluffy cake mix is a real delight. And we love the addition of cinnamon sugar and pecans on top.
This peach cake will take just over an hour to bake and will serve eight hungry people.
Sometimes only an icebox cake can hit the spot, and we love the peach twist for this one.
This dish is really quick and easy to create, but you will have to allow plenty of time for freezing.
All you need is pound cake, jarred peaches, vanilla extract, vanilla ice cream, heavy cream, powdered sugar, and fresh, sliced peaches.
We're introducing another savory treat amongst all these delicious sweets.
This grilled peach, rice, and arugula salad is the perfect light meal for summertime.
First, prepare your dressing from Dijon mustard, canola oil, cider vinegar, a finely chopped shallot, maple syrup, and cayenne pepper.
Cook your rice, grill the peaches, and layer on top of your arugula leaves, along with cooked, chopped bacon. Then, drizzle over your homemade dressing and add cheese.
This gooey dessert is a real winner – it takes the concept of the classic pineapple upside-down cake and throws all of the rules out of the window.
As well as your staple bundt ingredients, you'll need ripe peaches and bourbon.
When your cake is baked, it can be stored in the refrigerator for up to three days, though we're pretty sure it will be nothing but crumbs by that point.
We do enjoy a fruit pie, and adding peaches to your pie crust makes the perfect summer dessert.
You can use a ready-made pie crust for this recipe. It calls for fresh, sliced peaches, but you could just as easily use a tin of peaches instead.
We like this pie served with whipped cream.
These fresh peach crumb bars make a wonderful finger food if you're having people over for a party.
Or, if you're planning an afternoon tea get-together, you can serve these to your guests along with some sandwiches and macarons.
You can add other fruits to these crumb bars – raspberries work particularly well with peaches. Or you can use the basic recipe and create bars from a completely different fruit.
You've probably never thought of putting peach in your soup, but hear us out because this really works!
This chilled soup is a perfect, light lunch on a hot day. And it doesn't take long to make, so you won't be slaving over the stove.
You will need to plan in advance if you're going to make this soup, as your peaches should be marinated the night before.
Serve your soup with crispy croutons and garnish with sliced bell pepper, sliced cucumber, goat's cheese, and basil.
We suggest serving this with warm, toasted ciabatta.
This recipe takes simple peaches and crescent rolls and transforms them into a warm, rich dessert that tantalizes the taste buds.
All you'll need is dark brown sugar, spiced rum, crescent rolls, fresh peaches, butter, a citrus-flavored soft drink, ground cinnamon, and vanilla extract.
This dish, which works well served at a dinner party, will take around an hour to bake and will serve up to 8 people.
We've reached number 16 on our list of peach recipes, and we haven't yet given you a crumble – it's time to change that.
We love the divine texture of this crumble and the rich flavors.
To make your peach crisp, you'll need ripe peaches, butter, lemon juice, sugar, salt, and cornstarch.
And for the crumble, you'll need granulated sugar, turbinado sugar, dark brown sugar, cooking oats, all-purpose flour, butter, salt, and ground cinnamon.
Serve this gorgeous crumble with vanilla ice cream.
There's nothing more refreshing on a warm sunny afternoon than a cool glass of sangria.
Invite your friends around to enjoy the sun in your garden and serve them this delicious drink.
To make your sangria, take one bottle of white wine and mix it with 3 ounces of brandy, 1 cup of orange juice, 1 cup of pineapple juice, 2 ounces of triple sec, 3 ounces of white peach puree, and 2 ounces of simple syrup.
Add fresh, sliced peaches and apples into the jug and serve.
In Summary
From a classic peach cobbler to a mouth-watering peach chutney, we've short-listed the very best peach recipes for you to try at home.
We're big fans of the smashed peach and poblano grilled cheese for lunch, but if our sweet tooth is calling, then we turn to a tasty peach pie.
If you're having a summer soiree, there's plenty of inspiration above so you can delight your guests.
We hope you enjoy sampling the delights a peach has to offer with some of our favorite peach recipes.
17 Perfect Peach Recipes You Need To Try
Course: Other Recipes, Recipes
Directions
Choose your favorite pie recipe from above
Get your ingredients
Bake a delicious pie
Enjoy!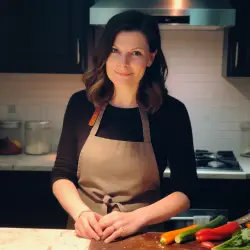 Latest posts by Barbara Hunt
(see all)