We are 100% team pie. A crumbly pastry and an indulgent filling, what more could you want in a dessert?
We're not hating on cake (actually, we love baking cakes), but we do think that pie is a superior choice.
From apple pie and pecan pie to Key lime and banana cream pie, the options are endless.
We've diligently tested as many pies as possible to make your lives easier and bring you this list of the best pie recipes out there. Dig in!
We're starting with an absolute classic – lemon meringue pie.
We love the combination of the sweet and crunchy meringue coupled with the tartness of the lemon.
This is a straightforward recipe to make – the trickiest part is probably the meringue, but once you've mastered that, you're good to go.
You can keep your delicious lemon meringue pie in the fridge for up to two days … if it lasts that long.
The Barefoot Contessa is the queen of divine desserts, and we love her frozen Key lime pie recipe.
Key lime pie is the perfect combination of tang and creamy flavors, and this frozen version is incredible on a hot summer's day.
You'll need to allow a good few hours for this pie to freeze, but the wait is worth it.
After two fruity delights, we think it's time to indulge in some chocolate.
This super-rich dessert takes less than half an hour to make, so it can be whipped up quickly when you fancy something sweet.
All you need is Oreos, salted butter, cream cheese, peanut butter, powdered sugar, and Cool Whip to make this incredible pie.
We recommend washing it down with a cold glass of milk.
A round-up of the best pie recipes wouldn't be complete without a pumpkin pie – and we're bringing you one of the best recipes from Paula Deen.
Paula Deen's pumpkin pie is SO creamy and irresistible, and if you're looking to level up your pumpkin pie, then this is the recipe for you.
We love that Deen uses pre-made pastry for this recipe, making it a stress-free option for the holidays.
Peach pie is so underrated.
The sweet, caramelized flavor of the peaches and a buttery, crumbly pastry are a match made in heaven.
Dust your perfect peach pie with confectioners' sugar and serve with a huge dollop of ice cream.
If you're feeling particularly adventurous, why not try making your own peach ice cream to go with this pie?
We love a good old-fashioned coconut cream pie, and this recipe is so quick and easy to make.
This pie has a way of transporting you back in time while also giving you a taste of the tropical.
You will only need to set aside half an hour to prep and bake this pie, but allow 4 hours of cooling time before you can tuck into your creation.
This salted caramel pecan pie is one of our ultimate favorites. There are a lot of great pies on this list, but this one really makes our mouths water.
We know Paula Deen is a fan of the pre-made crust, which makes this pie even easier to make.
You'll need corn syrup, dark brown sugar, unsalted butter, sea salt flakes, eggs, chopped pecans, and, of course, your pie crust to create this southern delight.
We've had a coconut cream pie, now it's time for a banana version.
This pie is proper comfort food! If you want to add another dimension, try spreading chocolate spread or peanut butter on the bottom of the pie case before you fill it.
With any cream pie, the key is to continually stir your mixture for that truly smooth finish.
We like to serve our banana cream pie with plenty of whipped cream, some sliced bananas, and some chocolate sprinkles.
If you're looking for your caffeine kick in dessert form, then this is the recipe for you.
Grab yourself some Biscoff cookies, pretzel sticks, salted butter, and light brown sugar to make an amazingly delicious and crumbly pie crust.
You'll be making your own filling from espresso, vanilla extract, condensed milk, hot water, salt, and whipping cream.
Serve a slice of this pie with a good squeeze of caramel sauce.
Let's take it back to basics for a second with this easy chocolate pie.
This is an underrated option, and it's always a huge hit with kids.
Making chocolate pie couldn't be simpler – this recipe will only take you 10 minutes to make, and then 4 hours to chill, so it's a good one to whip up for a cheeky dessert after your evening meal.
We recommend serving this pie with whipped cream. You could also add some strawberries or raspberries.
Fresh strawberries work wonderfully in a pie. We just love the soft sweetness of strawberries with a crumbly crust.
To create this delight, which we think is the perfect summer dessert, you'll need a pre-made pie crust, cornstarch, water, sugar, fresh strawberries, and strawberry gelatin.
Serve this fresh pie with more sliced strawberries and a good helping of whipped cream or vanilla ice cream.
You didn't think we'd forgotten about apple pie, did you? Shame on you! We were just building up the suspense to bring you this divine deep-dish apple pie from Ina Garten.
This apple pie is just like grandma used to make, with an added citrus twist.
We love how packed with filling this pie is. There's nothing worse than biting into a pie to find just a few apple slices. That's certainly not the case with this recipe – you'll get fruit in every bite.
The spices in this pie recipe make it perfect for Fall.
We like ours served warm with cream.
We love this spring pie recipe. The tartness and bite of the rhubarb work so well in a pie, and the addition of apricot jam in the filling really helps to sweeten the sharpness of the fruit.
The lattice effect on this pie makes it looks super fancy and means that you have a better balance of filling vs. pastry.
There's something to be said for the simplicity of a beautiful blueberry pie.

Top your blueberry filling with a lovely lattice pastry finish so that you can see the warm fruit peeping out from insight, and serve with whipped cream.
This blueberry pie should keep in the refrigerator for up to two days. You can also freeze it if needed.
This pie looks fancy as hell, but it's super easy to make, we promise.
You'll need unsweetened chocolate, sugar, salted butter, eggs, cornmeal, milk, all-purpose flour, vanilla extract, salt, and a buttery pie crust to make this.
We love how the author of this recipe has dusted the pie, but you can use any stencil you wish or just simply sprinkle over powdered sugar without using a design.
This delicious chocolate chess pie should serve 8-12 people.
This pie is a real winter warmer.
Gather fresh plums and slice them. Then grab yourself some sugar, all-purpose flour, salt, ground nutmeg and cinnamon, eggs, orange juice, butter, and orange zest.
We like the decorative finish on this pie, but adding the word 'plum' and stars on top of the crust is definitely optional. You can keep it plain and let the filling speak for itself.
We recommend serving this tasty pie hot with vanilla ice cream.
We're finishing our round-up of the best pie recipes on a real high with this butterscotch delight. And we've also come full circle – we started with meringue, and we're ending on it too.
We're a big fan of butterscotch, and this pie is so indulgent and creamy. Plus, we love the soft crunch of the meringue.
It will only take you about 45 minutes to make this pie, but you'll need a good 3-4 hours to allow it to cool.
We think this pie works well on its own, but you could serve it with fresh whipped cream.
In Summary
We've picked some truly amazing pie recipes to make your mouth water, but which one is your favorite?
We do love a classic lemon meringue, but sometimes only a chocolate pie will hit the spot.
Of course, when it comes to Thanksgiving, you have to turn to the trusted pumpkin pie to please your guests. Or you could serve up an impressive pecan pie for the holidays.
What are you waiting for? Get baking!
17 Perfect Pie Recipes You Will Want To Try
Course: Other Recipes, Recipes
Directions
Choose your favorite pie recipe from above
Gather your ingredients
Make your delicious pie
Enjoy with ice cream.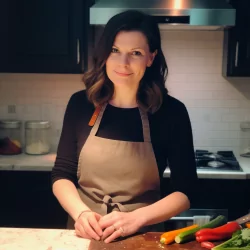 Latest posts by Barbara Hunt
(see all)