Cheesecake is one of the world's favorite desserts.
Its rich, creamy texture and its diverse flavor profile make it a huge hit across many continents.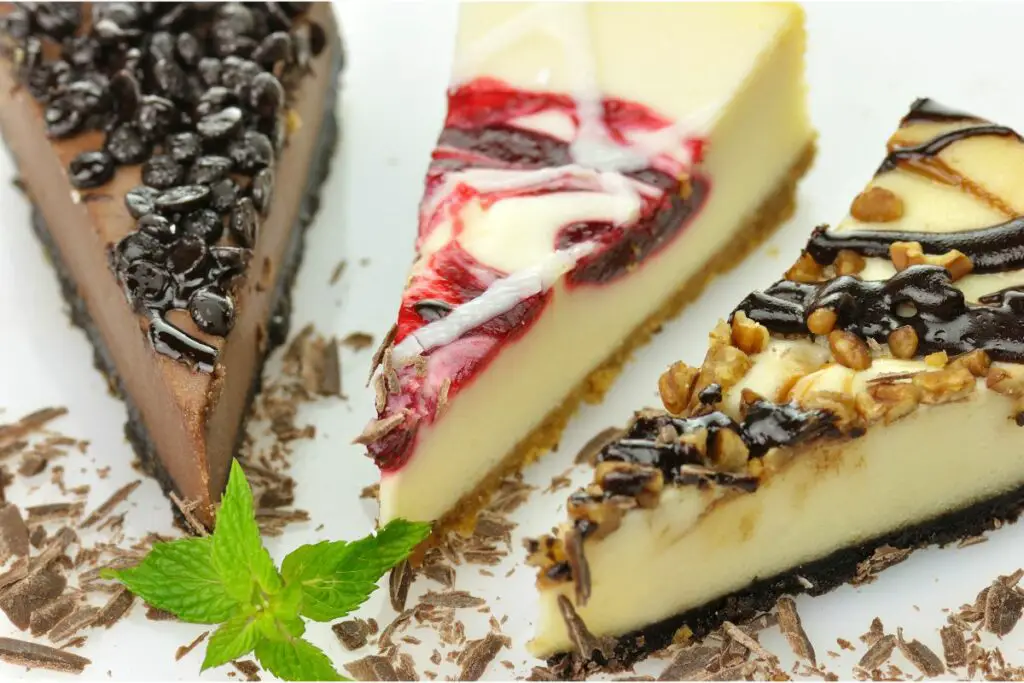 Whether you're a fan of the velvety indulgence of a New York cheesecake or the tartness of a simple lemon one instead, there's a version of this delicious dessert to satisfy most palates.
We've whittled it down to just 16 of our favorite cheesecake recipes below, but which one will you make?
There's only one place to start a round-up of our favorite cheesecake recipes, and that's with a classic New York cheesecake.
With a traditional graham cracker crust, and a thick and creamy filling, this cheesecake is a real hit.
We love how easy this recipe is easy to follow – even for beginner bakers!
This recipe will make 8-10 delicious servings. We recommend serving your cheesecake with fresh berries or a fruit sauce.
Creamy white chocolate and tart raspberry flavors are a true match made in heaven. And, when combined in cheesecake form, there's nothing better.
The crust is made from cookie crumbs combined with sugar and butter. The cheesecake filling consists of half-and-half cream, cream cheese, white sugar, vanilla extract, eggs, and, of course, white chocolate chips.
And the super easy sauce is made from frozen raspberries, sugar, cornstarch, and water.
We love the presentation of this cheesecake – it is restaurant-worthy.
Serve this cheesecake with fresh raspberries and save some of your homemade sauce to drizzle over.
This cheesecake recipe gives us ultimate winter vibes. It's the perfect comfort dessert for a chilly January day.
And the fact that it's low-carb means you don't even have to feel guilty about indulging in this cheesecake.
You'll need coconut flour, coconut sugar, salt, almond flour, and butter to make your crust.

For the filling, you'll need honey, stevia, cream cheese, the zest and juice of 1 lime, water, gelatin, and blackberries.
We recommend garnishing this cheesecake with mint and serving it with a drizzle of honey and perhaps some Greek yogurt.
Mini cheesecakes are great for parties, and we just love the divine chocolate-hazelnut flavor of these little delights.
These cheesecakes are honestly so quick and easy to make – the kids will love getting involved to help you with these too.
This recipe should make 12 tartlets, so double or triple the ingredients, depending on how many people you are serving.
Key lime pie is such a classic, so why not enjoy these flavors in cheesecake form?
The zesty lime and creamy cheesecake filling make a refreshing combination, and we think this is a great summer barbecue dessert.
This recipe will make 12 servings, and the cheesecake can be kept for up to 3 days in the refrigerator.
These pumpkin cheesecake bars are an incredible fall snack! If you're throwing a Halloween party, these would be a huge hit – you can even add some spooky toppings.
To make the crust, you need chocolate wafer cookies, butter, sugar, and salt.
For the filling, you will need cream cheese, pumpkin puree, vanilla extract, eggs, sour cream, water, and sugar.
This recipe shows you how to make your own caramel sauce, but you could buy some from the store to save time.
Ina Garten's cheesecake brings us a delightful Italian twist.
We think these tasty cheesecake bites are perfect for an afternoon with friends – perhaps with some prosecco or an espresso. Or, why not save a shot of limoncello to enjoy with this dessert?
This recipe will create 12 servings, but these cheesecake bites are so moreish that you may want to double the mixture.
This cheesecake is super fun for little and big kids alike! Who can resist that bright purple color? We think it makes the perfect centerpiece for a birthday party.
For your crust, you'll need graham crackers, butter, sugar, salt, and cooking spray.
Your filling is made from cream cheese, sugar, eggs, whipping cream, vanilla extract, salt, and the star of the show, ube jam and ube extract.
There's a delicious ganache to make to top this cheesecake – you'll need ube extract, heavy whipping cream, and white chocolate chips.
We adore this indulgent chocolate espresso cheesecake from the Barefoot Contessa.
This is the perfect dessert for chocolate lovers, and we really enjoy the coffee twist.
To create this cheesecake, you'll need graham crackers, ground cinnamon, butter, espresso, cream cheese, bittersweet chocolate, cornstarch, granulated sugar, almond extract, vanilla extract, eggs, sour cream, salt, whipping cream, and semi-sweet chocolate.
We recommend making plenty of the ganache as it's truly delicious.
This cheesecake is wonderfully indulgent but only takes three and a half hours to make, which is much faster than most cheesecake recipes.
To create your amaretti crust, you'll need butter, salt, graham crackers, and amaretti cookies.
For the triple-cheese chilling, you will need cream cheese, ricotta cheese, and mascarpone cheese or sour cream, along with salt, sugar, heavy cream, powdered gelatin, and lemon juice.
This recipe calls for making your own honeyed apricots which are the perfect finish for this cheesecake.
If you love cookie dough, you're going to want to try this cheesecake.
This cheesecake is super easy to make. It will only take you around 25 minutes to prep and 45 mins to bake. You will need to allow cooling time before you can dig in, though.
You will be making your own cookie dough for this recipe, but you could always opt for store-bought cookie dough to save some time.
Serve your chocolate chip cookie dough cheesecake with extra chocolate chips and a scoop of vanilla ice cream.
Paula Deen brings indulgence and comfort together in this caramel apple cheesecake.
This dessert, which is perfect for fall or winter, only uses a few ingredients.
You'll need eggs, vanilla extract, sugar, cream cheese, caramel topping, apple pie filling, a graham cracker crust, and chopped pecans.
This recipe recommends serving the cheesecake with chopped pecans, but we quite like this served with caramelized apples and vanilla ice cream, too.
We're going back to basics with a simple yet irresistible lemon cheesecake.
This cheesecake should be a staple in every baker's repertoire.
First, you will need to make a classic graham cracker crust. Then, for the filling, you'll need lemon zest, cream cheese, sugar, sour cream, lemon juice, eggs, and vanilla extract.
To finish the cheesecake, you will need lemon curd. There are step-by-step instructions on how to make your own in this recipe, but you can also opt for store-bought instead.
Pipe whipped cream onto your finished cheesecake and top with blueberries and lemon zest.
We're back with another recipe from Paula Deen – and this one oozes southern living.
Deen does warn that these bites are hard to make, but if you can practice and master them, it's totally worth it.
Just imagine those little parcels of cheesecake – full of creamy goodness and milk and white chocolate flavors.
You will need a deep-fat fryer to be able to make these goodies.
When you've got the hang of this recipe, you can experiment with different fillings.
You may have noticed that we're a big fan of peanut butter cups, so we had to include our favorite cheesecake recipe that has peanut butter cups as the star of the show.
To make the crust for this cheesecake, you'll need sugar, graham cracker crumbs, butter, oreo cookies, and creamy peanut butter.
For the gooey filling and topping, you'll need cream cheese, sour cream, sugar, eggs, vanilla extract, hot fudge topping and peanut butter cups.
Don't forget to save some peanut butter cups to pop on top of your finished cheesecake.
We've reached the end of this delicious list, and we're finishing up with a mouth-watering no-bake cherry cheesecake.
We love how quick and easy this cheesecake is to make – plus, there's something incredible about cherry desserts, don't you agree?

This is a perfect summer-time dessert, and all you need is graham cracker crumbs, butter, and sugar for your crust, then cream cheese, powdered sugar, whipping cream, vanilla extract, and cherry pie filling.
In Summary
We hope we've inspired you with our cheesecake recipes and you're ready to master the art of this divine dessert.
All you need to do now is pick your favorite recipe from above, grab your apron and your spatula, and get to work.
Frequently Asked Questions
What Is The Difference Between New York-style Cheesecake And Regular Cheesecake?
There are a few differences that set a New York-style cheesecake and regular cheesecake apart.

New York cheesecake tends to be richer and denser than other types of cheesecake.

New York cheesecake is smooth, creamy, and sweet, and the crust is usually made from graham crackers.
Is Cheesecake Better Baked Or Unbaked?
Both baked and unbaked cheesecakes are equally delicious, and which one you prefer will really depend on your preferences.

Unbaked cheesecakes are generally lighter, whereas a baked cheesecake is usually denser, and the flavor profile is often more developed thanks to the baking process.
Which Cream Cheese Is Better For Cheesecake?
For the most delicious cheesecake, plain full-fat cream cheese is best. Philadelphia cream cheese is a popular choice with bakers who are making cheesecake.
What Is A Chicago Cheesecake?
Chicago-style cheesecake is generally lighter and fluffier than the New York-style variety.

The addition of sour cream to the mixture results in a cheesecake that is creamier and less dense.

The crust is often made from shortbread cookies rather than graham crackers.
16 Divine Cheesecake Recipes To Make Today
Course: Other Recipes, Recipes
Directions
Choose your favorite cheesecake recipe from the list
Get your ingredients together
Whip up a delicious cheesecake
Dig in and enjoy!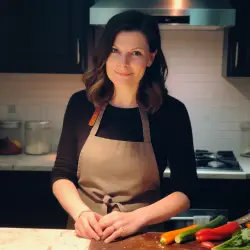 Latest posts by Barbara Hunt
(see all)