A Dutch oven is such a convenient way to cook…
You can cook everything in one pot, the food never gets burned, you can move it from the stove top to the oven, it has a self basting lid, you can cook pasta directly in the sauce, and it's amazing for soups and stews!
Once you have a Dutch oven, all you need is a cookbook for it, and that's exactly where this article comes in - we've got a round-up of the best Dutch oven cookbooks on the market, and they all come from female chefs.
We're also throwing in a brief guide to choosing a Dutch oven cookbook, and following that up with a section where we answer your most frequently asked questions on the subject.
And without further ado, let's get straight to it! Got those taste buds ready? Here we go!
Here follows our recommendations for Female Chef Dutch Oven Cookbooks(see also: 5 Female Chef Vegetable Cookbooks You Do Not Want To Miss).
(The following cookbooks aren't listed in any particular order.)
The star feature of this Dutch oven cookbook is clear from the title - all the recipes are easy, and suitable for beginners and novice home cooks.
Sarah's book features a staggering 100 recipes in total, all of them easy to follow, and using various simple techniques.
Better yet, they all need minimal prep and clean up - perfect for busy parents on a hectic weeknight.
Not to mention how they all use ingredients that are easy to get hold of, and how quick they generally are to make.
Plus, there are tips on how to care for your Dutch oven, and modifications for smaller ovens.
The highlights for us were the beef stroganoff and the coconut shrimp!
Pros
A staggering 100 recipes in total
Very convenient, quick and easy recipes to enjoy
There are handy dietary labels if you need/want them
Cons
Lack of photos
Specifically intended for home cooking and not campfire cooking
If perhaps you're specifically looking for a Dutch oven cookbook when you're in the great outdoors, then this is the book for you…
It's packed with 86 different campfire recipes, and better yet, they all only need 5 ingredients or less. And they all happen to be ingredients that are easy to get hold of at your local grocery store.
It walks you through easy cooking techniques, and it even has a handy section on food packing hacks.
And if all that's not enough, it also happens to be small enough to stash inside your Dutch oven as you make your way to the campsite.
What's more, not only does it have meat recipes but also gluten-free, soy free, nut free, vegan, and vegetarian recipes as well.
The highlights for us were the butternut squash and white bean stew and the crusty no-knead French bread!
Pros
Perfect for Dutch oven campfire recipes
86 easy to follow and delicious recipes to try out
Suitable even for campers with particular dietary requirements
Cons
The print is small and it lacks pictures
This book is a prominent bestseller in the category of Dutch oven recipe books. And we can certainly see why!
Together Sharon and Julie have put together 70 different recipes across the categories of soups, chilies and chowders, sides and appetizers, main dishes, side dishes, and desserts.
The recipes are delicious and easy to follow and prepare. There are full color photos throughout and the book is very reasonably priced.
The highlights for us were the maple-glazed roasted root vegetables, and the sticky toffee dessert!
Pros
Packed with tasty, mouth watering recipes
Many (not all) of the recipes with ingredients you can pick up at your local grocery store
Cons
There's no nutritional breakdown for any of the recipes
This is such a great cookbook for anyone wanting to slim down and lose weight.
It has a staggering 140 recipes in total, and they can all be made in one container, which is what is meant by the title's term "one and done".
These containers include a Dutch oven of course, but also recipes for an Instant Pot, slow cooker, air fryer, sheet pan, and skillet, as well.
The recipes are healthy, family friendly, and are surprisingly tasty given how low in calories they are.
And there are full color photos for the majority of the recipes, perfect for those who love to eat with their eyes.
The book has been flying off the shelves, and is a prominent bestseller in the category of low fat cooking books.
The highlight for us was the fiesta chicken and carrot rice.
Pros
140 healthy, low calorie, convenient, family friendly recipes
There's a full nutritional breakdown for every single recipe
Cons
Some of the recipes require a lot of ingredients
Although this isn't one of the most talked about Dutch oven cookbooks, it is one that comes highly recommended by those who've tried it out, and we certainly deemed it worthy of a spot on our shortlist.
There are 50 recipes in the book in total, and they are divided into various sections, including breakfast, breads, main dishes, side dishes, and desserts.
It covers recipes for both home cooks and campfire cooks, so it's a great all-in-one. And it also includes a section on how to season your Dutch oven and how to care for it.
The highlights for us were the Hawaiian chicken and the nutty hot fudge cake!
Pros
It covers recipes for both home cooks and campfire cooks
Great for taking camping because you don't need a lot of fresh ingredients
Cons
It uses a lot of canned goods, rather than explaining how to make everything from scratch
Cooking Confidence Level
This is self-explanatory. If you're a beginner, look for cookbooks with easy recipes.
If you consider yourself to be more advanced, however, then why not consider something with a little more technical know-how, so you can become a more skilled cook?
Where Are You Cooking?
Some campers like to take a Dutch oven camping. If this sounds like you, there are cookbooks especially for that (scroll back up if you missed it). As well as some that cover both home and outdoor cooking, rather than one or the other alone.
Final Thoughts
We hope that you've enjoyed browsing through our round-up of the best Dutch oven cookbooks from female chefs, (see also: 4 Female Chef Gluten-Free Cookbooks You Do Not Want To Miss)and that you found this article informative.
Better yet, we hope you're inspired to get yourself a Dutch oven cookbook that you'll use again and again!
Still here? Check out our FAQ section…
Frequently Asked Questions
Do Professional Chefs Use Dutch Ovens?
Yes, they certainly do! It's not just for home cooks.
What Can You Cook In A Pioneer Woman Dutch Oven?
The Pioneer Woman Dutch is perfect for casseroles and stews, whole sized meat and poultry dishes, and for pulled pork.
Is The Pioneer Woman Dutch Oven Oven-Safe?
It sure is oven-safe, up to 500 degrees Fahrenheit.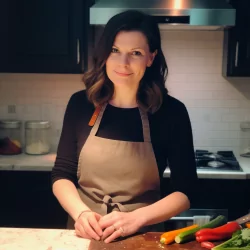 Latest posts by Barbara Hunt
(see all)