We all get that eating healthy at least the majority of the time is important for our overall well-being. But the real trick is to find lots of healthy meals that are not only delicious, but also a breeze to make.
Which is exactly why we put this article together. It's a round-up of what we feel are the best healthy cookbooks on the market that won't take you far out of your comfort zone when it comes to making the recipes. Plus a few handy extras!
This is not an exhaustive list, so please forgive us if we miss one of your favorites. The cookbooks aren't listed in any particular order.
This lovely book from Kristin Cavallari is a prominent bestseller, which isn't at all surprising given that it features over 140 delicious healthy recipes.
What's more, these recipes also happen to be both super easy to make and family friendly.
These are all weekday recipes, that you can make even when you have little time to satisfy your hunger, and don't really feel like putting a great deal of effort in.
It covers drinks, breakfasts, salads, lunches, dinners, snacks, and even desserts.
For us, the highlights were the chocolate cherry smoothie, and the blueberry and cinnamon baked oats!
Pros
Family and kid friendly recipes
Easy enough for a busy weeknight
126 of the recipes are gluten-free
Cons
It was only available in hardcover when this article was written
This amazing cookbook comes from working mum Danielle Walker, and her mission with this book is to help busy moms like her "get delicious meals on the table fast with tried-and-true recipes that are full of comfort, flavor, and easy variety".
She is the co-founder of and CEO of Whole30, and her cookbook's recipes are not only Whole30 compliant, but also grain-free, gluten-free, and dairy-free, so it's perfect for catering to people with allergies.
The book's got over 150 recipes and there are 6 weeks worth of meal planning charts, to help get you organized.
There are handy sections like no-cook lunches, one pot meals, freezable dishes for meal prepping, and more.
For us, the highlights are the lemongrass and ginger pork chops with mint salad, and the chipotle cranberry sweet potato turkey burgers.
Pros
Recipes designed for busy weeknights
Grain-free, gluten-free, and dairy-free
No-cook lunches, one pot meals, & freezable dishes
Cons
Quite a lot of the recipes are adapted from cultures that use a lot of spice
This is a recipe book that ticks all the boxes. It's perfect for anyone who is calorie counting, which is regarded by most professionals as the most effective weight loss method.
It comes from Gina Homolka, a household name for flavorful, low-calorie recipes made with easy to find ingredients.
There are 150 recipes in total, and they're a good all-rounder, including everything from breakfasts, dips, lean meat dishes, meatless mains, and veggie-licious sides. And there's even a section on not-so-naughty desserts!
There are recipes that are ready to eat in 30 minutes, freezer friendly ones, and crock pot ones.
There's a handy nutritional breakdown for every recipe, so you can count your daily calories and macros.
Pros
Perfect for calorie counting & weight loss
The recipes are quick and easy to make
Crock pot and freezer friendly recipes
Cons
The recipes don't state how long they should take to make
As mentioned in our FAQ section later, the Mediterranean diet is one of the easiest ones to follow because it includes a wide variety of foods, emphasizes fruits and vegetables, and is low in carbs.
And this cookbook from Suzy Karadsheh is one of the best Mediterranean diet cookbooks on the market.
But thankfully, you definitely won't have to travel to the Mediterranean to get the ingredients! They're all easy to get hold of.
The recipes are easy to follow, too. There are 120 recipes there in total, including salads, appetizers, breakfasts, meats, meatless mains, seafood, desserts, and sauces.
We also like how the book begins with an overview of Suzy's pantry staples for the diet.
For us, the highlights were the lime tahini sauce, and the cashew stuffed chocolate date bonbons - yum!
Pros
It's an easy-to-follow diet with plenty of variety
Goes beyond mains to cover starters & sauces
Cross-culture dishes from various countries
Cons
This is a cookbook you can trust, written by female registered dietitian Kelli Shallal.
It's aimed at anyone who wants to lose weight on a good, varied and sustainable diet.
What's more, it's also a food prep book that enables you to make food well ahead of time, so that when you're too tired to cook, all you have to do is reheat.
There are 75 tasty recipes and 8 meal prep plans in total, and the meals are all perfectly balanced to include all the nutrients you need.
Moreover, most of these recipes can be enjoyed on both the Mediterranean and the DASH diet.
The highlights for us were the cinnamon roasted sweet potato, and the caramelized butternut squash.
Pros
It comes from a registered dietitian
Made for easy, sustainable weight loss
Includes 8 convenient meal prep plans
Helpful storage and freezing/preserving tips
Cons
There are a small variety of negative comments in the customer reviews
This is the perfect cookbook for anyone who's concerned about their heart or cardiovascular health, since it's brimming with delicious low-fat and low sodium recipes to lower your blood pressure and cholesterol levels.
What's more, there's also dietary and lifestyle guidance directly from the American Heart Association.
And that's not all - because the book is aimed at beginners, all the recipes are super easy to make.
There are over 100 recipes to pick and choose from, and most of them only require about 5 easy to find main ingredients.
And there are also handy features such as a simple 30-day meal plan, and handy shopping lists to get you started.
Pros
Perfect for cholesterol and blood pressure issues
There's dietary and lifestyle guidance from AHA
Simple meal plan and over 100 easy recipes
Cons
The cover is deceptive, it does not contain 1,500 recipes
How To Choose A Female Chef Easy Healthy Cookbook
Here are some things to consider when choosing which easy healthy cookbook to buy.
Number Of Healthy Recipes Included
I mean, if two cookbooks cost the same price and one has 100 recipes in it and the other has 200, which one are you going to pick?
We would argue that any cookbook worth buying has a minimum of at least 100 recipes.
What Makes It Healthy
There is still debate to this day about what makes a recipe healthy.
Low calorie recipes are particularly popular, but you've also got low sugar and low GI recipe books, heart health recipe books, vegan cookbooks, the list goes on.
Specific Cooking Methods
If you're into meal prep, and doing all of your cooking on Sunday for the rest of the week, there are healthy cookbooks for that.
There are also cookbooks centered around air fryer recipes, or your crock pot. Take your pick.
Wrap Up
We hope you've enjoyed browsing through and spotted at least one easy healthy cookbook that you'd like to try out. Stick around for our FAQ section!
Frequently Asked Questions
What Is The #1 Easiest Diet To Follow?
According to the experts, the easiest diet to follow is the Mediterranean diet, because it includes a wide variety of foods, emphasizes fruits and vegetables, and is low in carbs.
If this interests you, we can recommend The Mediterranean Dish by Suzy Karadsheh.
What Female Chef Lost Weight?
Celebrity chef Ree Drummond lost a staggering 55 pounds, and now she looks amazing.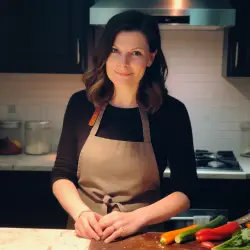 Latest posts by Barbara Hunt
(see all)