The anti-inflammatory diet is more of a style of eating than an actual diet.
The goal of the anti-inflammatory eating style is to consume foods that combat inflammation in the body, such as whole grains, fruits and vegetables, nuts, beans, and foods high in Omega-3 fatty acids.
Studies have shown that not only can eating an anti-inflammatory diet (which can include plant-based, paleo, and Mediterranean diets) reduce obvious signs of inflammation, like swelling and pain, but may even reduce your risk of certain diseases, from cancer to diabetes.
To celebrate the work that female chefs are doing in the culinary, health, and wellness industries, we've compiled a selection of 5 female chef anti-inflammatory diet cookbooks you do not want to miss(see also: 6 Female Chef Vegan Dessert Cookbooks You Do Not Want To Miss)!
5 Best Female Chef Anti-Inflammatory Diet Cookbooks
The Complete Anti-Inflammatory Diet for Beginners is one of the bestselling and most comprehensive anti-inflammatory diet cookbooks available right now.
It's co-authored by Dorothy Calimeris and Lulu Cook.
Dorthy Calimeris is currently a cooking instructor, well-known for her recipe books and blog, although she used to work as a chef and has also been a baker.
Of course, this cookbook features plenty of anti-inflammatory recipes, most of which only feature 5 ingredients, proving that you don't need a lot of money or time to spend grocery shopping in order to nourish your body optimally.
The recipes are divided into sections, including vegetarian and vegan recipes, poultry and meat recipes, and even snacks and desserts.
In addition to the recipes, the cookbook features an anti-inflammatory diet meal plan, divided into 2 weeks.
The plan allows you to enjoy a variety of meals while structuring your eating in a way that promotes health, wellbeing, and consistency.
You'll also find a helpful list of anti-inflammatory foods you can safely eat, as well as foods you should avoid because they can cause inflammation.
Pros
Mostly 5-ingredient recipes that are quick and easy to follow
Includes an anti-inflammatory meal plan
Contains clear lists of foods to consume and avoid
Cons
Small print can be difficult to read
The Kitchen Prescription is not directly advertised as an anti-inflammatory diet cookbook, but it's based on the principle that eating the right foods can help to heal the body and features immunity-boosting, gut-healing recipes made up of anti-inflammatory ingredients.
The author, Dr Saliha Mahmood Ahmed, is a qualified gastroenterologist, but she's also a chef. You might know her as the winner of the 2017 series of BBC's MasterChef.
This book contains 101 recipes designed to keep your gut and digestive system healthy and combat diseases such as heart disease and obesity.
Just some examples of the diverse and delicious anti-inflammatory recipes you'll find in The Kitchen Prescription include Fennel, Carrot and Halloumi Rosti and Turmeric Butter Gnocchi.
One thing we love about The Kitchen Prescription is that the recipes are diverse and varied.
This proves that it's possible to eat mindfully for wellbeing without being restrictive or forcing yourself into unsustainable diet patterns.
The recipes come from many different world cuisines and are tasty as well as healthy.
There are also pages throughout this cookbook explaining the science behind the gut microbiome and what you can do to keep it healthy and free from inflammation and disease.
Pros
101 recipes to choose from
Focus on diversity to promote enjoyable and sustainable wellbeing
Includes informational pages about gut health
Cons
Lack of listed cooking times can make preparation difficult
Anti-Inflammatory Foods and Recipes is an informational cookbook written by chef Beverly Lynn Bennett.
Bennett is both a successful author and vegan chef, known for her website 'Vegan Chef', as well as for her animal advocacy.
While you don't need to be completely vegan to eat an anti-inflammatory diet, plant-based foods make up a significant portion of ingredients that combat inflammation.
Although this cookbook won't be the first choice for those who still want to eat animal products in moderation, it's perfect for vegans who want to improve their diet, and those interested in plant-based cuisine.
There are 75 recipes in this cookbook, all of which are easy to prepare and will benefit your body by reducing inflammation.
In addition to the recipes, Bennett explains the science behind chronic and acute inflammation, and provides helpful guidance on how to strategize your diet to combat these types of inflammation.
Pros
75 easy and healthy recipes
Very informative with helpful guidance
Excellent cookbook for vegans interested in anti-inflammatory food
Cons
Not ideal for those who aren't interested in primarily plant-based cooking
Shannon Berends' The Anti-Inflammatory Cookbook: Autoimmune Protocol-Friendly Recipes from a Chef's Kitchen may not be one of the best-known anti-inflammatory cookbooks out there, but it remains one of the best.
Berends is both a food scientist and a professional chef whose work focuses on how food can bring people together.
This is a great cookbook for anyone who wants to follow an anti-inflammatory eating style, but worries that it might feel isolating to eat differently from others in their family or community.
The book features anti-inflammatory versions of staple recipes and condiments that everyone knows and loves, ensuring that everyone in the family can eat together and experience the benefits of a mostly plant-based, anti-inflammatory diet.
Most recipes are accompanied by glossy photographs, and the instructions for each dish include extra tips, such as how to store and reheat your meal for later.
Pros
Centralizes community and family in the subject of anti-inflammatory food
Includes anti-inflammatory versions of common favorite recipes, including condiments
Appealing photographs and extra instructions
Cons
Not much informational content about the anti-inflammatory diet itself
The Beauty Chef Gut Guide by Carla Oates is based on the principle of anti-inflammatory food healing both the gut and the skin.
Carla Oates is the founder of a successful wellness empire, and she is very well-versed in the nutritional science of gut and skin health, hence her brand, The Beauty Chef.
This cookbook is structured as an 8-week wellness program, which is great for people who aren't sure how to get started eating an anti-inflammatory diet.
Everything is laid out in this book for you, so there's no confusion.
Alongside over 90 varied, anti-inflammatory recipes, you'll also find discussion of other subjects surrounding wellness, to show you how you can incorporate anti-inflammatory food into a wider practice of health and wellbeing in your daily life.
Pros
Structured as 8-week diet program to simplify the process
Over 90 recipes for variety
Informative on the subject of anti-inflammatory food and other wellness topics
Cons
Some more expensive and time-consuming recipes
Best Female Chef Anti-Inflammatory Diet Cookbook Buying Guide
Author Experience
Before purchasing an anti-inflammatory diet cookbook by a female chef,(see also: 5 Female Chef Chinese Cookbooks You Do Not Want To Miss) take a look at the author's experiences and qualifications. Do they have a background in nutritional science, for example?
This information will help you to decide whether a chef's perspective on the anti-inflammatory diet is compatible with your outlook and goals.
Book Structure
Are you just looking for a cookbook full of recipes, or do you also want some background information on the anti-inflammatory diet itself? Would you like a meal plan that you can incorporate the recipes into?
You can find all of these things, in different combinations, in the anti-inflammatory diet cookbooks by female chefs (see also: 6 Female Chef No Salt Cookbooks You Do Not Want To Miss)we've featured today.
Recipe Quality And Format
Recipes are going to be the focal point of any cookbook, so before you purchase one, you should make sure that they are all good-quality and formatted in a helpful way.
Ideally, recipes should include pictures to show you what the finished dish should look like, and instructions regarding storage and reheating are also helpful.
Final Thoughts
These 5 anti-inflammatory diet cookbooks written by female chefs (see also: 7 Female Chef Palestinian Cookbooks You Do Not Want To Miss)are invaluable resources for those who want to use food as a tool to heal pain and prevent disease.
From totally vegan cookbooks to recipe books featuring meat and fish, there's something on our list of recommendations for everyone.
Frequently Asked Questions 
What Can You Eat On An Anti-Inflammatory Diet?
The anti-inflammatory diet cookbooks in this guide feature ingredients such as legumes, fruits, vegetables, whole grains, poultry, fish, seeds, and nuts, as well as herbs and spices.
These ingredients are known to reduce inflammation in the body.
Which Foods Should You Avoid To Prevent Inflammation?
If you want to reduce inflammation, you should avoid foods like dairy, red meats, and processed meats. Processed foods and refined grains in general should also be avoided.
How Long Does The Anti-Inflammatory Diet Take To Work?
Having an anti-inflammatory diet cookbook with lots of recipes is helpful because it can take a while for the diet to take effect and promote full healing in the body.
Often, you'll see results in a couple of weeks or months, but if you suffer from higher levels of inflammation, you may need to eat anti-inflammatory foods for 6 months or more to feel better.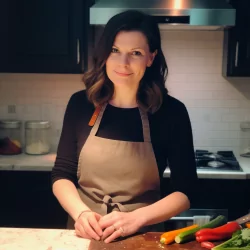 Latest posts by Barbara Hunt
(see all)