Vegan cooking has taken the world by storm, with more chefs specializing in ethical cooking and looking to expand the world of vegan dishes.
But what about baking, is that as easy to do using vegan methods? Well, we're happy to report that it is.
You might often associate baking with dairy products like eggs and milk.
Well, vegan bakers have put their heads together and come up with plenty of alternatives that are just as delicious. Some of these dishes you can only get as vegan versions.
But what about vegan baking books written by female chefs(see also: 6 Female Chef Vegan Dessert Cookbooks You Do Not Want To Miss)? Which are the most diverse vegan baking cookbooks that you can find on the market? What are the best vegan cookbooks for beginners?
Well, we've compiled a list of some of the best vegan dessert cookbooks written by female chefs. So let's have a look, shall we?
Why Should You Try Vegan Baking?
One reason why you want to try vegan baking or dessert-making is for purely ethical reasons. These types of desserts do not involve any animal products.
Vegan desserts are the best way to enjoy your sweet treats knowing that no animals have suffered in their making.
Another reason why you might want to try vegan desserts is the fact that it is much safer.
There are risks of using raw eggs in baking and by cutting out this crucial ingredient, you reduce the risk of ingesting contaminated ingredients.
This is also a much healthier way of baking. You can lower your cholesterol by using healthier fat sources like nuts and seeds rather than butter and eggs.
Using vegan ingredients will also be a challenge to more experienced dessert makers, as it will force you to find more creative substitutes for your dishes.
So now that we've outlined a few of the reasons why you might want to get into vegan baking, here are some of the best vegan dessert books that we can find… all of which are written by female chefs(see also: 6 Female Chef Vegan Dessert Cookbooks You Do Not Want To Miss). So, let's get stuck in!
6 Female Chef Vegan Dessert Cookbooks
This first vegan baking guide will give you a recipe for every occasion, whether it is a wedding cake or a birthday cake.
This book covers cream pies, pies, puddings, pastries, cupcakes and dozens of other types of desserts.
The mission statement of this book is to show that vegan baking is just as inventive and easy as regular baking.
With the diverse range of dishes on offer here, it is hard to see why this isn't true. This is great for experienced bakers who want a new challenge.
Pros
Perfect for adventurous bakers
Plenty of recipes for cakes, pies and pastries
A healthy option for sweet treats
Great for all occasions
Cons
Might be too much for beginners
Next up, we have a cookbook that comes with over 100 recipes, both aimed at beginner chefs and experienced baking pros.
The mission statement of this book is to make vegan baking accessible by including ingredients that are available for the local food market or supermarket.
This comes with tiramisu pancakes, apple pie, pumpkin pie, chocolate orange cupcakes, chocolate beer cupcakes and coconut cream pie.
But we've only scratched the surface. There are also recipes for ice cream, cookies and cakes. This is your one-stop shop for everything sweet and vegan.
Pros
A diverse range of sweet treats and snacks
Features boozy sweet cakes
Recipes that you wouldn't find in a regular baking cookbook
Over 100 recipes
Cons
Some readers have claimed that this cookbook is lacking a few essential details
This is another cookbook by the duo who brought up the vegan cupcake cookbook that we listed above. This time, the focus is on pies.
Whether it is a cherry pie, a blueberry pie, a caramel pie, or a cheesecake, this comes with everything that you need for that special birthday, wedding, or just a Sunday night treat.
This also comes with recipes for pie toppings that will elevate it above the ones that you would find in a regular cookbook.
This recipe guide is very innovative with its ingredients, with plenty of substitutes that are just as delicious (and in some cases, even more delicious) than the dairy versions.
Pros
Covers all types of pie and cheesecake
Great for an expert baker looking to expand their repertoire
Easy to understand recipes
A creative approach to baking
Cons
Might not be suitable for beginners
This is a more general vegan cookbook, but it does feature plenty of unique recipes that you won't find anywhere else, so we thought it was worthy of inclusion.
This features recipes for desserts like pancakes and waffles that you can eat right away or store in the refrigerator.
The main thrust of this book is to help those on a tight budget get into the vegan diet without having to break the bank.
So, if you want to enjoy some of your favorite desserts without having to fork out lots of money for dairy alternatives, buy this book for some great cost-cutting tips.
Pros
Great for those on a budget
Features lots of delicious desserts
Helps you with batch cooking
A great starting point for veganism
Cons
Might be too simplistic for hardcore chefs
This next book is another that hones in on the sweeter aspect of vegan dieting.
This comes with nearly 100 recipes for meals like Chocolate chip cookie pie, Baklava tart, Lace Florentine cookies, Mocha revelation cake, and Lychee cupcakes with raspberry frosting.
These recipes are great for vegans and non-vegans alike.
In fact, you could serve it to a group of people who would normally only touch dairy-based sweet treats and we can guarantee you that they would not notice the difference.
Pros
Great dairy-based alternatives
90 recipes for desserts and cakes
Some recipes you would not find anywhere else
Great for expert chefs who crave a challenge
Cons
Might be too challenging for newbie chefs
Buyer's Guide
There are some must-haves for your vegan dessert cookbooks. Here are just a few of them:
Easy To Understand
These recipes need to be clear when it comes to listing ingredients and measurements, as well as the step-by-step instructions for how to make the meal itself.
This is even more important for new chefs who might not have that much experience when it comes to baking.
Diverse Recipes
Just because a cookbook focuses on one aspect of dining, doesn't mean that it can't feature a wide range of cuisines from all over the globe.
You can get desserts from India, the US, Britain, China, Japan and parts of Asia.
Pictures
The allure of pictures is very important, as they will help you to better understand what the final dish looks like as well as whether or not you are on the right track.
What better incentive do you need to make your meal than with an amazing photograph of what it will look like when it is finished?
Budget Recipes
Some of these cookbooks are aimed at families that are on a budget, which might be important if you are trying to save a few extra pennies.
Conclusion
Hopefully, our list of some of the best vegan dessert cookbooks written by female chefs has helped to give you a better idea of what's on offer (see also "Female Chef Gourmet Cookbooks You Do Not Want To Miss").
Frequently Asked Questions
Are Vegan Desserts As Tasty As Regular Desserts?
Yes, some of these desserts are just as tasty as some of their regular counterparts as chefs have taken pains to find alternative ingredients that are almost the same in terms of taste and texture.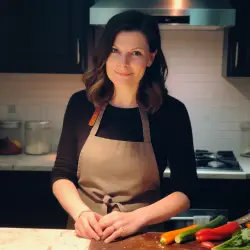 Latest posts by Barbara Hunt
(see all)