There is no denying that Chinese cuisine is popular all around the world. Most people are aware of the famous sweet and sour pork, chow Mein, and Szechuan chicken. 
However, what you may not know is that this is just the beginning of Chinese cuisine – a piece of the pie. 
Chinese cuisine features tons of delicious, nutritious, and authentic meals – some of which you may not be able to get your hands on outside of China.
However, with the help of these Chinese cookbooks – you're sure to achieve all your Chinese cooking goals in no time. 
With this in mind, this article will explore all the best female chef Chinese cookbooks that you need to get your hands on. 
Let's get started. 
Best Female Chef Chinese Cookbooks
Looking for some authentic Chinese recipes? Well, you've come to the right place.
Below, we have outlined everything you need to know about Chinese cooking in the comfort of your home – you'll never want to get takeout again! 
This Easy Chinese Recipes cookbook is packed with delicious meals that come straight from the heart – providing you with warm and comforting dishes. 
The author, Bee Yin, grew up in a Chinese home in Malaysia, therefore, she has first-hand experience with what makes Chinese cooking authentic. 
This is portrayed in her cookbook where you'll find a collection of recipes and memories that have been developed in her mother's kitchen. 
After moving to Southern California, Bee kept her love for Chinese cooking going and spent periods longing for the cuisine of her youth. 
In a completely new environment, it was difficult for Bee to find the ingredients needed to whip up her favorite meals, as well as the time to do so. 
Therefore, this was taken into consideration when creating her Chinese cookbook where the recipes are packed with comforting Chinese flavors but are less time-consuming to make. 
With the help of Bee's delicious recipes, you can whip up some delicious Homestyle Chow Mein Noodles, Crispy Shrimp Dumplings, or some Mongolian Beef whenever you're craving it. 
Pros
Easy to follow recipes. 
Restaurant-quality results. 
Beautifully presented with charming anecdotes and photographs. 
Cons
Recipes aren't completely authentic.
As a New York Times bestseller, you can trust that this essential Chinese cookbook will help you create all your favorite Chinese recipes in the comfort of your kitchen. 
No longer do you have to worry about spending unnecessary money on Chinese takeout, when, instead, you can whip up something just as delicious – if not more – at home. 
Here, The Essential Wok Cookbook will help you save both time and money with healthier Chinese food options to devour. 
When it comes to cooking Chinese food, learning how to cook with a wok is invaluable.
However, thanks to Namoi Imatome-Yun's clear writing and easy, step-by-step instructions, you'll master it in no time. 
In fact, you'll learn how to fold an egg roll, wonton, and dumpling, as well as make some classic recipes, such as fortune cookies and egg drop soup. 
You will certainly make the most of your wok, thanks to recipes such as Easy Vegetable Stir Fry, Perfect Pork Pot Stickers, Sweet Chili Shrimp, and Egg Foo Young. 
All the recipes inside this cookbook are ideal for beginners, as well as people who are short on time and money, and those who are looking to create a healthier version of takeouts. 
Pros
Easy to follow recipes. 
Enjoyable experience. 
Tasty results. 
Cons
There are no photographs for some of the trickier recipes.
Here, Katie Chin has combined her passion for Chinese cuisine with her skill of writing clear and concise recipes to provide Americans with Asian-style cuisine to whip up at home. 
In fact, Katie Chin's Everyday Chinese Cookbook is one of the most recommended books available on the market.
It is packed with delicious recipes that have been enjoyed in her family's Chinese restaurant for years. 
Since Katie comes from a family that is infamous for their influence in introducing Chinese cooking to an American audience, Katie has gone on to become a successful television celebrity and food writer. 
The cookbook itself was a homage to her mother – keeping her spirit alive in her cooking. 
Inside this cookbook, you'll find some recipes that are truly authentic, however, there are some that contain an American fusion, too. 
The cookbook is more than just a collection of recipes, it is a trip down memory lane for a range of readers, as well as Katie herself – inspiring cooks all around the country. 
From Mu Shu Pork, Peking Duck Summer Rolls, and Mu Shu Pork, there are tons of recipes just waiting to be tested out by you – you won't be disappointed! 
Pros
Comprehensive and easy to follow. 
Lots of fusion-style recipes. 
Delicious results. 
Cons
Some readers found the recipes too simplistic.
Best Female Chef Chinese Cookbooks Buying Guide
Skill
Depending on your experience, you'll want a cookbook that can accommodate this. For instance, if you're a complete beginner, you'll want something that is easy to follow.
On the other hand, if you're a seasoned professional, you could benefit from something more challenging.
Dietary Requirements
Your dietary requirements can influence the type of cookbook you purchase, too. For instance, you may be gluten-free, vegan, or vegetarian. 
Final Thoughts
You can never go wrong with Chinese food. Not only is it delicious but it can be extremely comforting, too. 
However, before you pick up the phone to order takeout – consider making your favorite recipes at home. 
Not only are they healthier but they can provide you with those comforting feelings all in the comfort of your home – it is a win-win situation. 
Hopefully, this guide has informed you on everything you need to know about the best female chef Chinese cookbooks that you need to try (see also "Female Chef Asian Cookbooks You Do Not Want To Miss"). 
Frequently Asked Questions
Is Chinese Food Healthy?
Like most foods, it depends on what you're eating and the quantity. That said, most home-cooked Chinese meals are made with healthy ingredients. 
If you're conscious of your health, avoid foods that contain a lot of oil or are deep-fried.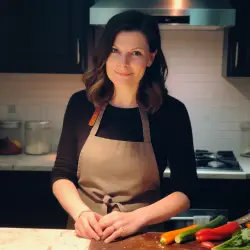 Latest posts by Barbara Hunt
(see all)