A plant-based diet is cost-effective, nutritious, and perfect for when you're trying to lose some weight, or if you just want to switch to a healthier lifestyle plan.
Of course, you don't only have to be following a vegetarian diet to enjoy plant-based meals since they can also simply act as a healthy addition to anyone's eating routine.  
Alongside being packed full of nutritional benefits, a lot of plant-based meals also tend to be extremely easy to make, so it really doesn't matter how short on time you are, whether you're taking an afternoon break or you need to rush out the door in the morning to head to work, there's always time to whip up a delightful plant-based meal. 
With that being said, it can be extremely difficult to know where to even start with plant-based meals, especially when you want to get more creative with your dishes rather than simply making light salads, and this is why you need a cookbook. 
Keep reading to learn about 6 amazing plant-based cookbooks that have been written by well-known female chefs who have had years of experience making these kinds of healthy (see also: 7 Female Chef Easy Healthy Cookbooks You Do Not Want To Miss)meals.
A lot of people usually wouldn't associate Indian dishes with being very vegan-friendly, but the country has actually produced many very vibrant and exciting plant-based dishes over the course of many years, it's just that a lot of them have been largely overshadowed by the creamy chicken curry dishes. 
Popular chef Nisha Katona knows this and has aimed to bring more attention to these types of recipes in her best-selling book, Meat-free Mowgli, which provides step-by-step professional guidance on how to make hearty vegetarian Indian main dishes, along with smaller plant-based side dishes and snacks 
Some of the first recipes you will see in this big and expansive cookbook that can be replicated easily at home with just a few ingredients include her creamy butter bean korma, onion rings, carrot pickle, and courgette kofta curry if you're feeling a little adventurous.
If meat-free Indian recipes packed full of flavor and healthy benefits sound appetizing to you, then you won't want to miss out on the opportunity to get your hands on Meat-free Mowgli.
At the very beginning of The Vegan Chinese Kitchen, chef Hannah Che talks about her struggles switching to a vegan diet as she worried that this might force her to abandon many of the food and meals that have been enjoyed within Chinese culture for centuries, but after taking a few years to study at the Vegetarian Culinary Institute in Guangzhou, she came to appreciate the role plants and vegetables played in China's food culture a lot more. 
This period also ignited Hannah's motivation to try and create Chinese recipes that manage to still hold on to their flavor while being entirely composed of plants and healthy greens.
For example, her scallion oil noodles use the peppery and slightly spicy taste of the vegetable to mimic the flavor of chow-mein noodles, and this is just one out of the hundreds of alternate plant-based dishes that Hannah packs into this award-winning cookbook. 
Hannah really has become somewhat of a pioneer when it comes to alternative cooking styles for traditional Chinese cuisines, and considering The Vegan Chinese Kitchen has already won awards from The Washington Post and New York Times, and the fact that Hannah's social media audience grows larger every day, we can expect more plant-based cookbooks to be released from her in the near future. 
The amount of recipes that are included in a cookbook is definitely one factor that can determine its overall quality, but if you have too many meals all packed together without much organization or structure, things can quickly become very messy and confusing, and this is something that Abra Berens kept in mind when writing her bestselling cookbook Ruffian.
The book is split into chapters, with each one being focused on a particular vegetable, from broccoli and turnips, all the way to asparagus, as Abra guides the reader on how to spot the freshest produce, how the ingredients should be stored, and last but certainly not least, how to use them in a recipe. 
She also includes a very in-depth guide on how to set up and maintain a well-organized pantry so that you can quickly grab all the ingredients you need without having to dig through your kitchen cabinets just to find your squash or root veggies. 
It should be mentioned that while most recipes included in this cookbook are plant-based, some include greens while still using a few ingredients which aren't fully vegetarian-friendly, so it's a great resource for those following a strict vegetarian diet, as well as people who want to lean towards a diet that includes a lot more plant-based meals without going fully vegan.
Also known across the web as the 'Minimalist Baker', Dana Schultz has been posting recipe ideas on her vegan blogs for many years, so when she realized that a few thousand people were paying close attention to the types of meals and vegan recipes that she was preparing for her and her family, she soon made the decision to release a cookbook featuring 101 entirely plant-based recipes for all her fans to get stuck into. 
While writing the book, Dana made sure to stick to a few rules so that it would be as accessible as possible, rather than displaying huge meals that require too many ingredients and that would take up an extraordinary amount of time to make. 
Therefore, all 101 recipes featured in Everyday Cooking require no more than 10 ingredients to make, and many of them can be made in less than 15 minutes, making this the perfect cookbook for people who may be worried about switching to a plant-based diet because of time restraints.
Described as a 'flexitarian cookbook', Eat Green is packed full of hundreds of flavorful and delightful recipes, the majority of which are entirely plant-based and 100% vegan friendly.
Melissa specifically focuses on recipes that use easy-to-buy ingredients, and a lot of the book is actually centered around meals that many of us are already familiar with, but have been altered to make them meat-free, but still just as delicious on the taste buds. 
For example, her fridge-raid frittata recipe actually uses a single large broccoli head as the main ingredient and the primary source of all the flavor, alongside some smaller ingredients that add to the texture, including onions, garlic cloves, and cheddar cheese. 
With hundreds of recipes to choose from, readers really are spoilt for choice when it comes to picking a healthy meal to replicate from this fantastic cookbook, making it a great way to give you that extra nudge towards sticking to a plant-based diet since you have so many unique meal ideas to experiment with. 
Gemma Newman is a general practitioner on a mission to bring more attention to the many plant-based recipes out there that have been ignored for so many years, but that would also make for a welcome addition to any healthy diet plan. 
While she may have spent much of her life working as a doctor, it was Gemma's interactions with her visitors that inspired her to look deeper into the world of food, specifically healthy plant-centered meals that have been shown to have a positive impact on not only the body, but the brain too. 
While a lot of the recipes can look fairly daunting to make when you see them in an image, Gemma ensures to make each page as easy to read as possible, alongside keeping the required ingredients to a minimum so that anyone, no matter how much experience they've had in the kitchen, can start reading and incorporate what they learn into their own diet plan. 
The recipes included in this cookbook were specifically chosen by Gemma in regards to how healthy they are to consume, alongside how easy they are to prepare, making it perfect for those people who are trying to lean away from meaty dishes and want to ease themselves into more of a plant-based lifestyle.
Summary
Coming up with plant-based meal ideas off the top of your head can be very difficult, especially if you're just coming off a diet that primarily consisted of meat and fish, so grabbing a cookbook is always advised since it will provide you with all the information you need to successfully make the switch to a much healthier and greener lifestyle. 
Try out these plant-based cookbooks written by some of the most well-known and beloved female chefs in the vegetarian cooking scene, and if you like what you've read, don't be afraid to buy a few others so that you can get a mixture of recipe ideas from different cultures and areas of the world so that you can make your healthy meals as exotic and flavorful as they can possibly be.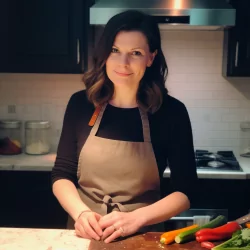 Latest posts by Barbara Hunt
(see all)