Being a vegetarian is not just a trend. It is a life choice that many people have taken, and luckily, there are many female chefs leading the way.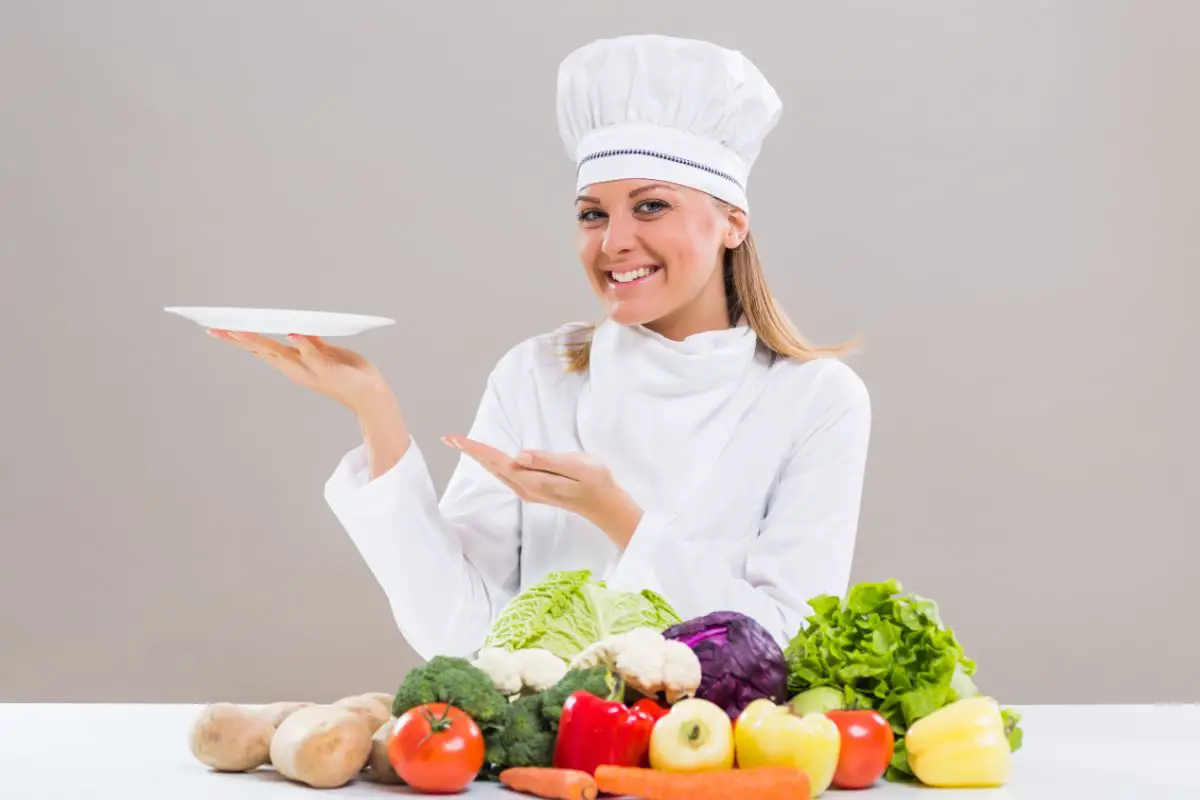 In this article, we're shining a spotlight on 10 female vegetarian chefs who are taking the culinary world by storm.
From their innovative techniques to their mouth-watering creations, these women are changing the game and proving that plant-based cuisine can be just as delicious and exciting as its meat-based counterpart.
So, without further ado, let's meet the talented chefs who are redefining vegetarian cooking and giving us all a reason to eat our greens!
1. Chloe Coscarelli
Chef Chloe Coscarelli is not just a vegetarian; she's a vegan queen who has taken the food world by storm with her incredible plant-based creations.
As the first vegan chef to win the Food Network's "Cupcake Wars," she has since gone on to publish several best-selling cookbooks and open her own restaurant in New York City.
What's unique about Chef Chloe's cooking is that she doesn't sacrifice flavor for health. Her dishes are always packed with bold, creative flavors and she loves to experiment with international cuisines.
From her famous vegan mac n' cheese to her mouth-watering desserts, Chef Chloe's dishes are not only healthy, but they're also seriously delicious.
Fun fact: Chef Chloe has even cooked for former President Bill Clinton and catered for the Oscars!
2. Alice Waters
Alice Waters is a celebrated chef, author, and activist who has been at the forefront of the farm-to-table movement for over four decades.
Her famous restaurant, Chez Panisse, in Berkeley, California, is known for its seasonal and locally sourced vegetarian cuisine.
As for her cooking philosophy, it is simple: start with the best ingredients and let them shine!
Alice strongly believes that food should be a celebration of the land and the people who grow it, and her dishes reflect that ethos.
From her famous goat cheese salad to her simple yet stunning roasted vegetables, Chef Alice's dishes are a masterclass in simplicity and elegance.
However, the reason we love her even more is that Alice is also an avid gardener and founded the Edible Schoolyard Project, which promotes sustainable food education in schools!
3. Amy Chaplin
Third on our list of female vegetarian chefs we love is Amy Chaplin, an Australian-born, New York-based chef, author, and educator who has made a name for herself with her inventive and nourishing vegetarian cuisine.
Alice's cookbook "At Home in the Whole Food Kitchen" is a treasure trove of plant-based recipes that are both delicious and healthful.
Moreover, her focus on whole foods and natural ingredients is critical to her fame, and her dishes 100% reflect that!
From her hearty vegetable soups to her flavorful grain salads, Chaplin's dishes are always packed with wholesome goodness and flavors!
In her free time, Chaplin is also a yoga teacher as she believes that food and movement are two key components of a healthy lifestyle. And who can agree to that?
4. Deborah Madison
Deborah Madison is a highly respected American chef and proponent of vegetarian cuisine.
The author of several award-winning cookbooks such as "Vegetarian Cooking for Everyone" and "In My Kitchen," Deborah is widely known for her inventive and mouth-watering vegetarian dishes that can make even the most passionate meat lovers reconsider!
One of the unique things about Chef Deborah's dishes is that they are both sophisticated and accessible, as she believes that vegetarian food can be satisfying and burst with flavor.
Her recipes, of course, stay true to that! For instance, her farro salad with roasted vegetables is a warm, comforting dish that combines different textures and flavors to create a wholly unique experience.
Similarly, her creamy cauliflower soup has an earthy taste that leaves you feeling invigorated and satisfied!
Finally, it is worth mentioning that, like other chefs on this list, Deborah is also a passionate gardener and an advocate for using locally sourced, fresh ingredients in all her dishes.
5. Rose Elliot
Rose Elliot is a British chef, author, and advocate for vegetarian cuisine that has authored over 60 cookbooks and is widely regarded as a pioneer in vegetarian cooking.
Chef Rose's dishes are all about simplicity and elegance and she's managed to make vegetarian food both accessible and delicious, with her recipes reflecting this philosophy.
One of her most famous dishes is her vegetarian shepherd's pie, which is hearty, flavorful, and comforting, and in case you haven't tried her recipe yet, you're missing out on the best shepherd's pie!
But Elliot's love for vegetarian cuisine doesn't stop when she leaves the kitchen; rather, it is deeply rooted in her personal values too as she has been a vegetarian for over 50 years!
6. Anna Jones
Next up on our list is Anna Jones, another British chef, author, but also food stylist who is known for her vegetarian recipes that are both nourishing and satisfying.
Jones is the author of three cookbooks, and her recipes have been included in several cooking-related publications, so you have probably seen her name in one of those cookbooks you have at home.
Her dishes are vibrant and full of life; from her hearty beetroot burgers to her fragrant coconut and lentil dal, there's so much variety that can make anyone forget about meat!
If there's one signature dish we love the most, that is her roasted squash with crispy kale and spiced chickpeas; this dish is a perfect example of her philosophy of using simple ingredients to create complex and delicious flavors!
Jones is also passionate about reducing food waste and encourages her followers to use every part of the vegetable in their cooking, so if you are also interested in some zero-waste cooking, this is the chef to follow!
7. Amanda Cohen
Amanda Cohen is an American chef and owner of the celebrated New York City restaurant, Dirt Candy, which is known for its innovative and playful vegetarian dishes showcasing the versatility and creativity of plant-based cuisine!
However, she started her culinary career as a line cook at a Japanese restaurant before deciding to focus on vegetarian cuisine.
Cohen's approach to vegetarian cooking is all about highlighting the flavors and textures of vegetables and other plant-based ingredients, with her dishes being also visually stunning, with bold colors and whimsical presentations.
Her smoked cauliflower is the greatest of all times, as it is slow-cooked in a smoker for hours and then served with pickled raisins and capers.
Another crowd-pleaser is her Brussels sprout tacos, which are served with avocado crema and queso fresco.
Apart from being a celebrated vegetarian chef, Cohen is also committed to sustainable and ethical food practices, and her restaurant sources its ingredients from local and organic farms whenever possible.
8. Tracye McQuirter
Another vegan chef with plenty of recipes to try is Tracye McQuirter, an American vegan chef, best-selling author, and public health nutritionist who has dedicated her life to promoting the benefits of a plant-based lifestyle.
In fact, her cookbook "By Any Greens Necessary" has been hailed as a must-read for anyone interested in veganism and healthy eating!
A sought-after public speaker and advocate for plant-based eating, you might have seen her on one of the numerous television shows she has appeared on or the magazines she was featured in, such as O, The Oprah Magazine, and Essence.
What sets Tracye apart from other chefs is her focus on African American cuisine and the way she has incorporated plant-based recipes into traditional soul food dishes.
While not vegetarian, her dishes use natural whole ingredients in creative ways, so even if you are still eating your cheese and eggs, trust us when we say that you won't miss them with her recipes!
All of McQuirter's dishes feature a wide range of vegetables, fruits, grains, and legumes.
A perfect example is her famous "African Heritage Stew" which is a delicious and hearty combination of sweet potatoes, collard greens, black-eyed peas, and peanuts that is both filling and nutritious.
The Bottom Line
These 8 female vegetarian chefs are true culinary geniuses who have revolutionized the way we think about vegetarian cuisine.
They have taken the traditional perception of vegetarian food as bland and boring and turned it into a creative exploration bursting with flavor and colors.
All these chefs bring something unique and inspiring to the table, so whether you're a long-time vegetarian or simply looking to incorporate more plant-based meals into your diet, these chefs will have you excited about food in a whole new way.
So, save this article for the next time you're looking for a delicious vegetarian meal, and check out these chefs' recipes to get inspired and release your inner vegetarian master chef!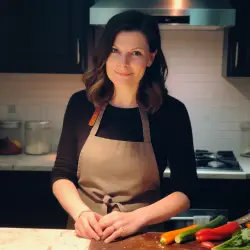 Latest posts by Barbara Hunt
(see all)