Known for its unique ingredients and delicious flavors, Asian cuisine is enjoyed by people all over the world, the diverse culinary landscape of the continent is one that tantalizes your tastebuds and fills your nose with some incredible scents.
People often wonder how they can recreate some of these incredible dishes from the comfort of their own, so when it comes to learning more about how to create these dishes, why not turn to the female chefs who are making waves in the industry!
These cookbooks will provide you with everything you need to succeed when making Asian dishes at home, so you should soon be cooking like a pro.
Best Female Chef Asian Cookbooks
There are a wide variety of cookbooks out there written by female chefs that cover Asian cuisine.
With differing cuisines from different countries, different cooking methods, and different recipes, this guide should be able to help you find the cookbook you're looking for.
There's a good chance you might just find your new favorite dish!
Written by seasoned food writer and expert on Asian cuisine Patricia Tanumihardja, this cookbook looks at creating delicious tasting Asian dishes that are sustainable, with all of the dishes in this cookbook either being vegan or vegetarian.
With a variety of dishes, from crispy spring rolls, to Korean-style buffalo broccoli, and even the delicious everyday Pad Thai, this cookbook really has everything you need to cook some of the most delicious Asian dishes out there.
Not only will this cookbook provide you with all of the delicious recipes you need, but it will also introduce you to some of the "secret ingredients" used throughout Asian cooking that you can use to achieve that authentic taste.
Pros
Includes a variety of dishes, including starters, main dishes, snacks, and desserts
Covers a wide range of Asian cuisine with dishes from a number of different countries
Introduces the key ingredients needed to make Asian dishes authentic
Easy to understand
Cons
Only contains vegan and vegetarian dishes, so won't suit meat-eaters
Author Andrea Nguyen is one of the most celebrated female cookbook writers, especially for her ability to interpret authentic Asian cuisine recipes for Western audiences, which helps more and more people to get a taste of this diverse continent.
Some of the quintessential dishes from Asian cooking include gyozas, spring rolls, and samosas, so it's no surprise that so many people try to discover how to make them, and they're not as easy as you might initially think.
Covering dumplings and similar dishes from Korea, Japan, China, Vietnam, Nepal, Thailand, Singapore, India, and beyond, it's a perfectly comprehensive guide to everything you need for Asian dumplings.
Pros
Easy-to-understand recipes for Western audiences
Allows people to recreate some of the most essential parts of Asian cuisine
Wide country of foods from different countries, something for everyone
Includes a list of recommended ingredients and equipment you'll likely need
Cons
Some of the pictures are simply pen and ink illustrations, whereas step-by-step pictures would benefit readers more
Written by American author Nancy Hachisu, who lives in rural Japan on a farm along with her husband and children, this cookbook is not only filled with a whole bunch of incredible Japanese recipes, but it also provides a unique insight into life in rural Japan, as told through the delicious dishes throughout the book.
This cookbook tries to focus as much as possible on using fresh and locally grown ingredients that people can recreate at home, providing you with Japanese cuisine that is not only authentic, but simple, and easy to make.
There are also some of Nancy's personal anecdotes littered throughout the book, allowing you to understand more about her life, and how that influences her cooking and her recipes, so you can create them with just as much leave as she does.
Pros
Interesting insight into life in rural Japan
Delicious recipes that are easy to understand
Focuses on local and organic ingredients
Covers everything from small dishes, to drinks, main dishes, and desserts
Cons
Some people find Nancy's tone slightly pretentious, especially when stating that the ingredients in Japan are just so much better than anywhere else
In this cookbook, author Christina Arokiasamy presents this guide to 150 of the best Malaysian dishes that you can recreate at home.
Malaysian cooking is known for its informal collision of influences from across Europe and Southeast Asia, all of which leads to a number of delicious dishes that are full of flavor and easy to make. 
The dishes found throughout are incredibly versatile, suitable for any occasion, and include things such as Beef Rendang, Char Kway Teow, and more.
There's even a guide to creating a number of delicious sauces to use throughout your Malaysian cooking experience.
Pros
Clear and concise ingredients list and methods make the recipes easy to make at home
Teaches you how to create the complex flavors found in most Malaysian dishes
Primes you with knowledge on certain spices and what their uses in the dishes are
Includes substitute ingredient suggestions
Cons
Very few photos of the dishes themselves
Indian cuisine is arguably one of the most popular cuisines in the world, and if you're looking to get a masterclass on how you can make some of these iconic dishes, then this cookbook written by Monisha Bharadwaj is going to be the key to you recreating the diverse and delicious recipes that make this cuisine so popular.
The cookbook is divided into convenient sections, including rice, breads, meats, fish and seafood, dairy, lentils, eggs, and more, which will make looking for specific recipes easy, especially if you're looking to utilize ingredients you already have in your kitchen.
Not only does Monisha provide the recipes, but she also provides a deeper insight into the ingredients and techniques that are imperative to creating authentic-tasting Indian food.
There's also an overview of some of India's biggest traditions and the regional differences in each dish.
Pros
Helps to make cooking delicious Indian food from scratch easy
Insight into the techniques and methods to help you understand more about India
Provides ingredient substitutions if you are unable to find the exact ingredients needed
Well organized
Cons
Some of the ingredients might be hard to find depending on where you live
Trained as a chef in the leading Sichuan cooking school in China, it's safe to say that chef and author Fuchsia Dunlop is an authority on creating delicious Chinese dishes, which is why this cookbook is excellent for anyone looking to recreate their favorite dishes from the country at home.
Inspired by the cooking that happens every day in Southern China, this dish focuses on creating dishes with the vegetables as the star of the show, served alongside smaller portions of fish and meat, which give you dishes that are not only delicious, but healthy too.
There are also some vegetarian dishes too, which means that there is something for everyone in this cookbook.
With dishes such as hot-and-sour mushroom soup, and Fuschia's essential "emergency late-night noodles" recipe, this will give you everything you need to make Chinese food at home!
Pros
Authentic Chinese recipes created by a qualified chef
Introduces readers to different spices and sauces and how to use them
Recipes are easy to make
Provides tips on shopping for ingredients
Cons
Sometimes takes a while for the recipe to tell you which way you need to cook certain ingredients
Best Female Chef Asian Cookbooks Buying Guide
Being such a wide genre of cuisine, there are many cookbooks on the market that cover Asian food, so how do you go about picking one?

These factors are all worth considering when it comes to picking the right cookbook for you, so try to take them into consideration when you go shopping for your next cookbook!
Cuisine
Focus on what cuisine you want to cook, do you prefer Indian or Chinese? Or maybe you're looking for Malaysian cooking options? This should help you to decipher what you want from your cookbook.
Diet Requirements
If you're vegan or vegetarian, you'll want to find a book that caters to your needs specifically, which will allow you to get the most out of your cookbook, rather than being limited to a select few recipes.
Final Thoughts
With these cookbooks, you should be able to recreate your favorite dishes in no time, and will be on your way to discovering delicious new ones too.
With the spotlight on these incredible female chefs, despite the industry being so male-dominated, you'll be filled with inspiration to cook too!
Frequently Asked Questions
What Are The Most Popular Asian Dishes?
Some of the most popular Asian dishes include ramen, sushi, curries, rice, and dumplings.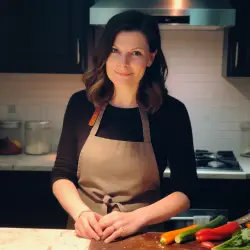 Latest posts by Barbara Hunt
(see all)