With so many vegetable cookbooks out there, it can be difficult to find one that appeals to you, as many of them seem to be incredibly generic and repetitive.
Finding new and innovative recipes that are still manageable to make can be super tricky, and with countless titles on the market, it takes a lot of time to sift through them all to find the perfect ones. 
Thankfully, that's where we come in. Below, we've done our best to compile what we believe to be some of the very best female chef vegetable based cookbooks (see also: 4 Female Chef Cookbooks For College Students To Try)out there today.
Some of them will be more traditional, whilst others will be more exotic and adventurous. Whatever you're in the mood for, we've got it right here.
We'll also provide a brief description of each underneath, so that you can see which one appeals to you the most right away. 
To find out more, simply keep reading below, as we take a closer look.
If you're looking for a cookbook that will provide you with some super hearty, plant based cooking, then you've come to the right place.
This cookbook has some of the tastiest and most filling recipes in town. 
Some of you might recognize the book's author, Tabitha Brown.
Tabitha rose to fame during the 1990's with her acting career, and in recent years she has become a motivational speaker on Tik Tok, where she continues to inspire lots of young people in all aspects of life. 
In recent years, however, Tabitha was diagnosed with a mystery illness that led her to take a hiatus from social media and her acting career.
Tabitha was on the search for answers, and this led her to adopt her new plant based diet that she continues to follow to this day.
She found that following a plant based diet significantly alleviated her symptoms, and she thanks it for her wellness today. 
She wanted to share this with all of her followers, and what better way to do this than with a cookbook?
Tabitha's cookbook contains a whole host of recipes that are guaranteed to leave you feeling satisfied.
Most of it is soul-food based, and as a result, there are lots of hearty dishes contained inside which are perfect for the winter season. 
You don't need to be vegetarian or vegan to enjoy her recipes, as you're guaranteed to adore them regardless. We think that our favorite recipe is the jackfruit pot roast, which is simply to die for.
Some of you reading this list might be on the hunt for a super easy to follow cookbook that isn't too elaborate in terms of ingredients.
When you're switching to a recipe that's exclusively composed of vegetables and other plant based ingredients, it can be easy to feel overwhelmed.
The amount of ingredients required in some vegetarian and vegan recipes out there can simply be too much, especially if you're just getting started on your journey. 
If you want something that's much less stressful to get stuck into, then we'd recommend that you take a look at this title, called Minimalist Baker's Everyday Cooking by Dana Shultz.
The best thing about this cookbook is that each recipe only calls for a total of 10 ingredients at the very most, so you won't feel overwhelmed during the cooking process. 
Many of the recipes listed here also ask for the same ingredients multiple times, so this is great in terms of sustainability, and excluding waste in the kitchen.
In addition to all of this, many of the recipes included by Shultz are one-pan dishes, so you won't have as much washing up to do at the end of it all either! 
Final Thoughts 
To sum up, although it can seem overwhelming transitioning to a vegetable based diet, things become far easier once you're accustomed to a few good recipes that you can turn to.
Whether you're on the hunt for some classic dishes that you can make everyday, or you're seeking out something that's a little bit more adventurous, there's a cookbook out there for you. 
We hope that our list has provided you with the inspiration that you need to get cooking today.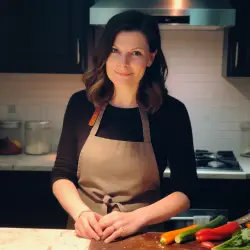 Latest posts by Barbara Hunt
(see all)