French cuisine has got to be one of our favorite types of food from around the world. The beautiful, rich flavors always pair perfectly with a glass of good wine and make the best date night meals. 
Some of these meals might sound very fancy, but something that we love about French cuisine is how simple a lot of the more indulgent recipes actually are to create. French onion soup is a great example of this – it takes patience, more than skill (but we'll get more into that later). 
If you want that gourmet restaurant decadence without leaving your house, then you need to check out some of these amazing recipes that'll make you feel as though you've flown straight in from Paris. 
Oh là là, let's start with a dish that oozes rustic charm: Coq Au Vin. Tender chicken, bathed in a rich wine sauce infused with mushrooms, onions, and bacon. It's like a comforting embrace from the French countryside.
The flavors meld together beautifully, creating an explosion of savory deliciousness. This dish is a perfect partner for creamy mashed potatoes or buttery egg noodles. 
Don't rush the process. Let the chicken simmer low and slow to achieve the most succulent results.
If you're ready for a taste of the Mediterranean, Julia Child's Bouillabaisse is your ticket. This seafood stew is a melange of oceanic treasures like fish, shellfish, and aromatic herbs swimming in a tomato-based broth. 
The taste? Pure seaside bliss with a hint of saffron. Enjoy it with crusty bread smeared with rouille, a garlicky sauce. With this dish, patience is key. Let those flavors mingle for a perfect finish.
Chicken Provencal brings together juicy chicken thighs, briny olives, fragrant rosemary, and tomatoes for a dish that tastes like a stroll through a Provencal garden. 
The flavors are bold and bright, and it pairs like a dream with roasted potatoes or a simple green salad. Sear the chicken until the skin is crispy and golden for that extra oomph of flavor.
Get ready to rise to the occasion with Gruyere and Parmesan Cheese Souffle. This delicate creation is like a cheesy cloud that melts in your mouth. It's savory, airy, and pairs divinely with a crisp green salad. 
The key to a successful souffle is to gently fold the egg whites into the cheese mixture, keeping that oven door closed while it bakes.
This dish features a colorful medley of vegetables like eggplant, zucchini, and bell peppers, all melding together in a beautiful tomato sauce. 
It's like a burst of summer flavors for your palate. Enjoy this recipe as a side to grilled chicken or as a vegetarian main. When cooking, thinly slice the veggies to ensure they cook evenly and beautifully.
Ah, beef bourguignon, the epitome of French comfort food. Imagine tender chunks of beef, simmered with red wine, aromatic vegetables, and earthy mushrooms.
It's a melody of flavors that warms your soul, especially when paired with creamy mashed potatoes or buttered noodles. 
Pro tip: Sear the beef in batches to achieve that irresistible caramelized crust.
If you're longing for a cozy Sunday supper, Chicken Fricassee has your back. This dish stars succulent chicken pieces bathed in a creamy white wine sauce, mingling with mushrooms and pearl onions. 
This dish pairs wonderfully with rice or buttered egg noodles. Patience truly pays off with this dish – let the flavors meld together on a gentle simmer.
Prepare your taste buds for a symphony of caramelized onions in a soul-soothing broth, topped with melted Gruyere cheese and toasted bread. French Onion Soup is comfort in a bowl, and it's a fantastic starter for any meal. 
The deep flavors of this soup will harmonize with a crisp salad or a hearty sandwich. Take your time when caramelizing those onions to achieve that deep, sweet flavor.
The classic Toulouse Cassoulet is a hearty bean stew that hails from the southwestern region of France. Think white beans, tender meats like sausage and duck confit, all simmered together in a savory broth. 
It's a one-pot wonder that begs for crusty bread on the side. Don't be shy with the slow cooking here; it's what makes this dish a true masterpiece.
Fancy a taste of elegance? Blanquette de Veau is here to dazzle you. This creamy veal stew is a celebration of tender meat, mushrooms, and carrots swathed in a velvety white sauce. 
It's a dish that sings with delicate flavors and pairs splendidly with buttered rice or mashed potatoes. For this dish, let the meat simmer gently until it's melt-in-your-mouth tender.
Let's take a detour to the sweeter side of French cuisine with Paula Deen's French Toast Casserole. This breakfast delight is like a cross between French toast and bread pudding. 
It's a sweet mix of cinnamon, vanilla, and custardy goodness. Whether it's a lazy Sunday brunch or a special occasion, this casserole is a crowd-pleaser. Prepare this dish the night before and pop it in the oven in the morning for a stress-free breakfast.
Ina Garten's Armagnac Clafouti is pure indulgence. This dessert combines prunes soaked in Armagnac (a French brandy) with a custardy batter, resulting in a luscious toast that's both boozy and sweet. 
It's perfect for impressing your guests at a dinner party. Enjoy it on its own or with a dollop of whipped cream. When making this dish, let the prunes soak in the Armagnac for a while to infuse the flavors.
Cheese lovers, gather 'round! Ina Garten's Warm Vacherin is the epitome of gooey goodness. This appetizer involves baking a wheel of Vacherin Mont d'Or cheese until it's irresistibly melty. 
It's a cheese lover's dream, and it pairs perfectly with crusty bread and a glass of wine. Before baking, make small incisions in the cheese and tuck in slices of garlic and fresh thyme for extra flavor.
It's time to embrace the sandwich game, French style! Rachael Ray's French Dip Sandwiches are a hearty creation of thinly sliced roast beef piled high in a crusty baguette, served with a side of flavorful au jus for dipping. 
It's a savory delight that pairs brilliantly with a side salad or some crispy fries. We recommend toasting the baguette slices with a drizzle of olive oil for that extra crunch.
Rachael Ray's take on French onion soup takes it up a notch. Imagine the classic onion soup, topped with a flaky puff pastry lid and a generous sprinkling of parmesan cheese. It's comfort food with an elegant twist. 
Serve it as a show-stopping appetizer or as a meal with a side salad. We recommend making sure the puff pastry is properly thawed and rolled out for a perfectly golden crust.
Final Thoughts
We hope that you've found some interesting meals throughout this list that you want to try the next time you have a date night coming up, or just want to give an indulgent meal a try. Perhaps you'll even make one of these a regular. 
We love bringing foods from different cultures and countries to our dinner table because of the conversations that they can evoke, but also because it gives you the opportunity to explore different flavor combinations that you might not have otherwise. 
Frequently Asked Questions
What Are Popular Drinks In France?
There are obvious answers, of course. Champagne, red wine, and cognac all spring to mind. However, there are lesser-known drinks such as Cointreau, absinth, and alcoholic cider are also very popular in France.
What Is The National Dish Of France?
A dish known as pot-au-feu is the national dish of France. It includes a stew of fresh, typically locally sourced, vegetables and meat.
What Do You Serve At A French Dinner Party?
Start with an array of hors d'oeuvres like pâté, cheese platters, and elegant canapés. 

For the main course, classic options like Coq Au Vin, Beef Bourguignon, or Duck Confit might take center stage, often accompanied by rich sauces and beautifully prepared vegetables. 

The meal is typically accompanied by fine wines that complement each course. And of course, a decadent dessert, such as Crème Brûlée, Tarte Tatin, or a delightful assortment of pastries, will provide a sweet finale to the soirée.
15 Amazing French Recipes You NEED To Try
Course: Other Recipes, Recipes
Directions
Pick a recipe from above
Click the recipe name and visit the website
Collect the ingredients and the food
Enjoy – don't forget to leave a review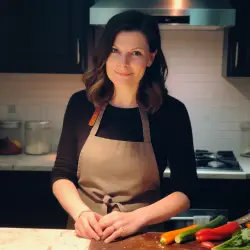 Latest posts by Barbara Hunt
(see all)