Paula Deen is a queen in the kitchen. Her recipes make a house feel like a home, and she does it all without reaching for unfindable ingredients.
You don't need access to a celebrity's kitchen to make these delicious beef stews, all you need are her simple recipes and some time to dedicate to the craft.
About Paula Deen
Paula Deen is a Georgian girl through and through. She was born in Albany, currently lives in Savannah, and received most of her cooking knowledge from her grandmother.
Her life became rocky when her father died unexpectedly at 40, and her mother passed away just 4 years later.
The shock events happened when Paula was around 18. By the time she reached her 20s, Deen was suffering from depression which led to agoraphobia (the fear of the outside).
To keep her mind occupied, Deen would constantly prepare time-consuming food for her husband and children.
This is where her love for food came in. It was her savior, a solid method to help her heal, and allowed her to contribute to the family without leaving the house.
Eventually, Paula and her husband parted ways, which led Deen to need financial support from someone else. So, what did she do?
She lent into her support method and created a catering service.
As you can expect the business did well, and it wasn't long before Paula was writing books, appearing on TV shows, and owning a whole host of restaurants.
Food has always been a sense of comfort for Paula Deen, and you can taste it in every one of her recipes.
And what's more comforting than a hearty beef stew? This meal sums up the warmth of family and the soothing nature of healthy filling food.
We are starting off with a simple but classic Paula Deen recipe. It's simple in concept, but not simple in creation.
In fact, Paula herself labeled it "medium difficulty". But the reason she's labeled it this way is because of timing.
You'll have to be aware of your meat, and sautéd onions. The bacon and onions are cooked together after first being chopped. You'll need to watch them closely to make sure they don't burn. 
The same goes for the beef. Deen suggests browning the beef before putting it into the stew so that the meat keeps its rich flavor during the cooking process.
However, she doesn't give time for this browning process. Instead, you'll need to watch the pan and judge for yourself if the beef is browned enough.
For many cooks, this won't be an issue. You'll know what a browned beef cut looks like, and you know to stir your sautéd bacon and onions to stop it from burning.
It's the true beginners that might find its loose method tricky. 
If you're unsure of what a browned beef cut looks like, watch the accompanying video in the link above.
The rest of the recipe uses rich flavors such as sherry and beef stock to help carry the beef flavors, while the parsnips, bell peppers, and carrots add a touch of sweetness.
The recipe serves 8 people and takes just under 2 hours to create. 
When people talk about Paula Deen's beef stews, this is the one that first comes to mind. 
The Old-Time Southern Beef Stew is a classic, and it's super easy to make.
Like before you'll need to brown the beef first, but after that, you simply cook the meat in all its seasonings for an hour, then add the vegetables and cook for another hour.
This meal is the perfect option to feed a large family. Without changing any of the ingredients you'll end up with 10 portions.
Even if you don't have a family as large as that, you can put the leftovers into a Tupperware box and save it as a quick meal for another day.
The recipe only takes 10 minutes to prepare, and although it takes 2 hours to cook, you can leave the pot to boil as you hang out with your family.
Because you're making a stew, you don't need to chop the vegetables into fine or matching sizing. Chop them large and chop them chunky!
The thickness of your vegetables will add color and textures to your stew.
There are three secret ingredients in this meal that makes it more than a basic stew. They are Worcestershire sauce, paprika, and allspice.
These ingredients don't usually make sense together, but when you add beef to the mix you can enhance the sweet and rich flavors of the meat.
The Worcestershire sauce adds depth, the paprika adds sweetness, and the allspice creates a slight spiciness that mingles amazingly with the Worcestershire sauce.
It's these touches which make the Old-Time Southern Beef Stew so great!
We are moving away from the rich and warming aspects of a beef stew. This recipe leans more into the earthy and sweet flavors of herbs and merlot.
In the recipe, you'll notice Paula Deen advertising her own Merlot Steak Sauce.
This sauce contains all the flavors you need for a rich flavor, but for it to work at its best you need to combine it with more red wine and additional herbs.
The Merlot Steak Sauce acts as a base flavor, but in the recipe, we want a sweeter and earthy flavor.
That's why Deen suggests adding fresh thyme, fresh parsley, and mushrooms to the dish. Ideally, the red wine should also be Merlot, so it matches the flavors of the pre-made sauce.
The sweetness comes from the pearl onions. They are key to this recipe, so if you can't find pearl onions pick shallots or other sweet alternatives.
Another reason why this dish is so easy is because of the tiny cooking time. It will take you 10 minutes to prepare and another 10 minutes to cook, for a total of just 20 minutes.
The cooking time has been massively reduced because the pre-made Paula Deen Merlot Steak Sauce contains all of the flavors already.
You don't need hours for the richness or sweetness to seep into the stew, as the sauce has done the hard work for you.
Keep Deen's Merlot Steak Sauce in your cupboard for a rainy day, just in case the family comes over and you need to whip up something quick. 
This recipe wasn't created by Paula Deen herself, but by her sons. Paula is best known for her Southern comforts, while her sons are more adventurous.
You can see that adventurous streak in their use of canola oil and Hungarian sweet paprika.
Canola oil is made from rushed canola seeds. In the UK this plant is called Rapeseed and is a cheap and easy oil to obtain.
While in the US you can see acres of these crops being grown around Taxes, Montana and Minnesota. There is nothing particularly Hungarian about this dish apart from its origins. 
The Hungarian sweet paprika, however, is a distinctive spice used in Hungary.
It has a fruity and even bitter taste in comparison to smoked paprika and lends itself well to bell peppers, carrots, and tomatoes.
To be honest, sweet paprika is the same as Hungarian sweet paprika. The only difference is where the spice has been grown and sold. You can choose any sweet paprika you have access to.
The recipe is considered easy and only serves 4 people, but the steps are a little fiddly in comparison to Paula Deen's versions.
The extra steps are due to the small pot you'll be working with, and your need to keep the beef moist as it cooks.
These steps include turning the beef over and spooning the mixture over the meat to ensure it doesn't dry out.
To stretch out the meal, you can serve it with rice, bread, or noodles.
Final Thoughts
Despite one of the meals being classed as medium difficulty, all of Paula Deen's recipes are easy to follow. Her ingredients are easy to find, and her methods aren't covered with convoluted steps. 
Instead, you'll be making a hearty meal for the family, rich in rustic cooking splendor.
Frequently Asked Questions
How Did Paula Deen Quit?
In 2013 Paula Deen made a comment using racial slurs on social media. Because of the comments, the Food Network did not renew her contract. Paula Deen didn't quit, her contract wasn't renewed.
What Dish Is Paula Deen Most Famous For?
As a comfort food creator, her most loved and well-known meal is a hamburger. This hamburger is topped with bacon and a fried egg, while the traditional bread is replaced with glazed doughnuts.
What Is The Secret To A Good Stew
To create a good stew you need to give it time. A long cooking or stewing time allows the flavors to mingle and break down.

This allows the meat to become tender and the flavors to become stronger.
Cooking too quickly will make the meat tough.
4 Amazing Paula Deen Beef Stew Recipes To Try Today
Course: Recipes
Directions
Pick a recipe from above
Click the recipe name and visit the website
Collect the ingredients and the food
Enjoy – don't forget to leave a review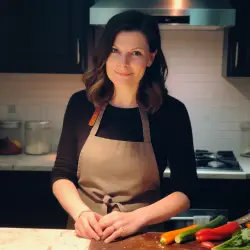 Latest posts by Barbara Hunt
(see all)