Are you looking to add some Caribbean flair to your cooking, then you definitely need to check out some of these incredible Caribbean cookbooks, all of which have been authored by some incredible female chefs. 
From modern fusion dishes, to some traditional island recipes, these cookbooks will help to transport your taste buds right to the vibrant and warm Caribbean for some incredible tasting food. 
All of these cookbooks feature some incredible photography, easy to follow recipes, and some stories behind the recipes.
These cookbooks are not only great for inspiring some new dishes, but also for delightful reading too! 
Best Female Chef Caribbean Cookbooks
There are a large number of different Caribbean cookbooks out there, many being authored by amazing female chefs, but if you're stuck on which cookbook to choose when looking for the right cookbook for you, then this guide is here to help (see also "Female Chef Keto Cookbooks You Do Not Want To Miss"). 
All with their own unique perspectives and experiences, these cookbooks should help to breathe new life into your cooking. 
Having lived in the Virgin Islands for over 15 years, Angela Spencely has used that time wisely, developing her recipes based on some of the most beloved recipes of the isles.
This cookbook features over 250 recipes that feature anecdotes about Angela's experiences living in the Caribbean. 
Not only does the cookbook provide you with recipes on Caribbean classics such as Caribbean lobster, cold papaya and anise soup, and much more, but it also educates you on some of the origins behind the key ingredients behind Caribbean cooking. 
So, for those who are looking to get started with Caribbean cooking from their own home, this is a great option! 
Pros
Insightful Anecdotes into life in the Caribbean
Features over 250 delicious recipes 
Also contains recipes for desserts and drinks 
Plenty of ideas for your next meal 
Cons
Not all of the dishes are traditional 
Poor organization 
Sisters Susanne and Michelle Rousseau were both born in Jamaica, and have spent their lives reveling in the incredible cooking that went on in their kitchen at home, which is exactly why they've decided to create their own cookbook, to help inspire the same laughter and fun experienced in their kitchen to everyone else's kitchen! 
This cookbook aims to provide a glimpse into the diverse nature of the Caribbean, the bright sunshine experienced during the day, and the warmth during the evenings, spanning from Trinidad to Jamaica and beyond. 
Including 100 tried and tested family recipes that are favored in the region, as well as some of the sisters' own creations, this cookbook is sure to ignite your passion for Caribbean cooking. 
Pros
Incredible Caribbean recipes that will inspire your cooking 
Recipes are authentic and delicious 
Features awe-inspiring location photography 
Instructions are easy to follow, great for novice chefs
Cons
Ingredients can be slightly expensive 
The cuisine of Trinidad and Tobago is one that is rich and diverse, having influences from a wide variety of cultures, including Indian, Chinese, African, British, and even Syrian cuisine.
This unique blend has made this cuisine one of the most favored cuisines out there, so it's no surprise that so many people are looking to replicate it at home. 
Including recipes for some of the Islands' most sought-after dishes such as tamarind fish, mango curry, and paratha roti, this cookbook will help you get your Caribbean cooking up to speed and create authentic dishes in no time at all. 
Alongside the amazing recipes in this cookbook, the book is also filled with some incredible photography, and with notes on traveling to the islands, and the culture that can be found there too. 
Pros
Explains the cultural significance of each recipe 
Recipes are adjusted for the ingredients available to you 
Also includes recommendations for substitute ingredients 
Broad range of dishes available 
Cons
Not every dish has photos 
The dishes can be quite spicy!
Taymer Mason is not only a longtime vegan chef, but also the author of a number of cookbooks, which is why she's decided to create this cookbook that delves into the culturally rich and diverse recipes of the Caribbean and to help make them accessible for those who follow a vegan diet. 
Filled with some of the best recipes to come out of the Caribbean, all adjusted to suit those who avoid eating animal products, anyone will be able to enjoy these recipes, which includes things such as cassava pancakes, pelau, and more. 
Alongside the classic recipes are a number of modern takes on Caribbean cooking, which will allow you to explore new flavors inspired by Caribbean cooking of the past. 
The cookbook also contains some helpful advice on a number of different aspects of Caribbean cooking, including how to choose a ripe coconut, how to make your own cassava flour, and much more. 
Pros
Includes a list of ingredients frequently used so that you can stock up 
Plenty of cultural and historical references throughout 
Accessible ingredients used 
Suggestions on what to pair each dish with handy for those new to Caribbean cooking 
Cons
Another instalment of recipes from the Rosseau sisters, although this time, this cookbook looks at creating 150 different recipes that are a form of homage to the markets and the meals that have helped to form the backbone of Caribbean cuisine, as well as the women who prepare them. 
Not only are the pages of this cookbook filled with some of the best vegetarian takes on Caribbean cooking, but they're also filled with some amazing insights into Caribbean cuisine and life, allowing you to understand more about the emotion and the passion behind each of the recipes. 
The cookbook also provides plenty of modernized versions of Caribbean classics, which is great for those who are looking for new ways to help shake up their usual dishes and makes them perfect looking to bring a part of the Caribbean to their dinner table! 
Pros
Full color photography 
Insight into Caribbean culture helps to bring recipes to life 
Range of different recipes - something for everyone 
Recipes are easy to make 
Original and simple 
Cons
Some people may struggle to find certain ingredients locally
For those who are looking to try and recreate some of the quintessential dishes of Jamaican cuisine, then this cookbook is going to be an absolute must.
This book will transport you into the kitchens of Jamaica to recreate the incredible dishes prepared and served by the housewives of this great country. 
These dishes are all traditional and authentic, and are perfect for those looking to relive happy childhood memories, or even for those who are looking to recreate some of their vacation dishes. 
This cookbook is also filled with some classic Jamaican humor, and involves a section from talk-show host Barbara Gloudon about just how magic Jamaican kitchens and homes used to be! 
Pros
Filled with incredible photography throughout 
Simple and clear instructions make the recipes easy to follow 
Food is traditional and authentic 
Insight into Jamaican life and culture 
Cons
Some recipes don't include cooking times 
Some recipes don't include precise measurements
Best Female Chef Caribbean Cookbooks Buying Guide
Caribbean cuisine has an incredibly broad spectrum of dishes available, all thanks to the varying influences on each region's cooking, so knowing which of these cookbooks is going to be worth buying can be difficult, and will vary depending on what you're looking for in your cookbooks. 
To help, this buyer's guide will highlight some of the key factors worth considering when buying a female-authored Caribbean cookbook! 
Cuisine 
The Caribbean is home to a number of countries, all with their own unique cuisines, and while we've done our best to highlight them here, there are many more out there. 
One of the best ways to find the right cookbook is to decide based on the cuisine covered.
If you're looking for general Caribbean recipes, then there are plenty of cookbooks out there, but you might have to look a little harder if you're looking for the cuisine of a specific country. 
Diet Requirements 
If you're vegetarian, vegan, or have other dietary restrictions, then you'll want to pick a book that caters to you as much as possible.
Caribbean food includes a lot of meat, seafood, and animal products, so you might have to alter certain recipes to suit your needs. 
Final Thoughts
We hope that this guide will help you to find the female-authored Caribbean cookbooks you've been looking for, allowing you to enjoy some of the best recipes from the region! 
Frequently Asked Questions
What Influenced Caribbean Cuisine?
Caribbean cuisine has taken inspiration from European, Latin American, Middle Eastern, West African, and other cuisines, which were brought over to the region, and have been developed and adapted ever since.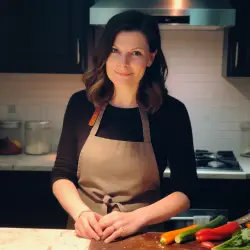 Latest posts by Barbara Hunt
(see all)