A low carb diet is one of the most popular for healthy living and weight loss. It can include other diet regimes such as keto and paleo which fall under its umbrella.
For those starting out with this kind of eating system and lifestyle it can however be a little confusing. 
We have found 8 female chef low carb cookbooks you do not want to miss if you are serious about a low carb diet.
A lot of these women have had personal experience of weight loss and eating for a healthier lifestyle so are well placed to advise on these issues. 
The low carb cookbooks by female chefs (see also: 6 Female Chef Air Fryer Cookbooks You Do Not Want To Miss)and authors that we have included here will give you a wide choice of how you want to approach a low carb diet.
Whether you have health concerns or want to lose weight these low carb cookbooks can help. 
Low Carb Cookbooks
We have found 8 excellent female chef cookbooks for you to begin or continue your low carb diet journey.
From easy to follow recipes to meal planning these recipe books will help you find the right approach to low carbs. 
This is the third edition of this bestselling cookbook that provides variety and flavor while still delivering low carb recipes.
There are more than 300 dishes to choose from all modified by Patricia Haakonson to help those adhering to a low carb lifestyle. 
Despite being low carb there are recipes for bread, muffins and desserts in the book so no need to miss out completely on these treats.
She includes tips on using herbs to enhance flavor as well as presentation and presents substitutes for flour and sugar. 
This is a book that can be used for everyday meals as well as for special occasions and the holiday season. 
Pros:
Everyday recipes with lots of flavor
Includes desserts and bread
300 dishes
No nonsense and quick meals
Cons:
Themes: Everyday dishes, easy to follow recipes
Whatever your reason for following a low carb diet this Easy Low-Carb Cookbook will give you plenty of inspiration and advice.
With 130 recipes you'll always be able to find the right meal for the right occasion. 
If you are trying to lose weight or manage a health issue there are simple, easy to follow recipes to help you maintain a low carb lifestyle.
Many of the dishes are keto or paleo, others are one pot meals while some require just 5 ingredients. 
The book includes helpful tips and nutritional advice. 
Pros:
130 easy to follow recipes
Can be adapted to keto or paleo diets
Uses everyday ingredients
Cons:
Themes: Easy to prepare recipes, everyday ingredients
With a low carb recipe for every day of the year you'll never be short of dishes to cook with this great recipe book.
Author Emma Katie has provided breakfast, lunch and dinner recipes that are healthy and nutritious. 
The book is suitable for those who are just beginning their low carb journey and so many of the recipes are fairly basic and straightforward. 
Although there is no carb count per dish or serving, all the information on what are low carb foods is included at the beginning of the book. 
Pros:
Low carb recipe for every day of the year
Easy to follow instructions
Most dishes are cooked in 30 minutes
Cons:
No nutritional info per serving
Themes: Beginners to low carb diet, weight loss
A slow cooker is one of the most useful items you can have in your kitchen.
Combining this efficiency and taste with low carb recipes will help you to achieve a healthy diet with minimal effort and maximum taste. 
This book by Helena Walker will explain how the low carb diet works, why a slow cooker is helpful for this diet and gives you lots of recipes to try out.
The book is filled with helpful information and lots of photographs. 
There are chapters on breakfast, meat, fish, vegetables, desserts and soups so there isn't much that isn't covered in this book. 
Pros:
Variety of recipes
Everyday dishes as well as special occasions
Advocates crock pot for low carb dishes
Photos of finished dishes
Cons:
Photos are in black and white
Themes: Slow cooker recipes, everyday ingredients
The Low Carb and High Protein Diet by Sarah Dawson is not just a recipe book but also a seven day meal plan.
Included in the book is an overview of the low carb diet, the benefits and challenges of this diet as well as a guide to the different food groups. 
If you are using the low carb diet to lose weight then you'll be able to follow the meal plan within the book to guide you through the week.
It includes recipes for breakfast, lunch and dinner so there is no need to skip meals with this diet. 
Pros:
Includes detailed meal planner
Lots of nutritional information
Useful for quick weight loss
Cons:
Not a lot of technical information on low carb, high protein diet
Themes: Low carb and high protein diet, meal planning
The Gourmet Prescription for Low Carb Cooking has 163 different recipes which are geared toward a range of dietary goals.
These include increased fat burning capacity, lower insulin, increased energy and of course, weight loss. 
Deborah Friedson Chud presents her food with international flair and not a little of her medical knowledge.
She emphasizes high fiber vegetables and fruits rather than starchy potatoes and grains. 
Pros:
163 gourmet low carb recipes
Flavorful dishes
Suitable for range of dietary needs
Cons:
Some ingredients hard to find
Not an everyday cookbook
Themes: Gourmet dishes, range of dietary goals
Final Thoughts
There are many low carb cookbooks on the market and some of the best are written by female chefs.
A lot of these women have had personal experience of trying to lose weight, to live a healthier lifestyle or had health concerns that required them to eat a low carb diet. 
These experiences give these female chefs an understanding of how these diets can impact someone's lifestyle and the cookbooks (see also: 7 Female Chef Dutch Oven Cookbooks You Do Not Want To Miss)are often written with empathy.
Most are filled with easy to follow recipes which use ingredients that are readily available. 
We hope that you have enjoyed our guide to these female chef cookbooks and that you have been inspired to give the low carb diet a go. 
Frequently Asked Questions
What Is The Most Famous Low Carb Diet?
The most famous low carb diet is the Atkins diet which proposes that you eat as much protein and fat as you like as long as you avoid eating carbs. 
How Long Does It Take To Lose 40 Pounds On A Low Carb Diet?
At a steady rate of 1 or 2 pounds per week you can expect to lose 40 pounds in 5 or 6 months. Any faster than this may be unhealthy.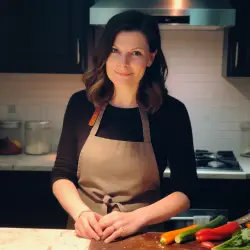 Latest posts by Barbara Hunt
(see all)