Ina Garten is a beloved American author and host of Barefoot Contessa on Food Network.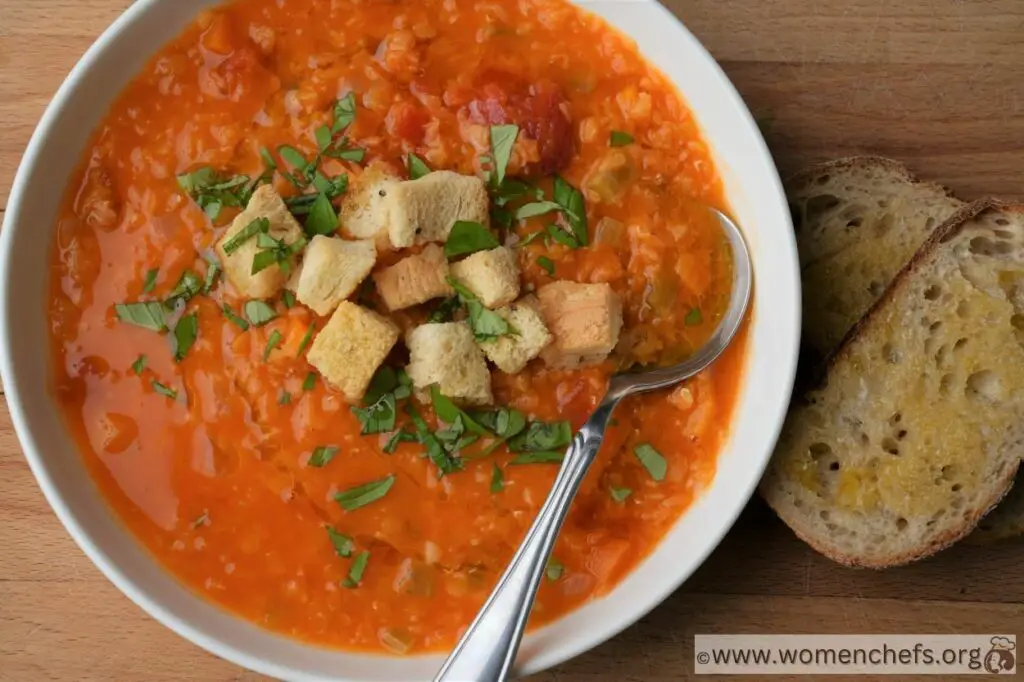 As one of the leading ladies in the culinary world, she was inspired by Julia Child's "Mastering the Art of French Cooking" and fell in love with French cuisine. Nowadays, she is a household name across the globe. 
Something Ina always does right is simple, home-style cooking. You don't get more home-style than a classic soup, such as lentil soup.
Filled with goodness, nutrition, warmth, and an abundance of tasty flavors, lentil soup is a staple for a fall afternoon. 
So, if you're a fan of Ina Garten and want to try her version of the humble lentil soup, you've come to the right place.
Here are the 7 best Ina Garten lentil soup recipes to try today, as well as some handy alternatives (see also "Amazing Ina Garten Zucchini Recipes")!
Featured on Food Network, this is the perfect soup for a cold day in fall.
This lentil vegetable soup takes an hour and 40 minutes to make, and will serve up to 8 people – though it keeps well in the refrigerator or freezer if you're not going to use the whole batch at once. 
The best part about this lentil vegetable soup is that it features ingredients that you probably already have in your pantry.
Sure, there might be a couple of fresh vegetables that you might need to get from the store, but it's still an accessible and affordable meal.
Plus, you can add or replace whatever vegetables you like to suit your needs. 
The key with making a lentil vegetable soup is to adjust the seasonings to your liking. Some prefer a simple and salty soup, while others might want more of a kick.
The beauty of soup is that it's all adjustable, which is something Ina Garten is passionate about in her recipes (Also check out Best Ina Garten Tomato Soup Recipes). For example, if you're vegetarian or vegan, simply replace the chicken stock with vegetable stock. 
For those who want extra protein in their lentil soup, check out Barefoot Contessa's lentil sausage soup recipe.
This recipe highlights the power of a rich, tasty sausage in an already protein-filled soup, making for a bowl of hearty goodness.
Sure, it's not suitable for vegetarians or vegans, but it's the perfect meal for meat eaters. 
As with the majority of Ina Garten recipes, this recipe consists of ingredients that are probably already in your kitchen (see also "Grilled Halibut Recipes by Ina Garten"). The only ingredient you might struggle to find in a store is kielbasa, a smoked Polish sausage.
If you can't find this in your local butcher store, you can easily substitute it with your favorite sausage. 
This is an incredibly easy soup recipe that will serve between 8 and 10 people. It's all about being patient with the sautéing process, and adjusting the flavors to your liking.
This soup works best when served with a generous sprinkle of grated Parmesan cheese and a chunk of warm bread. 
The only issue with Ina Garten's lentil vegetable soup is that it's not suitable for vegetarians.
However, just because the recipe features chicken stock and Parmesan cheese doesn't mean it can't be enjoyed by vegetarians, too!
This recipe offers a good vegetarian option that stays true to the original recipe. 
For the most part, this recipe features the exact same ingredients as Ina Garten's recipe, just with some vegetarian-friendly alternatives.
This means that it is just as accessible and as affordable as the original recipe, taking roughly an hour and a half and serving up to 8 people.
The only thing to keep in mind with this recipe is that not all Parmesan cheese products are vegetarian-friendly.
The vast majority of Parmesan cheese products contain animal rennet, which some vegetarians will classify as non-vegetarian.
A good alternative would be another Italian hard cheese, but make sure the label says that it's vegetarian. 
A good meaty alternative to Ina Garten's lentil and sausage soup is this classic lentil soup with ham recipe(see also: 5 Best Ina Garten Meatball Recipes To Try Today).
This is a great option for those who have leftover baked ham and don't know what to do with it, because the ham cubes add a smoky profile to the soup.
Plus, it makes this soup filled with even more nutrients!
Another great thing about this recipe is that it encourages you to use up whatever leftovers you have in your kitchen.
This includes leftover vegetables or vegetables that are about to go off, as well as stale bread, which makes for excellent croutons. 
Some tasty additions to this lentil and ham soup include fresh spinach, parsley, thyme, kale, or Swiss chard.
Soup is wonderfully forgiving, and this is one of those recipes that encourages you to experiment with flavors.
Of course, keep in mind that the ham will provide a smoky flavor anyway!
If you only have red lentils in your pantry rather than green ones, don't fret! There isn't much of a difference between red and green lentils other than the cooking time, as red lentils tend to need less time and often turn mushier than their green counterparts.
A mushy texture is actually favorable for soup anyway!
This red lentil vegetable soup is a great alternative to Ina Garden's green lentil vegetable soup. It's nutritious, filling, tasty, and filled with ingredients that you might already have in your pantry.
The soup consistency is similar to a lentil dahl, so if you want, you can add more curry spices such as cumin and garam masala to add some heat. 
If the soup consistency is slightly too mushy from the red lentils, you can add more broth to loosen the soup.
Alternatively, if you want it to be creamier, then add a splash of coconut milk.
Also, this recipe can be easily made vegetarian or vegan by replacing the chicken broth with vegetable stock. 
If you've got some sweet potatoes lying around that need to be used, why not turn them into a delicious soup?
This sweet potato and lentil soup is a great variation of Ina Garten's lentil and vegetable soup, with sweet potato adding a unique sweetness and hearty flavor to the comforting soup. 
Sweet potato is always a good addition to any diet. As a complex carbohydrate, sweet potatoes are filling while storing the carbs as long-lasting energy, keeping you fuller for longer.
Lentils are also complex carbohydrates, making this a fantastic combination in a soup designed to keep you full and warm – perfect for a weight loss diet, too!
Not only is this a tasty and filling soup, but it only takes 40 minutes to prepare and cook, and also only features 8 ingredients. Of course, you can adjust these ingredients to your liking, and you can even add more vegetables if you prefer. 
Another great variation of Ina Garden's iconic lentil and sausage soup is bacon and lentil soup.
This is a fairly old-fashioned recipe that has been used for decades for its warming and filling properties – not to mention the delicious smokiness of the bacon mixed with the hearty, somewhat creamy lentil soup. 
This recipe consists of only 8 ingredients that are almost definitely already in your kitchen.
You can choose whatever type of bacon you want, whether it's smoky rashers or thicker British bacon.
It doesn't matter too much, as long as the bacon is salty and fairly smoky. Substitute the ham stock cube for a vegetable stock cube if you're using bacon. 
Pair this hearty bacon and lentil soup with croutons or a chunk of crusty bread and salted butter, and you've got yourself a warming bowl of soup (Also check out Best Ina Garten Garlic Bread Recipes). 
Summary
So, there you have it! Ina Garten's iconic lentil soup can be made in a variety of ways, whether with sausage or ham or bacon or no meat at all, to suit your needs and wants.
The beauty of soup, and something Ina Garten regularly encourages, is that it forces you to experiment with different flavors. So, see what you've got in the pantry, and have fun cooking!
Frequently Asked Questions
Do You Have To Soak Lentils Before Making Soup?
The type of lentils you use will determine whether they need to be soaked prior to cooking in a soup.

The general rule of thumb is that green lentils take longer to cook than red lentils, so they need to be soaked for roughly 15 minutes before being added to a soup. 

Red lentils might need less time to be soaked, or they can be cooked into the soup in their dry form.

This is because they develop a far mushier texture and will dissolve into the soup as they cook. 

Why Is My Lentil Soup Bland?
Lentils aren't flavorful on their own, so you need to add a variety of seasonings to make your lentil soup less bland.

Also, instead of using water, use chicken broth or vegetable stock.

The lentils will soak up the flavor from this, making for a tastier soup. 

7 Best Ina Garten Lentil Soup Recipes To Try Today
Course: Recipes
Directions
Pick a recipe from the list above
Click the recipe name and visit the website
Collect the ingredients and cook the food
Enjoy – don't forget to leave a review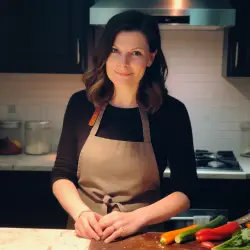 Latest posts by Barbara Hunt
(see all)