Have you ever watched a television show, witnessed one of the characters eating something, and wished that you could have a taste?
This is particularly frustrating when watching cartoons, knowing that you'll never get to try it in real life.
What if we told you that it is possible to try one of Homer Simpson's pink donuts, or a burger from Bob's Burgers?
Below, we have put together a list of 7 TV show cookbooks that contain recipes from each of the shows.
From Game of Thrones to Downton Abbey, there is something here for everyone to try. As usual, each of these cookbooks have been written by female chefs(see also: 7 Female Chef Israeli Cookbooks You Do Not Want To Miss).
7 Female Chef TV Show Cookbooks
Oh… my… God… have you ever wondered what Monica's cooking tastes like in real life?
If you grab a copy of this official cookbook, you can finally experience the flavors of the Friends universe.

From Phoebe's grandmother's oatmeal cookies, to Ross' cherished Moist Maker sandwich, you can follow each recipe to sample each and every dish ever mentioned in your favorite 90s sitcom.
You can even learn how to make Rachel's accidental meat trifle.

You can play with all the flavors of Central Perk with the hundreds of recipes available, including drinks, appetizers, and a section titled 'dinner with friends' (which demonstrates how to prepare your own Thanksgiving dinner, à la Monica).

If this sounds like something you'd be interested in, check out Friends: The Official Cookbook!
Pros

This cookbook is perfect for any fans of Friends.
There are 10 categories to choose from, including 'Monica's Blue Cupboard Basics'.
Cons
There are some typos to be found in this cookbook.
Some references throughout are inaccurate to the show.


You never know when a zombie outbreak is going to happen, so it would be wise to prepare yourself ahead of time.
What better way than to check out this official cookbook and survival guide?

While The Walking Dead focuses more on the survival than the food preparation side of things, there are a bunch of food items that have been mentioned throughout the show, including Carol's homemade cookies, and Carl's chocolate pudding.

And, who could forget that one time that Negan made his famous spaghetti upon his arrival at Alexandria?
If it was good enough for the saviors, then it is good enough for any reader of The Walking Dead: The Official Cookbook and Survival Guide.

Whether it's Spaghetti Tuesday, or you're simply stuck on ideas for dinner, you should check some of these recipes out.
Pros
This cookbook is perfect for any fans of The Walking Dead.
Filled with survival tactics that are surprisingly helpful and accurate.
Cons
Some complain that there are not enough recipes, with the cookbook spending too much time discussing survival tactics.


Breaking Bad is one of those shows that, considering that the plot does not revolve around food, features a lot of cooking.

Despite most of the products cooked on this show not being edible, there are many dishes that were mentioned throughout; some of which became important plot points.
These include Walt's vegan bacon breakfast, and the fried chicken from Los Pollos Hermanos.

Additionally, since this show was based in Albuquerque, NM, there are so many delicious Mexican dishes to choose from in this cookbook, from Tres Leches cake to chilaquiles.

In the words of Jesse Pinkman, 'cooking is art'. With the help of the Unofficial Breaking Bad Cookbook, you can get cooking right away.
Pros
This cookbook is perfect for any fans of Breaking Bad.
Includes lots of delicious – and even some healthy – recipes that the whole family can enjoy.
Cons
Since there aren't a lot of signature dishes in Breaking Bad, a lot of these recipes have been improvised and added with no direct relation to the show.
If there is one thing that Homer Simpson loves more than anything – aside from his family, and Duff beer – it's food. Mmm… food.

The town of Springfield may not be the greatest place to live, but some of its habitants have experienced some interesting dishes over the years.
These range from Flanders' renowned hot cocoa, to Moe's Million-Dollar Birthday Fries, and, of course, the famous Krusty Burger.

So many of us grew up watching this cartoon, wishing that we could take a sip of the sugar-filled Squishee, or a bite of Homer's pink sprinkled donuts.

With the help of The Unofficial Simpsons Cookbook, you eat like a Springfield citizen, and taste all the weird and wonderful food items that have come from this animated universe.

Pros
This cookbook is perfect for any fans of The Simpsons.
Plenty of fun recipes for the whole family to enjoy, from breakfast to dinner.
Cons
Some recipes are not very appealing, visually or taste-wise (e.g., the 'Krusty Brand Imitation Gruel').


Bob's Burgers is one of those cartoons that everybody enjoys. It is witty, colorful, and it centered around one of the tastiest food items of all time: the burger.

One of the best things about this show is their dedication to the 'Burger of the Day' gag.
Each episode will reveal a new burger on the board, and every time, the name given to the burger features a hilarious pun related to its ingredients.

With the help of the Bob's Burgers Burger Book, you can recreate each of these yummy 'Burger' of the Day' burgers at home.
These include the 'Baby, You Can Chive my Car', the 'Chile Relleno-you-Didn't', and the 'Eggers Can't be Cheesers', just to name a few.

You can pick your very own 'Burger of the Day' when using this recipe book, making it easier for you to decide what to make for dinner.
Pros
This cookbook is perfect for any fans of Bob's Burgers.
Includes a guide on how to make the perfect homemade burger and fries.
Cons
Not a great gift choice for someone who doesn't like burgers.
When you play the game of thrones, you win, or you die.

If you own this cookbook, however, you also get to eat some delicious (if not, at times, unusual) dishes.

We don't get a deep insight into what each character eats in Game of Thrones or House of the Dragon, but it's pretty clear that they are surviving off of some medieval-styled meals.
This cookbook gets creative with its recipes, splitting them into categories of different areas of Westeros.

To dine like a king, you'd want to skim through the 'King's Landing' section. For more basic meals, you'd want to check out 'The Wall'.
One thing is certain, though; each of these meals taste best when washed down with a goblet of red wine.
Pros
This cookbook is perfect for any fans of Game of Thrones or House of the Dragon.
The recipes are accurate not only to the show, but also to the book.
Cons
The recipes are not particularly appetizing to look at.
Final Thoughts
Whether you'd like to try a pork pie from Westeros, a coffee from Central Perk, or some fried chicken fresh from the fryers of Los Pollos Hermanos, we've got you covered.
You can now bring your favorite, fictional recipes to life.
Happy cooking!
Frequently Asked Questions 
What TV Shows Have Cookbooks?
Most TV shows and movies will have cookbooks, whether they are official or unofficial.
You can also find food blogs online which will show you how to cook certain recipes from your favorite TV shows.
What TV Shows Are About Cooking? 
There are many reality shows that are based around cooking, such as Hell's Kitchen, Top Chef, and The Final Table.
There are also fiction shows based around cooking, such as Young & Hungry, The Chef Show, and Bob's Burgers.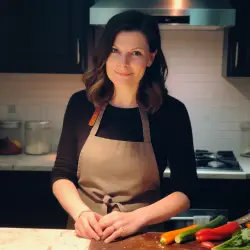 Latest posts by Barbara Hunt
(see all)