The vegan diet has skyrocketed in popularity over the last decade or so.
Now so many people are hopping on the bandwagon, that there are chefs that only specialize in the plant-based diet.
And the good news is that they want to share their fantastic vegan recipes with us!
The vegan diet is when you strip away all dairy and animal products, either for ethical or health reasons.
However, when you are cutting out certain foods, it is important that you still get essential vitamins and nutrients from plants, nuts and other non-animal-related foods.
So, what are the best vegan cookbooks written by female chefs(see also: 7 Female Chef Vegan Cookbooks You Do Not Want To Miss)? What kind of cuisine do they specialize in? What are the best vegan cookbooks for beginner chefs?
Well, we've done some trawling and found the best vegan cookbooks by female chefs. So what are you waiting for? Let's get stuck in!
What Is Veganism?
Veganism is a fluid term and can mean different things to different people. Broadly speaking, it is when animal products are removed from someone's diet.
This usually means dairy, eggs and all forms of meat including fish.
However, the reasons why people do this differ greatly. Some people are doing it for ethical reasons, as they don't agree with factory farming or how animals are raised and killed.
But this might not exclude them from eating animal products if they are sourced ethically.
Some people will completely rule out the possibility of eating animal products altogether.
This means that they have to get all of their essential nutrients and vitamins from plants, nuts, seeds and vitamin supplements.
But is it possible to get a completely healthy, balanced, and, more importantly, enjoyable meal from plants alone?
Well, you'll be happy to hear that you can… with the right vegan cookbooks. Check out our amazing list of bestselling cookbooks for vegans written by women.
7 Female Chef Vegan Cookbooks
Our first cookbook features a lot of vegan substitutes for those classic dishes that you might have thought could only be made with meat and dairy.
This covers the whole gamut of meals, from sandwiches to pasta dishes to Asian food like pad thai.
This book has 125 recipes and all of them are written in a manner that is easy to understand.
This is a great cookbook for beginner vegan chefs or people who have been cooking for many years and fancy trying their hand at some new dishes.
Pros
This features a wide range of desserts and mains
Great for starters and experienced chefs
You can make vegan versions of classic dishes
A bestseller
Cons
Some readers have complained that this book has missing ingredients
This next cookbook was named the cookbook of the year by the New York Times and we can see why.
This features a wide range of Asian dishes, all of which are plants based and are quite diverse.
From noodle dishes to rice and desserts, this covers all starters, mains and finishers.
This has a standout recipe for black dal which contains no dairy at all.
These recipes are collaborations with the author and other top chefs from around Asia and South Asia.
If you want to impress your friends with mind-blowing Asian cuisine, then we would recommend that you start with this book.
Pros
A highly-rated cookbook
Great for expert chefs who want to try something new
Lots of easy-to-understand recipes
Dishes that you can make after a stressful workday
Cons
Might not be a great place to start for complete amateur chefs
This next recipe book is great for those vegans on the go.
It comes with plenty of 10-minute and 20-minute recipes that you can make quickly before you go to work in the morning.
This teaches you how to make tasty smoothies for breakfast or helps you to batch cook for the week ahead.
If you have a sweet tooth, then this is a great book for you to have.
It will give you the recipe for flapjacks and cereal bars that will contain zero dairy but are still packed with plenty of flavor.
This cookbook also has a broader dimension, outlining how your diet should be part of a fuller and healthier lifestyle.
Pros
Combines food and self-care
Covers diverse cuisine such as Asian, Indian and Japanese food
Great for those that lead busy livesMeals that can be made in less than half an hour
Cons
Might not be great for experienced chefs
Buyer's Guide
Here are some of the things you'll need to look for in your next vegan cookbook:
Various Cuisines
Whether it is Indian, Chinese, Japanese, Asian or classic US dishes, the best cookbooks offer you plenty of options.
Easy To Understand
The ingredients should be easy to measure and the instructions should be easy to understand, avoiding too much cooking jargon.
Conclusion
We hope our guide to vegan cookbooks authored by women has helped whet your appetite and branch out into a plant-based diet.
Frequently Asked Questions
Is A Vegan Diet Healthy?
A lot of people argue that a vegan diet is healthier for you and with the absence of meat in your diet, you certainly decrease the risk of things like heart disease and cholesterol.
Is It Easy To Be Vegan?
These days it is much easier to be a vegan, as there are more dairy and meat alternatives and recipes available for the vegan diet.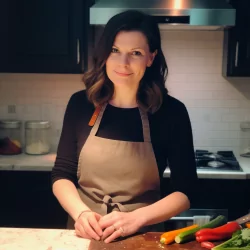 Latest posts by Barbara Hunt
(see all)