Cookbooks are wonderful things that allow us to travel the world without leaving our kitchen.
We can experience the flavors and ingredients of countries all over the world thanks to the beautiful recipes that are written by chefs and cooks who have lived and worked in countries around the world.
Aside from mouthwatering recipes, cookbooks about food from different parts of the world are usually filled with wonderful stories that help us to really get into the mood for different flavors.
Below, we will take a look at some of the Israeli cookbooks written by female chefs that you do not want to miss (see also "Female Chef Asian Cookbooks You Do Not Want To Miss").
8 Best Female Chef Israeli Cookbooks
Israeli cooking is varied and vibrant. There are many different types of Israeli cookbooks that you can buy.
Below is a selection of different Israeli cookbooks that feature all kinds of Israeli dishes.
The book on this list is The Book Of New Israeli Food by Janna Gur.
This book actually started life as a coffee table book but has been republished as a full cookbook. 
It features stunning illustrations and photographs, not only of the food but also of Israel itself to give you a more immersive experience.

The recipes in this book are varied and can suit a wide range of tastes and preferences.
There are multiple categories of recipes so that you can incorporate Israeli cooking into your holidays, breakfast, and special occasions.
If you want to celebrate the diversity of Israel, this is the cookbook for you.

Pros
Wide variety of recipes
Vibrant photographs and illustrations
Short, inspiring narratives about Israeli life and culture
Food for all occasions
Cons
If you don't enjoy cookbooks with narratives, this might work better as a coffee table book
The title of this book is Yiddish for "perfect housewife".
This tells you all you need to know about the quality of the recipes in the cookbook. Author Einat Admony is a chef, a wife, and a mother. 
If anyone knows how to make delicious, high-quality, comforting Israeli food, it is Einat.

There are 140 delicious recipes in this cookbook that are suitable for all occasions.
From dinner party dishes to kids' meals and healthy options, there is something for everyone in Balaboosta.
For genuinely authentic Israeli home cooking, this is the only cookbook you need.

Pros
Traditional, Israeli home cooking
Backed by professional and domestic experience
Wide variety of recipes
Authentic recipes
Cons
Some recipes use hard-to-find ingredients
If you are looking for a recipe book that is filled with more modern recipes than traditional ones, Modern Israeli Cooking by Danielle Oron is the perfect cookbook for you.
Oron studied her craft at The International Culinary Center and she uses her Israeli and Moroccan heritage to influence her recipes.

The recipes in this cookbook are multiculturally inspired but have a strong Israeli influence.
Oron has put a modern, international twist on traditional Israeli dishes to update them and give them a new lease of life.
There are recipes for almost every occasion you could think of in this well-thought-out cookbook.

Pros
Interesting take on traditional dishes
Strong Israeli background informs recipes
Features some exciting fusion meals
Clear and user-friendly instructions
Cons
A melting pot of recipes, not great for people who want traditional Israeli cuisine
For an authentic Israeli cookbook that provides plenty of kosher and vegetarian dishes, Cook In Israel by Orly Ziv is the perfect book for you.
Ziv has a background as a nutritionist, cooking instructor, and culinary tour guide.
Because of this, her recipes are packed with traditional Israeli ingredients and are healthy for your family.

Most of the recipes in the book are vegetarian and they draw on Ziv's Jewish-Greek heritage.
The cooking that is required for these recipes is simple and uses fresh ingredients. None of the recipes are time-consuming or complicated.

Pros
Kosher and vegetarian recipes
Strong, authentic Israeli and Jewish background
Simple and quick recipes
Nutritional meals with tons of flavor
Cons
Not a great option for lovers of meat-based recipes
Joan Nathan's The Foods Of Israel Today is the perfect cookbook for people who are just as interested in Israeli culture as they are in Israeli food.
Reading this cookbook is like taking a journey through the history of the land of Israel and how Israeli food has developed over time into what is considered to be modern Israeli food.

This cookbook was written as Nathan traveled the length and breadth of Israel over the course of years.
There are plenty of authentic Israeli stories that can help to immerse you in the culture of the food that you are cooking.
If you want to enjoy the colorful, flavorful food of Israel and learn a bit more about the country, this is a must-have book.

Pros
Interesting insight into Israeli culture
Simple and clear instructions
Delicious and varied recipes
Authentic ingredients and processes
Cons
Lots of stories and illustrations might be off-putting for some
If you have a sweet tooth and are more interested in traditional Israeli desserts, this is the perfect cookbook for you.
Sweet Secrets by Carine Goren is an Israeli cookbook that was initially published in Hebrew in 2006.
It has since been republished in English due to overwhelming demand.

If you are looking for recipes that you can use to showcase the wonderful flavors of Israel while satisfying your sweet tooth, this is the only cookbook that you need.
There are casual and simple dessert recipes that you can create as well as special occasion desserts for celebrations.

Pros
Focuses on a niche of Israeli cooking
Perfect for people who enjoy cooking desserts
Simple instructions to follow
Incredible photographs for reference and inspiration
Cons
One of the most expensive books on this list
How To Choose The Right Israeli Cookbooks
Choosing any cookbook is a personal choice and will depend on the type of cooking that you like to do and the level of experience that you have.
There are some basic things to consider when looking for a new cookbook.
Consider Experience Level

The most important thing that you need to consider when choosing a cookbook is your experience level.
Different cookbooks will feature recipes that have different levels of difficulty.

It is possible to purchase cookbooks that are filled with recipes for all skill levels.
These are a great option for anyone who is actively trying to improve their cooking skills. 
As you cook more meals, you can work your way through the different difficulty levels.

There are also some cookbooks that are perfect for complete beginners. These books contain very simple but delicious recipes.
They are also likely to feature plenty of helpful tips and tricks to help you improve your cooking skills.

Finally, you can get some cookbooks that have been written for home cooks with plenty of experience.
These books are likely to feature more complex recipes with less detailed instructions. 
Think About The Types Of Recipes You Enjoy
There are also some cookbooks that focus on a certain type of recipe. These are often dessert cookbooks, breakfast cookbooks, or vegetarian cookbooks(see also: 8 Female Chef Vegetarian Cookbooks You Do Not Want To Miss).
These will all feature recipes that are relevant to a certain niche.

If you have a particular passion for a specific meal of the day, choosing a cookbook that focuses on that meal can be a great investment. 
Consider The Amount Of Narrative

For some people, the narrative and photographs in a cookbook are just as important as the actual recipes.
Getting immersed in the culture of your cookbook can be the perfect way to get yourself psyched up for cooking. 
You can also learn a lot about the culture and the meanings behind certain recipes and ingredients.

For other people, a cookbook is used just for cooking.
Therefore, it can be annoying or inconvenient having to flick through pages of narrative to find the recipe that you want.
This should be considered when purchasing a cookbook.
Frequently Asked Questions
What Is An Israeli Cookbook?
An Israeli cookbook is essentially a cookbook that features recipes that originate from Israel, are regularly prepared and consumed in Israel, or involve common Israeli ingredients or preparation techniques.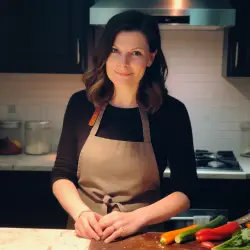 Latest posts by Barbara Hunt
(see all)