Seafood is some of the most delicious food that you can have. Not only is it tasty, but it's also really good for you, filled with omega oils and protein that help with muscle growth, skin and hair health.
It will also fill you up and stop you from snacking. But one of the main things about cooking fish and other seafood is getting the right quality. It is easy to find substandard fish, but this can make you very ill.
Also, the same goes for if you don't cook it properly. This is why it is important to get the right guidance. So where can you find the best seafood cookbooks written by female chefs(see also: 6 Female Chef Breakfast Cookbooks You Do Not Want To Miss)?
What is the best cookbook for beginners and what is the best cookbook for experts?
Well, we've done some trawling of our own and come up with some of the best seafood cookbooks written by women. So, keep reading to find out more.
Why Eat Seafood?
There are plenty of reasons why you might want to eat seafood. Firstly, it is one of the leanest sources of protein that you can get on the market. You can eat a seafood meal and still not feel full.
This also helps reduce snacking and will help you lose weight. Seafood is also a very aromatic dish, you can smell it a mile away. You can pair it with a lot of vegetables including potatoes, peas, carrots and eggplant.
Fish such as tuna is also a great filling for a sandwich. Seafood is also very diverse and captures a wide range of creatures: haddock, squid, octopus, basa, swordfish, tuna, mackerel, eel, trout, monkfish and many, many more.
Fish doesn't take long to cook and a lot of these quick-fry dishes shouldn't take longer than half an hour to make. So, what are the best books for cooking this delicious and diverse dish?
Well, we have a list of 6 cookbooks that cover the whole range of fish dishes, including seafood broths, stews, fillet of fish and even sushi.
6 Female Chef Seafood Cookbooks
This book covers what it calls the big 10 fish and the 80+ recipes that you can use to transform them into amazing seafood dishes.
However, it doesn't stop there. It also has 240 variations on these dishes, such as switching up the herbs or one crucial ingredient, which will help you change it into a whole new dish altogether.
This has the recipe for fire-roasted salmon, which produces that delicious smoky aftertaste. This is a recipe book that embraces sustainability and emphasizes the importance of fresh fish.
However, it does cater to people on a budget and ensures that most of the fish products can be sourced at your local supermarket.
Pros
Tackles common fish and recipes
Recipes for canned, frozen, and fresh fish
240 variations on 80 recipes
Great for mid-level chefs and home cooks
Cons
Another that might overwhelm new chefs
This book comes with 175 recipes for lobster, calamari, tuna, clams and mussels.
This approaches all different methods of preparation for these underwater creatures, teaching you how to successfully shuck, grill, and poach them.
This recipe book tackles more complicated things like serving raw fish and how to clean clams as soon as they are dug out of the ground.
It has received glowing reviews from a lot of high-profile magazines and reviewers, which is a testament to its thoroughness and inventiveness.
Pros
175 recipes for seafood
This teaches you how to prepare lots of different fish
Comes with great color photography
Excellent for ambitious chefs
Cons
Not for the casual seafood cook
This is a cookbook that focuses on the famous fish dishes of the Pacific Northwest, where the waters are clear and the fish are in prime condition.
This covers popular fish like haddock and oysters to less common fish such as lingcod and smelt.
Tomky deals with how to prepare certain fish properly before cooking as well as how to properly debone, grill, cure and bake other types.
This is a great recipe book for both newcomers to the fish dish game and veteran fish fryers who want to experiment with something more outlandish.
Pros
Cover fish from the Pacific Northwest
75 recipes for seafood
A creative and diverse selection of dishes
Covers lesser-known fish
Cons
Some readers have claimed there could be more recipes in this book
If you are looking for a book that details what happens to your fish as soon as they come from the ocean up until they get to your plate, then this is a great recipe book for you.
This gives you tips on how you can cook and eat every bit of the fish, as well as how to prepare roe and shuck an oyster.
It also comes with glorious color pictures that demonstrate how to shuck, cut, fillet and strip a fish.
This is very handy if you are a beginner and you are slightly lost when it comes to finding your way around one of our scaly friends.
Pros
A great how-to guide for prepping and cooking fish
Tips on how to use the whole fish
Plenty of photographs
Features bonus online video content
Cons
If you are a casual fish eater, this might be too in-depth for you
Best Female Chef Seafood Cookbooks Buying Guide
When you are buying your next seafood cookbook, you'll want to think about what skill level you're at.
If you are a beginner, then you might want something that covers the fundamentals, whereas if you are already quite experienced with fish, then you might want something more ambitious.
Here's what you should be looking out for:
Prepping Fish
One of the most difficult things about fish is the preparation. Ideally, you should have something that goes into detail about preparing fish as well as diagrams and photographs.
Types Of Seafood
There are many different types of seafood, from oysters to clams to haddock, tuna and seabass.
Each one of these fish needs its specific method of preparation and cooking, so make sure this is all outlined for you in your cookbook.
Conclusion
We hope that our guide to the best seafood cookbooks written by women has helped you to decide which one you feel might be the best for your level of cooking.
Frequently Asked Questions
Is Seafood Difficult To Cook?
This can be one of the more difficult foods to cook, simply because if you cook it for too long then it gets tough and chewy.
How Much Seafood Should I Eat?
Various studies show that eating seafood twice a week will lead to an overall increase in the quality of health.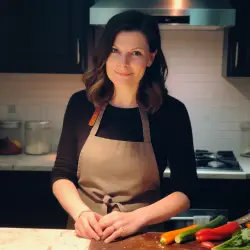 Latest posts by Barbara Hunt
(see all)