In almost every dish, the component that brings everything together is the sauce. From ketchup to gravies, to curries, sauces add flavor and texture to some of your favorite recipes.
But, knowing what makes a delectable sauce is a little trickier than you may think. There are various elements at play here and if one becomes too powerful, your entire dish is ruined.
Below are 5 cookbooks about sauces by female chefs (see also: 5 Female Chef Sauces Cookbooks You Do Not Want To Miss)that will have you being a master in the kitchen.
Learn to balance your sauce and complete your dish without having to spend a fortune on private classes. Check them out below!
5 Female Chef Sauces Cookbooks You Do Not Want To Miss
Ever wondered how your favorite sauces are made? Spicy sriracha, Thai curry sauce, or even your store-bought salsa.
Susan Vollan has all of the answers you seek and even some tricks to help make them better. Finally, a lively, vivacious, and fresh cookbook on sauces.
Susan Volland departs from conventional lesson plans and presents sauce-making in a completely fresh manner in her book Mastering Sauces.
Maximize Flavor, Manipulate Texture, and Season Confidently are the three cornerstones of great sauce making. With these guidelines in hand, you can create any condiment.
But you'll need to read this cookbook in order to master these techniques.
Mastering Sauces is equipped with over 150 recipes, loads of tips and tricks to adapt as you go, and endless techniques for making delicious sauces.
To help cooks better grasp their ingredients and make the dish they want, Volland explains the "whys" and "hows" of making sauces.
And she concludes with a list of solutions for deteriorating sauces because she is aware that even the greatest chefs occasionally have bad days.
Pros
This cookbook includes solutions to common problems.
Great book for beginners and expert cooks.
Includes over 150 sauce recipes.
Cons
There are no images to help describe the dish.
Creating a sauce of any kind is a tricky task. You have to get the right texture, and the right amount of spice, to ensure that you make enough for every bite.
It can easily become more overwhelming than the dish itself! The Best-Ever Sauces cookbook is here to save the day. From a coconut curry to a vinaigrette dressing that is perfect for every occasion.
You will have the most delicious sauce to add to any dish. Even if it doesn't need a sauce.
Never serve a dry dish again as you learn to make some of the most delicious gravy, sauces, salsas, dips, and dressings.
With 150 sauce recipes, you can make a new one every night of the week and become a master of sauces. Accidentally make too much?
Store it in the refrigerator or even the freezer for when you need a sauce on the go.
This cookbook is one of the best resources to have in your kitchen, whether you are a novice cook or a seasoned professional. Your dishes will be balanced, flavorful, and delicious.
Pros
150 sauce recipes for every kind of dish.
300 Photographs show the end result of each recipe.
This cookbook is inexpensive compared to others.
Cons
More experienced cooks may want something more challenging.
Finding sauces that suit your vegan lifestyle can be difficult. With most sauces requiring some form of animal byproduct, you may think it is vegan but it is not. We have found the solution.
Let's Get Saucy by Hannah M Janish is one of the best vegan sauce cookbooks on the market. With over 55 sauce recipes that are going to take any dish from bland to a flavor explosion.
From vegan-style blue cheese dressing to plant-based honey mustard your fries, wings, and tater tots will never be without a yummy sauce again.
Forget scouring the supermarket for vegan dressings, dips, or sauces, you can make them all at home with this simple yet extremely helpful cookbook.
Janish brings her real-world experience of being a vegan in a carnivore world to this cookbook for you to soak up her knowledge and make your own creations at home.
Pros
Recipes are easy to find and reference when cooking.
Contains a wide range of vegan recipes.
Suits a large variety of dietary requirements.
Cons
Only 27 of the recipes are sauces.
The book is overpriced.
Best Female Chef Sauces Cookbooks Buying Guide
Types Of Sauces
When it comes to selecting a cookbook of sauces, it is important to know what type of sauce you are looking for. Gravy, dressing, and salsas are all different types of sauces that can be featured in their own books.
Ensure the cookbook you select includes the types of sauces you are interested in cooking.
Dietary Requirements
From vegan to nut allergies, it is crucial that your cookbook has a healthy amount of recipes that meet your or your guest's dietary requirements.
No matter how small the requirements are, you want to have a wide selection of recipes that are delicious and meet your satisfaction.
Final Thoughts
Creating the perfect sauce for any dish can be hard. So, why not make it easier with an insightful sauce cookbook? Cookbooks are a great way to master the art of making sauces while having fun along the way.
Above are 5 delicious sauce cookbooks with recipes created by female chefs (see also "Female Chef Macro Cookbooks You Do Not Want To Miss"). From using up the excess hot sauce to making your own vegan sauces, you can learn something new every single day.
And remember, cooking is all about innovation. Check them out and have fun creating your own recipes!
Frequently Asked Questions
What Are The Essential Sauces That Everyone Should Know?
Béchamel sauce, veloute sauce, brown or Espagnole sauce, Hollandaise sauce, and tomato sauce are the five mother sauces that everyone should master in the kitchen.
What Is The Most Popular Sauce In The World?
Tomato Ketchup is the most popular sauce around the world. It is used as a dipping sauce but is also used as an ingredient of sweetness in various other recipes.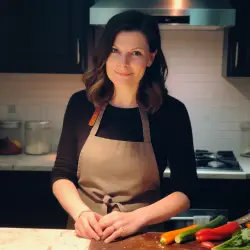 Latest posts by Barbara Hunt
(see all)