If you are struggling to lose weight or follow a healthy diet then you might need to take a look at the macro diet.
It allows you to eat all your favorite foods as long as the portions are correct.
We have found 12 female chef macro cookbooks you do not want to miss if you are serious about following this lifestyle.
Being able to eat all the foods that you enjoy may not feel like a diet but when it is done in the correct portions it has the desired effect.
Tina Haupert shares how to transform your body without counting calories in her macro diet cookbook.

As well as explaining how this approach works the book includes 300 recipes for every meal and sample meal plans to make your life easier.
These plans allow you to shop for only what you need and plan your meals ahead of time.

Pros
Includes nutritional information
300 recipes
Meal planning
Cons
The macro diet allows you to gauge the number of proteins, carbohydrates and fats you need to achieve your goal.
This allows you to eat all of your favorite foods but in the right proportions.

For the macro diet to be successful you need to be organized and this is what this book helps you to do.
With 200 recipes to choose from you'll have no shortage of inspiration.
The diet is flexible and customizable with everything from breakfast to snacks.

This cookbook is very easy to read, and the recipes are simple to follow.

Pros
200 recipes
Easy to follow
Detailed information on macro diet
Cons
Not every recipe has a photo
This is a wonderful cookbook for those who are new to the macro diet.
It teaches you all the diet basics including how you can get everything you need from carbohydrates, fats and protein.
Learn how to plan your meals, prepare everything and how to count macros.

There are 100 tasty recipes in this cookbook, and they include a wide range of foods that can be enjoyed on a macrobiotic diet.
All this while still staying within your daily macro targets. The book also includes a 14-day meal plan for beginners.

Pros
100 recipes
14-day meal plan
Lots of advice on macro diet
Cons
The Quick and Natural Macrobiotic Cookbook is full of great ideas for eating more healthily without spending hours in the kitchen.

As one of the authors, Aveline Kushi was born in Japan there is a heavy Asian influence when it comes to the recipes.
These may require ingredients from a specialty store, something which may not be possible for everyone.

However, the overall advice and guidance is priceless and comes from many years of experience and knowledge of the macro diet.

Pros
Written by a leading authority on macro diet
Tasty recipes
Advice on living a healthier lifestyle
Cons
This is another macro diet book written by one of the leading authorities Aveline Kushi as well as her co-author Wendy Esko.
Aveline promoted the macrobiotic philosophy and diet which was influenced by a spiritual practice which emphasizes organic and seasonal foods.

The cookbook is designed to provide readers with what they need to start the day with a heart-healthy, low fat and low cholesterol breakfast.
Recipes are designed to help people change the way that they eat especially as they begin their day.

Pros
Written by respected authorities on macro diet
Flavorful recipes
Advice on macro diet
Cons
If you are looking for expert guidance on the macro diet then Brittany Scanniello is your go-to person.
She is an award winning registered dietitian who has worked in clinical nutrition for hospitals and industries.
Her approach to the macro diet is honest, and attainable.

This book has 85 flavorful recipes that are part of a 2-week meal plan for both muscle gain and fat loss.
You will also get shopping lists to set you up for your transition to the macro diet as well as tailored workouts to add to the benefits of the diet.

Pros
85 recipes
2-week meal plans
Tailored workouts
Cons
Not as many recipes as some other macro cookbooks
The Macrobiotic Diet for Everyone is a brief introduction to the macro diet as well as providing delicious recipes with step-by-step instructions.
The cookbook covers breakfast grains, soups, pasta, legumes and dessert.

It is a good book to introduce you to the macrobiotic lifestyle and to help with the transition.
The recipes are mostly vegetarian but can be adapted to include meat as well. Organic and natural ingredients are prioritized.

Pros
Lots of recipes
Guide to the macrobiotic diet
Breakfast to dessert meals included

Cons
Some ingredients may be difficult to source
Jessica Porter wanted to introduce young women to a way of living healthier lives beyond practicing yoga and Pilates.
This is how The Hip Chick's Guide to Macrobiotics came about.
With celebrities embracing the macro diet Jessica wanted to make it accessible to everyone.

She is a chef who completed her training at the Kushi Institute in Massachusetts so is very qualified to advise and inspire.
Although the book is not organized like a conventional cookbook you will find some excellent recipes.

Pros
Fun but informative
Delicious recipes
An easy read
Cons
An introduction to the macrobiotic diet this book by Alice O. Blume is an excellent way for beginners to find out what it is about.
Rather than being a fad diet it is more a way of life that is based on centuries old traditions.

The book lays out clearly what the macro diet is, who will benefit and what foods are included, as well as those to avoid.
It also addresses the downsides of the diet.

Pros
Good introduction to macro diet
Easy to read
100 recipes
Cons
For busy moms everywhere this cookbook by Candace Rorrer will allow women to enjoy healthy meals which don't require hours in the kitchen.
There are over 60 pages of recipes to choose from, all of which provide everything you need in a macro diet.

She also provides readers with a pantry list of items that everyone following this lifestyle should have to hand.
This is an excellent read for busy women everywhere.

Pros
Easy to follow recipes
Readily available ingredients
Gives macros for each dish
Cons
Frequently Asked Questions
How Do I Figure Out My Macros?
To work out how many grams of each macro that you need, multiply your total daily calories by 0.4 for protein, and by 0.3 for fats and for carbohydrates. 
What Foods Are Good For Macros?

Fish, seafood, meat, eggs, dairy, beans, pulses, and nuts are all good sources of macros for those on a macrobiotic diet.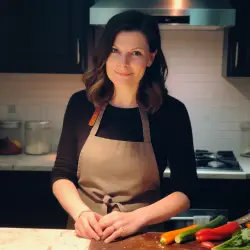 Latest posts by Barbara Hunt
(see all)