When it comes to connecting with others, there is one language that we all understand, food. And Spanish food is one of the most popular and well-loved languages of all.
With tapas, paella, and Gazpacho, there are endless ways to show people you care about them.
Unless you come from a Spanish region, you are unlikely to know the cherished techniques and recipes for cooking delicious, authentic Spanish food.
Below are 5 Spanish cookbooks created by female chefs(see also: 6 Female Chef Salad Cookbooks You Do Not Want To Miss) to provide you with the techniques, recipes, tips, and tricks to serve some traditional Spanish dishes.
You will be introduced to new methods, ingredients, and flavors that will transform the way you view food. Let's get into it!
5 Female Chef Spanish Cookbooks You Do Not Want To Miss
When it comes to cooking, Spanish cuisine is created for serving large crowds of people.
Using seasonal ingredients, every dish is colorful and flavorful while remaining simple enough to be made in a small kitchen with minimal equipment.
This cookbook, Spanish Cooking, is perfect if you have little experience in the kitchen but want to show your loved ones just how much you love them.
From classic dishes such as bean stews, and tortilla omelets to more modern dishes that have come from the inspiration of 14 Michelin star town, San Sebastian.
While this cookbook may not have hundreds of recipes, it does have a lot of tricks and special techniques for cooking authentic Spanish cuisine.
Taylor breaks down each recipe making it easy to follow from the very beginning. Anyone can learn to cook gorgeous Spanish dishes with this cookbook.
Pros
Recipes are easy to follow and great for any level of cook.
Has a wide range of both traditional and modern Spanish dishes.
Images are clear and vibrant.
Cons
The cookbook is only available on Kindle.
Those with more experience may not learn anything new.
The New Spanish Table expertly unites traditional and modern Spanish food.
It was inspired by the author's decades of travel in Spain and talks with everyone from village tavern owners to Ferran Adrià.
Bremzen shares her experience through this informative and inspirational cookbook. In over 300 recipes you get everything from classic dishes to recipes with a more modern flare.
You can see how Spanish cuisine has adapted and changed over the years and the methods that helped develop these recipes.
The New Spanish Table splurges on seductive appetizers like goat cheese-stuffed piquillo peppers and crisp potatoes with spicy tomato sauce.
Announcing a revolution in gazpacho; sample the luscious, neon-pink blend of cherry, tomato, and beet. With the dinner party classic, Toasted Pasta "Paella" with Shrimp, turn paella on its head.
Whenever you want to cook something that has a little spice, color, and a whole lot of flavor, go for any recipe in The New Spanish Table.
The recipes are unique and divided by region making this book easy to navigate. And you can learn about the crops of the region as you go!
Pros
With over 300 recipes from all over Spain, readers have a wide selection to choose from.
Both traditional and modern recipes are included.
The author uses experience and gathered recipes to create this book.
The reader can learn more about Spain.
Cons
This cookbook lacks photos to show the finished result.
Some recipes may not work for young children.
Have you ever wondered what chef's enjoy cooking when they aren't cooking for large, busy restaurants? Sabor: Flavors From A Spanish Kitchen is going to tell you.
When chef Nieves Barragan Mohacho isn't working her butt off to make delicious meals for her customers, she is in her kitchen at home.
Preparing succulent, mouth-watering Spanish dishes that remind her of her childhood. And now she is showing you how to make them!
The recipes cover a wide variety of cuisines, from hearty dishes like Braised Iberian Pork Ribs or Chorizo and Potato Stew to lighter fare like Seafood Skewers, Clams in Salsa Verde, or Stuffed Piquillo Peppers.
Other recipes include grilled Hispi cabbage and baked cauliflower with salted almonds, chili, and shallots.
You can really feel the love and passion, Mahacho has for Spanish cuisine and now you can bask in it too.
Or if you don't feel like cooking you can always take a trip to London to experience her talent firsthand. But it's probably cheaper to purchase the cookbook and make it yourself!
Pros
The cookbook includes metric conversions.
Uses fresh ingredients that are easy to source and healthy.
Photos add to the user experience.
Recipes are great for anyone wanting to be healthier.
Cons
The cookbook is rather expensive compared to others.
Penelope Casas was responsible for introducing America to the flavors and concept of tapas over twenty years ago through the first edition of her cookbook.
Today, she is ensuring that we are up to date with the Spanish cuisine with Tapas revised.
This book's instructions are simple to understand, and the presentation, which includes eight color pages, makes the whole thing appear lovely.
Tapas (Revised): The Little Dishes of Spain is unquestionably a culinary necessity if you enjoy them.
This cookbook is perfect for anyone looking to learn more about the flavors of tapas and how to incorporate it into your weekly dinner routine.
There are over 50 new recipes in this book with incredible images that make the steps easy to follow.
Whether you are a trained chef or a humble home cook, Tapas: The Little Dishes of Spain is a great way to learn something new.
Pros
Written by an accredited author.
Images are clear and high quality.
There are 50 new recipes to explore.
Cons
Only 8 pages contain colored images. 
Best Female Chef Spanish Cookbooks Buying Guide
Allergies & Dietary Requirements
Spanish cuisine involves a lot of grains, meats, and fish which can be harmful for some people. It is important to select a Spanish cookbook that works for you.
For example, those allergic to shellfish may want to search for a cookbook that focuses on vegetarian meals or more red meat dishes.
Number Of Recipes
Spanish dishes are rich in history and therefore, there are thousands of recipes to be explored. This means you want a cookbook that has a decent number of recipes inside.
Or, if the recipes are low, ensure that the information inside is helpful and beneficial to your learning.
Final Thoughts
Spanish cuisine is some of the most delicious food in the world. Using seasonal ingredients, no dish ever turns out the same every time but each creation is just as delicious as the last.
Above are 5 exceptional Spanish cookbooks that were created by female chefs(see also: 9 Female Spanish Chefs We Adore).
From a book focused on the flavors of tapas to exploring the childhood recipes of a Michelin star chef, you can create incredible dishes for your family.
Frequently Asked Questions
What Spanish Dish Is Most Famous?
Paella is the most famous Spanish dish. It was created in Valencia as the city has access to fresh fish.
Over time the recipe developed to allow for chicken paella to be enjoyed (see also "Amazing Ina Garten Chicken Recipes To Try Today"). Today, you can find variations of paella all over the world.
What Is A Traditional Spanish Dinner?
Seafood, fish, or roast poultry should all be included in a typical Spanish dinner. They can be served with cooked potatoes or rice. A green salad or an omelet and seafood serve as the standard side dishes.
In Spain, rice with Arroz Cubano, a few fried eggs, and tomato sauce makes for a quick supper.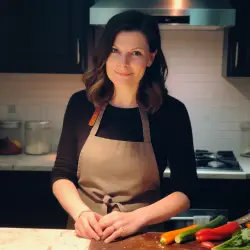 Latest posts by Barbara Hunt
(see all)