We're all told how healthy salads are for our everyday lives. They help to lower our cholesterol, lose weight and improve our overall quality of life. However, to most people salads are not the most exciting meal.
But does that always necessarily have to be the case? Well, no it doesn't. There are so many different variations on salads out there that you'll be spoiled for choice.
You can have salads that contain chicken or seafood, you can get vegetarian salads that are loaded up with delicious cheeses or you can get vegan salads piled high with juicy vegetables.
So where can you find the best salad cookbooks that are written by female chefs(see also: 5 Female Chef Spanish Cookbooks You Do Not Want To Miss)? Which salad recipe books are aimed at beginner chefs? Which ones teach you about the nutritional benefits of salads?
Well, we have compiled a list of some of the best salad cookbooks that you can find on the market.
Why Should You Eat Salads?
The main reason why people eat more salads is because they are low in calories and contain very little sodium. They are also packed with nutrients as they are mostly vegetables and salad leaves.
However, you can increase the calorie count by adding more ingredients. That's another great thing about a salad, it is so versatile. You can add any number of ingredients to your salad, from meat to dairy to fish.
You can also customize it to feature only the foods that you like. If there's an ingredient you dislike, simply take it out or replace it with something else.
Salad leaves are rich in most vitamins, especially vitamins A and C. If you are looking to improve your overall health, then you can't go wrong with eating more salads. They are also a rich source of iron and potassium.
So where can you find a great salad cookbook? Well, we've done some digging and unearthed some of the best salad cookbooks, all of which are written by female chefs (see also "Female Indian Chefs We Adore").
These recipe books have been selected for their diversity of ingredients as well as how easy they are to follow. So what are you waiting for? Let's tuck in!
6 Female Chef Salad Cookbooks
This first salad cookbook comes with one salad for every day of the year, featuring a total of 365 salad recipes. This will help you to make a salad as a main dish or as a side dish.
There are recipes for side salads, summer salads, or wild mushroom salads that you can savor during the autumn.
This recipe book comes with the ideal dressings that you can put on each salad, as well as some suggestions for alternatives.
This has salads that are suitable for meat-eaters, vegetarians, and vegans, so there will be something to cater to everyone.
Pros
Comes with 365 salad recipes
Vegetarian and vegan options
Each salad can be customized according to your needs
Salads for every season
Cons
This might be overkill for newbie salad makers
This next salad recipe book is a collaboration with salad chefs and artists. This book aims to elevate the status of the humble salad, allowing it to include cocktails, soups and dinner party starters.
This is all done with lavish illustrations which will have you hankering for a salad in no time.
The salads on offer here are rich and diverse, including collard chiffonade salad, heirloom tomatoes with polenta croutons, flank steak salad, and bean sprouts, grilled hearts of palm with mint, golden crispy lotus root with Asian pear dressing along with shaved cauliflower and candy cane beet salad.
Pros
A unique combination of art and cuisine
Focuses on organic food you can get at the supermarket
75 salad recipes
Hundreds of great reviews
Cons
Might not appeal to die-hard cooks
When it comes to providing the largest amount of salad combinations, we think that this recipe book takes the gold medal, coming with over 3,000 combinations of vegetables, meats, cheeses, and salad leaves.
This features crunchy toppings and ideas for sumptuous dressings. This is designed to make healthy eating much more appealing, with sections of the pages divided into a spin-the-wheel style game.
This is a great book to get children who are very difficult eaters and refuse to try any vegetables that you give them.
Pros
This book comes with vivid illustrations
Great recipes for children
This is great for main meals or a healthy side
Promotes healthy eating
Cons
This is not a conventional recipe book
Next up, we have a salad-making book that is ideal for herbivores. This comes with simple salads that you can make in a hurry to more exotic salads for the adventurous.
If you feel like pulling out all the stops at your dinner party, then you should try making the Vietnamese-style salad rolls.
This also shows you the benefits of eating salads and comes with nutritional information for every single dish.
This covers all the salads, including pasta salads, bread salads, roasted salads, and toasted salads. We guarantee that there will be something here to suit all palates.
Pros
Great for main course salads
Great for salad experts and salad beginners
You can make these in a hurry
Also features some gourmet-style salads
Cons
Might be too lavish for some readers
This recipe book features 100 salad recipes that are creative and really push the boundaries of what a salad really looks like.
This looks at the textures and tastes of a salad, how to combine the salty taste with a crunchy texture, or how to get a salad that is both sweet and crispy.
This one includes a wide range of ingredients including eggplant, broccoli rabe and Bosc pears.
All of the ingredients are paired nicely to create a well-balanced flavor, although there is some room to mix and match what you need.
Pros
A very creative salad recipe book
Features some diverse ingredients
Goes into the science of salad-making
Gives you the perfect recipe for a party salad
Cons
Some readers have said that the ingredients in this book are hard to source
This next recipe book is one that wants to take the idea of the salad and turn it on its head… quite literally in some cases.
This features over 100 recipes that are designed to inject a little bit of excitement into the humble salad.
You can enjoy these as a meal all on their own or you can combine them with another meal to make sure you are ticking all the nutrient boxes.
This even comes with a recipe for a citrus breakfast salad that you can use to wake you up in the morning.
Pros
A diverse and very innovative range of salads
Has over 100 salad recipes
Features salads salty, bitter and sweet
Combines textures and tastes for unique results
Cons
Some readers have said they've had to order the ingredients online
Best Female Chef Salad Cookbooks
When you are ordering the right salad cookbook, you'll need to make sure that it has a number of ingredients:
A Diverse Salad Range
The point of having a salad cookbook is to have access to a wide range of ingredients that you can prepare in lots of different ways.
Available Ingredients
Some people won't want to have to order the ingredients from their local online food market. Availability is an important part of being able to rustle up some dishes for your family and friends quickly and easily.
Easy To Read
Making a salad should be very simple, not made more difficult with a lot of cooking jargon.
You should be able to understand clearly which ingredients you need, how many of them you need, and how you can prepare them correctly.
Conclusion
Hopefully, our list of female chef-written salad cookbooks has helped you decide which one is the most suitable for the salad that you want to make.
Frequently Asked Questions
Does A Salad Contain Protein?
Yes, as long as you include any of the following ingredients: eggs, any type of bean, tofu, seafood, or meat like turkey, lamb, chicken, or beef.
What Are The Best Salad Leaves?
Romaine lettuce leaves usually give your salad that much-needed crunch. They also contain folate, vitamin A, and vitamin K.
You can also add spinach and kale to your salad, although the latter is quite bitter and tough and should only be added in moderation.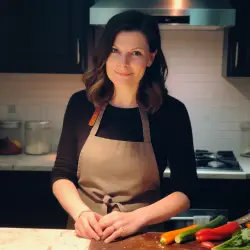 Latest posts by Barbara Hunt
(see all)