Taking control of your health is a great way to look after yourself and ensure that your body is in the best shape it can be.
There are many different ways that you can take back control of your body and your health.
One of the most common and simplest ways to make sure that your health is as good as it can be is by improving your diet. 
There are so many different types of diets that you can choose to help improve your health.
One of the most tried and tested diets is a low-cholesterol diet. This will help keep your arteries clear, allowing your blood to travel through them more easily which will improve your overall health.
In this article, we are going to look at some of the best low-cholesterol cookbooks written by female chefs that you do not want to miss(see also:  7 Female Chef Greek Cookbooks You Do Not Want To Miss).
6 Best Low Cholesterol Cookbooks By Female Chefs
Adopting a low-cholesterol diet is always going to help improve your health, even if you don't suffer from high levels of cholesterol already. You can protect your body from a build-up of cholesterol with this diet.
However, as with any diet, you will need to learn how to cook meals that fit the diet. Below are 6 of the best low-cholesterol cookbooks that can help you on your way to better cholesterol levels and overall health.
When adopting a new diet for your health, your best bet is to purchase a cookbook that is written by someone with expertise and credentials.
Eat Your Way To Lower Cholesterol by Dr. Laura Corr and Ian Marber is a great place to begin your journey to better health.
This cookbook is very clear that it is not designed for weight loss, but rather that its focus is on improving the health of your body. 
The recipes in this book focus on 6 main foods, including fiber, nuts, soya, healthy oils, oats, and smart foods.
Alongside the nutritionally balanced and delicious recipes in this cookbook, there are also tons of advice and tips on how to balance your diet and lower your cholesterol using the latest medically informed nutritional information.
Pros:
The information in the book is backed by science
All of the recipes in this cookbook are nutritionally balanced
The flavor of the recipes hasn't been sacrificed for nutrition
Cons:
The measurements aren't converted from British to American units
Another low-cholesterol recipe book that is written by an expert is Cut Your Cholesterol by Dr. Sarah Brewer.
This is quite similar to the book mentioned above, however, the recipes are different.
The thing that makes this book stand out from others that combine information and recipes is that it contains a specific 3-month program that you can follow.
The purpose of the program is to help you remove as much excess cholesterol as possible in a short amount of time. 
The recipes in this book are quite basic and leave a lot of room for you to make adjustments to suit your preferences and other dietary requirements.
This is a good cookbook for anyone who already knows how to cook and is looking for guidance on the types of foods and alterations they should be making to successfully reduce their cholesterol levels.
Pros:
The cookbook contains a lot of helpful information about the effects of high cholesterol
The layout is clear and easy to understand
The recipes and suggestions are easy to put into practice yourself
Cons:
The recipes aren't overly detailed which can be difficult for people who aren't confident in the kitchen
For some people, the title of this cookbook might be a bit abrasive. However, it is as straight to the point as the rest of the cookbook is.
The Heart Stopper Kicker by Molly Mills is the ideal book for anyone who is no-nonsense about their health and protecting their heart.
Although Mills isn't a nutritional expert, the recipes and information in her cookbook are in line with the current information on cholesterol and how we can control it. 
The recipes in this cookbook are designed to help you adopt a more cholesterol-friendly diet that will help you reduce your cholesterol levels without having to give up all of your favorite foods.
The cookbook is written in a friendly and gentle tone which can be beneficial if you have recently been diagnosed with high cholesterol. 
Pros:
Good basic information about high cholesterol and its side effects
Delicious recipes that are easy to make and incorporate into your diet
Uses a gentle and friendly tone which can make people feel better about their health and any diagnoses
Jennifer Koslo Ph.D. RDN CSSD is a registered dietitian who specializes in cookbooks and diet plans that are designed to help protect your body and your health.
She has written a number of cookbooks that have been curated to help people manage various health conditions at home.
The Complete DASH Diet for Beginners by Jennifer Koslo Ph.D. RDN CSSD is another such book that will help to educate you about high cholesterol and provide recipes to help combat it. 
DASH stands for dietary approaches to stop hypertension. This diet has been proven to help improve your overall health without being too complex or restrictive.
Alongside the 75 recipes in this book, there are 2 full meal plans that are designed to help you get used to the routine of making heart-healthy meals.
Koslo has also covered the fundamentals of the DASH diet to give readers a strong foundation from which they can create their own recipes.
Pros:
Written by an expert in the field of diet and nutrition
Contains helpful information about the DASH diet to help beginners 
75 delicious and healthy recipes that are easy to incorporate into your daily life
Two meal plans to help introduce you to the diet
Cons:
The shopping lists in the book aren't comprehensive
If you are looking for a cookbook that simplifies the process of lowering your cholesterol and allows you to see a significant improvement in your health in a short amount of time, this is the cookbook for you.
Cholesterol Down: Ten Simple Steps to Lower Your Cholesterol in Four Weeks by Janet Brill does a great job of explaining high cholesterol and how her recipes can help you to reduce your cholesterol levels.
The book features plenty of recipes that you can use to fill the 4-week diet plan.
There are nine "miracle foods" that make up the basis of most of the recipes to help you stay on track for the full length of the plan.
Following the recipes in this cookbook can help to reduce your cholesterol levels by up to 47% in 4 weeks.
Pros:
Written by an author with expertise in nutrition and health
Delicious recipes with attainable ingredients
Contains a diet plan that has been proven to be effective through case studies
Cons:
The recipes are very fiber-heavy which can cause some uncomfortable temporary side effects
Final Thoughts
There are plenty of cookbooks available on the market that are dedicated to helping you lower your cholesterol levels.
The books mentioned above are some of the best low-cholesterol cookbooks that you can buy. The majority are informed by nutrition experts to give you peace of mind.
Frequently Asked Questions
What Makes A Good Low Cholesterol Cookbook?
As with any cookbook, a good one needs to include delicious recipes that you are going to want to make time and time again.
However, with low-cholesterol cookbooks, it is also a good idea to find one that has been written or co-written by a qualified nutritionist to ensure that it is truly going to work for you.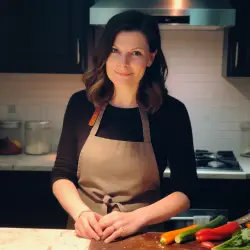 Latest posts by Barbara Hunt
(see all)